Unidirectional or Turbulent Airflow: Which is best for Sterile Pharmacy Compounding?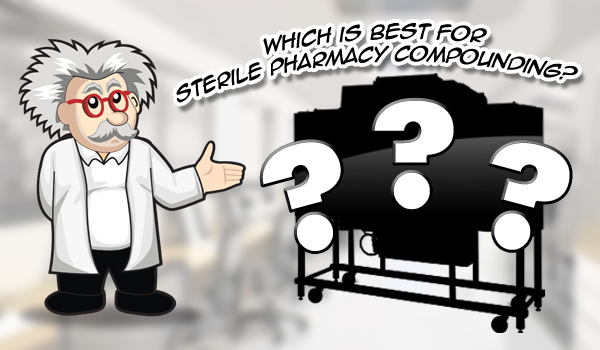 In sterile pharmacy compounding, the goal of the pharmacist or pharmacy technician is to protect the compounded sterile preparation from cross-contamination.
Isolators are one of the primary engineering controls recommended for this purpose. However, isolators have different airflow regimes. So the question is, which is best for sterile pharmacy compounding?
Different Airflow Regimes in Isolators
There are two airflow regimes usually encountered for isolators – 1. Turbulent Airflow and 2. Unidirectional Airflow.
| | |
| --- | --- |
| Turbulent Airflow | Unidirectional Airflow |
| Turbulent Airflow is the process of introducing a supply of filtered air that mixes with and dilutes airborne contaminants, thus reducing its concentration in the environment. Most contaminants are ultimately removed from the environment through the air exhaust system. (CETA, 2005) | Unidirectional Airflow provides the work zone with a continuous supply of filtered air. This mass airflow effect serves to sweep contaminants past and away from the preparation and out of the isolator environment. (CETA, 2005) |
| | |
What do the standards say?
International Standards play an important role in the field of pharmacy compounding. These standards set minimum recommendations for institutions to follow. Depending on which part of the world, institutions follow different standards. The following sentences that talks about airflow regime requirements are excerpts from published standards.
"The airflow in the primary engineering control (PEC) shall be unidirectional (laminar flow)." – USP 797, USA
"Compounding aseptic containment isolator (CACI) is designed to provide worker protection from exposure to hazardous drugs. It provides an aseptic environment with unidirectional airflow for compounding sterile preparations." – USP 800, USA
"All aseptic manipulations, including processing of sterile materials, filling, and closing (e.g. placement and sealing of stoppers on vials) should be performed under unidirectional airflow that is ISO 5 or better." – FDA cGMP, USA
"Handling and filling of aseptically prepared products (open and closed procedures) should be performed in a grade A environment." – PIC/S
Note: Grade A environment is easier to achieve when air flow is unidirectional.
"A unidirectional airflow and lower velocities may be used in closed isolators and glove boxes." – EU GMP, Europe
"Supply air to the controlled work space shall be unidirectional and shall not induce turbulence within the work site." – AS 4273, Australia
Why is unidirectional airflow best for sterile pharmacy compounding?
Unidirectional airflow is more efficient with respect to eliminating contamination. Continuous showering of filtered air sweeps away contamination almost immediately.
According to the study conducted by Peters, et. al., "all four unidirectional airflow isolators used met ISO Class 5 cleanliness requirements throughout all testing phases and areas of the work zone...The turbulent airflow isolator tested failed to achieve the ISO Class 5 operating condition at any time during the testing..."
"The unidirectional airflow isolators tested met the laminar-airflow workstation-equivalency requirements of USP 797, pharmaceutical aseptic processing standards, the industry-standard definition of a closed isolator, and the rigorous demands of pharmacy and nursing sterile compounding." (Peters, 2007)
The verdict
Having a unidirectional airflow for equipment used in sterile pharmacy compounding, e.g. isolators, is backed up by International Standards and evidences.
Esco offers isolators with unidirectional airflow
Esco Isolators are tested to validate its airflow pattern and air quality, as specified under CETA Guidelines. Esco Isolators comply with International Standards such as USP 797/800, FDA cGMP, AS 4273, PIC/S, EU GMP, TGA GMP, JIS, CETA, and ISO.
References:
CETA Applications Guide for the use of Compounding Isolators in Compounding Sterile Preparations in Healthcare Facilities (CAG-001-2005)
Committee ME/60. 1999. Australian Standard™ Design, installation and use of pharmaceutical isolators
ECA Academy. 2016. Guideline. [ONLINE] Available at: http://www.gmp-compliance.org/eca_guideline_120.html. [Accessed 15 August 2016].
Peters, G, 2007. Potential for airborne contamination in turbulent- and unidirectional-airflow compounding aseptic isolators. American Journal of Health-System Pharmacists, [Online]. 64(6), 622-31. Available at:http://www.ncbi.nlm.nih.gov/pubmed/17353571 [Accessed 20 July 2016].
Pharmaceutical Inspection Co-operation Scheme. 2016. Publications. [ONLINE] Available at: https://picscheme.org/en/publications#selSection_. [Accessed 15 August 2016].
U.S. Food and Drug Administration. 2014. Current Good Manufacturing Practice - Interim Guidance for Human Drug Compounding Outsourcing Facilities under Section 503B of the FD&C Act. [ONLINE] Available at: http://www.fda.gov/downloads/drugs/guidancecomplianceregulatoryinformation/guidances/ucm403496.pdf. [Accessed 15 August 2016].
U.S. Pharmacopeial Convention. 2016. USP-NF General Chapters for Compounding. [ONLINE] Available at: http://www.usp.org/usp-healthcare-professionals/compounding/compounding-general-chapters. [Accessed 15 August 2016].