ISPE SG 2022: Here We Come!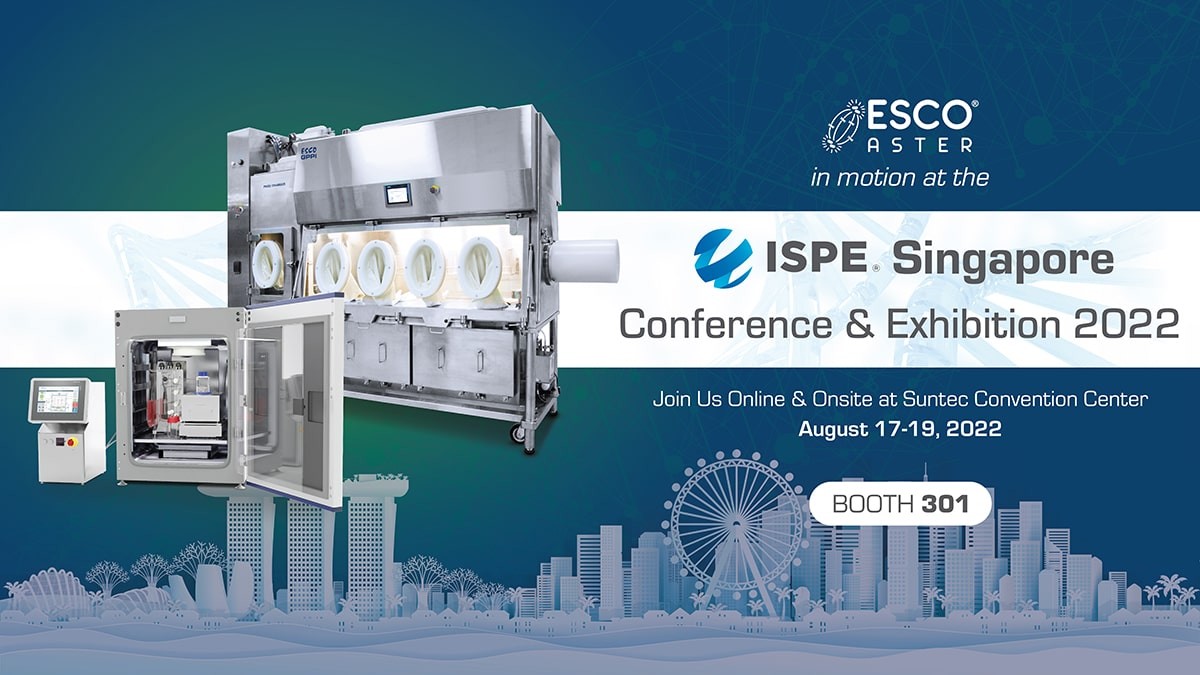 Esco Aster with the Healthcare team is making a huge comeback during this year's International Society for Pharmaceutical Engineering (ISPE) conference in Suntec Singapore Convention & Exhibition Centre, from Aug. 18-19.
The team is eager to showcase the innovative solutions that have been developed and improved over the past two years.
It has been less than a thousand days, but it felt like forever!
During the two years of virtual conferences and seminars, Esco Aster is more than ready to break the ice with these turnkey solutions aimed at the sterile processing of biopharmaceuticals. The team did not sit idly during the pandemic, rather, Esco Aster collaborated with key players in the industry to transform the traditional way of biopharmaceutical processing with a seamless isolation technology that can streamline upstream and downstream processing.
Cell Processing Isolator (CPI) is the name of the game! The Esco Cell Processing Isolator (CPI) is an advanced aseptic containment system that combines several types of equipment into one isolation technology. As a cGMP-compliant isolator, it is designed to isolate the process to ensure operator safety without compromising product quality. It provides a sterile ISO Class 5/Grade A environment that is required in carrying out sterile/aseptic cell processing.
Visit our booth and see what equipment can be integrated in a single isolation technology that can boost your entire cell culture and main aseptic operations. Brace yourselves and experience the ease of customization like never before!
And it doesn't stop there! Some of the Tide Motion bioreactors that embody consistent, productive, reliable, and linearly scalable technologies which provide high product yield for your clinical applications will be physically displayed during the show.
In the list are: CelCradle®, CelCradleX®, and CelShaker®. The innovative design of CelCradle® has been improved to have a standalone control tower equipped with a 21 CFR Part 11-compliant software. It still utilizes the same single-use CelCradle® bottle but can now house different macroporous carriers at different packed-bed volumes for increased product yield. In addition, CelShaker®, the automated harvesting companion of CelCradle®, will be put into action.
Opting for a closed, automated system? The CelCradleX® got your back. Featuring its own incubation system and improved control tower, you can perfectly culture adherent cells especially for autologous cell therapy applications. The CelCradleX® has made cell culture monitoring easier because of its automated pH, DO control and monitoring.
The Singapore Affiliate of ISPE conducts an annual confab in the country, making it the ultimate platform where pharmaceutical manufacturers and equipment providers can socialize and connect for future collaborative projects that can change industrial trajectories in the years to come.
Esco Aster together with the Healthcare team will continue to ensure quality products and services that will help solve the challenges in the bioprocessing and healthcare industry.
The three-day event will take place from August 17 to 19, with the first day entirely via online platforms while the following days will be held on-site with interactive exhibits of real-world technology. The whole event will also be live-streamed, so be sure to tune in via: https://www.ispesingapore.org/
Register to the leading pharma conference through: https://www.ispesingapore.org/users/sign_in
Have questions? Send us a message at [email protected]