Thank you for visiting Esco at ACHEMA 2015!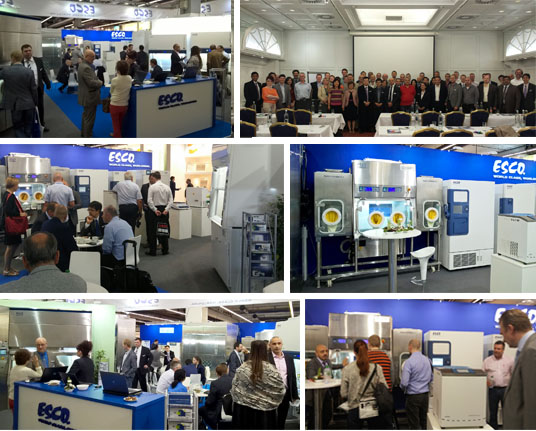 ACHEMA 2015 was a great success, thanks to our visitors. We have received excellent feedback for our latest innovative technologies and product developments in Biosafety, Thermostatics, Isolators and Bioprocessing (Bioreactors) Technology.
Among them were our new CelSafe Incubator with High Heat Sterilization Cycle, and a no fuzz internal chamber, which allows easy, quick and safe sterilization.
Eagerly awaited is also the product launch of our Avona Stability Chamber, the Versati Benchtop/Micro Centrifuges and OrbiCult Ambient/Incubator Shakers, which were on display first time and exclusively at ACHEMA.
Our Pharma experts were sought after and the latest product development made in Britain - a Sterility Testing Isolator - as well as our Ventilated Balance Enclosure with a bag-in bag-out system, received the greatest interest alongside the Down Flow Booth and the TideCell Biorector for big batch applications.
On behalf of the entire Esco Lab and Pharma Team, we hope that you enjoyed the Exhibition as much as we did. Experience further innovative research solutions with Esco.
We are looking forward to seeing you again soon!