Streamline® Compounding Isolator – Gen 2: Efficiency and Multi-Functionality in One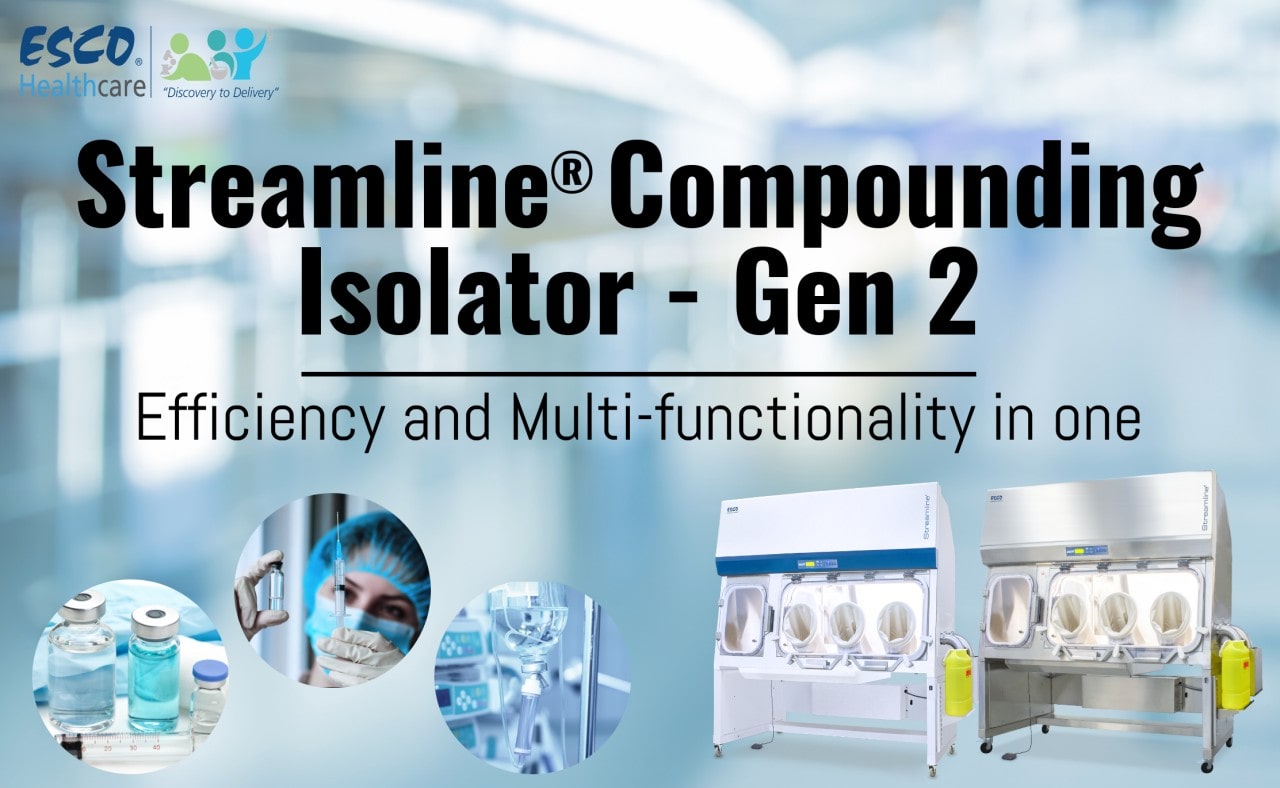 Esco welcomes 2019 with an innovative and internationally compliant equipment to add to its line of isolation technology: the Streamline® Compounding Isolator – Gen 2 (SCI-G2).
It provides a sterile environment for pharmaceutical preparations and can be configured to operate at positive or negative pressure in a recirculating or total exhaust air flow scheme. The SCI-G2 provides user, product, and environmental protection from exposure to hazards.
The innovative design of the SCI-G2 makes it suitable for various applications including: potent formulation, aseptic compounding, chemotherapy, total parenteral nutrition (TPN) formulation, contained powder handling, and bioprocessing like gene, cell therapy, and tissue engineering among others.
MAIN FEATURES
Designed in compliance with international cGMP standards.

Class 3 Containment, as per ISO 10648-2.

ULPA filters (as per IEST-RP-CC001.3 and HEPA (H14) filter as per EN 1822) with a typical efficiency of >99.999% at 0.1 to 0.3 microns, providing ISO Class 3 air cleanliness as per ISO 14644-1.

FDA-approved pressure-tight seals.

Sentinel™ Gold microprocessor controller supervises all functions and monitors airflow and pressure in real-time.

Robust dual-wall construction. Unique Esco Dynamic Chamber™ plenum surrounds filter seals with negative pressure.

Safe-change cuff rings permit glove changes with zero risk of work zone or environment contamination.
OPTIONS
Available in negative or positive pressure model, in recirculating or total exhaust airflow

Integration of mobile BioVap™ bio-decontamination system

Glove Leak Tester

CCTV integration

Height adjustable stand

Access to rear view monitor system

Sharps disposal system for smoother workflow and minimized transfer

External material of construction:

Electrogalvanized steel with ISOCIDE™ powder coating

Stainless steel 304 L

*Note: the isolator can be customized to enable an automated pressure hold test.
SCI-G2 VALIDATION TESTS
The equipment validation follows the Controlled Environment Testing Association (CETA), which is also compliant to the requirements of the United States Pharmacopeia (USP) <797>.
This document has been established for a consistent and repeatable testing of the equipment inside any facility.
Isolator Validation Tests Prior to Certification
| | | |
| --- | --- | --- |
| Procedure | Manufacturer | Field Test |
| 2.01 Airflow Test | X | X |
| 2.02 Chamber Pressure Test | X | X |
| 2.03 Site Installation Assessment Tests | D | X |
| 2.04 Gauntlet Breach Air Velocity Test | D | O |
| 2.05 HEPA Filter Integrity Test | X | X |
| 2.06 Particle Containment Integrity and Enclosure Leak Test | X | O |
| 2.07 Recovery Time Determination Test | D | O |
| 2.08 Airflow Smoke Pattern Test | X | X |
| 2.09 Preparation Ingress and Egress Test | D | X |
| 2.10 Particle Count Tests | X | X |
| 2.11 Volatile Hazardous Drug Containment Tests | D | O |
| 2.12 Hazardous Particle Containment Test | D | O |
| 2.13 Pass-through Particle Purge Time Determination Test | D | O |
X = Mandatory; O = Optional; D = Design Criteria Qualification
Table 1. Test responsibilities of a manufacturer in accordance to CETA CAG-002-2006.
The major distinction that this new generation of Streamline® Compounding Isolator (SCI-G2) has compared to old models is the pressure test. The SCI-G2 has been tested based on the ISO 10648-2 standard, which applies to enclosures or enclosure lines intended when handling:
Radioactive and/or toxic products where containment is required for environmental and personnel protection,

Sensitive products requiring a special atmosphere and/or a sterile medium.
Passing this standard will ensure that the equipment′s design ultimately prevents the leakage of products contained or handled inside it, from being exposed to the external environment.
Classification of Containment Enclosures According to their Leak Tightness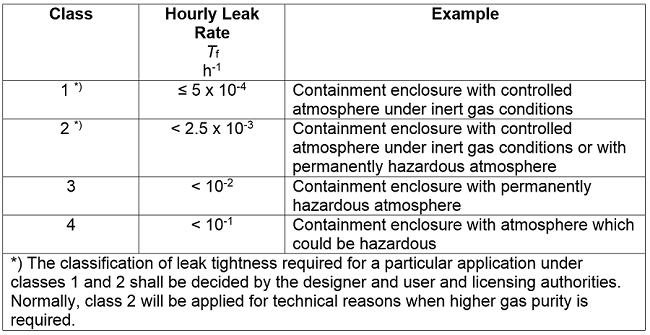 Table 2. Containment Enclosure Classification according to hourly leak rate, as per ISO 10648-2.
Streamline® Compounding Isolator – Gen 2 (SCI-G2) Total Exhaust
---
2019 Surprise!
Discounts are available for current users of the old SCI units who seek to have the SCI-G2 upgrade.
Terms and Conditions apply.
REFERENCES:
1. International Organization for Standardization.(2018).ISO 10648-2 Containment Enclosures- Part 1: Classification according to leak tightness and associated checking methods. Retrieved on 18-Dec-2018. Retrieved from: https://www.iso.org/standard/20483.html

2. Controlled Environment Testing Association.(2006). CETA Compounding Isolator Testing Guide CAG-002-2006. Retrieved on 17-Dec-2018. Retrieved from: https://www.scribd.com/document/174780275/CETACompoundingIsolatorTestingGuide2006

3. Health and Safety Executives.(2018). Handling Cytotoxic Drugs in Isolators in NHS Pharmacies. Retrieved on 18-Dec-2018. Retrieved from: http://www.hse.gov.uk/pubns/cytotoxic-drugs.pdf
Contact Us
Esco Pharma Pte. Ltd.
21 Changi South Street 1 Singapore 486777
Tel: +65 65420833
Fax: +65 65426920
Email: [email protected]
Esco Technologies, Inc.
Esco Pharma Factory
2512 Metropolitan Dr. Suite 120-B
Feasterville-Trevose, PA 19053-6738
Tel: +1 215-322-2155
Email: [email protected]
Esco GB Ltd.
Unit 2 R-Evolution @ Gateway 36
Kestrel Way, Barnsley, S70 5SZ
Tel: +44 (0) 1226 360799
Email: [email protected]
About our BRANDS
Esco Pharma provides specialist services, equipment packages, and process solutions from our core platform products leading to improved operator protection, reduction of cross contamination, and more efficient processing, thereby directly and indirectly advancing occupational health and human healthcare.
About Esco Pharma
Esco Pharma's largest global network of localized application specialists and service offices provides faster response and local service translating into more competitive costs on maintenance, and shorter project life cycles..
Esco provides standardized platforms with inbuilt configurations without constraints on operational parameters. This enables pharmaceuticals, nutraceuticals, and cosmeceuticals to comply with international standards for occupational health and safety.