Raising Your Standards with Esco Downflow Booth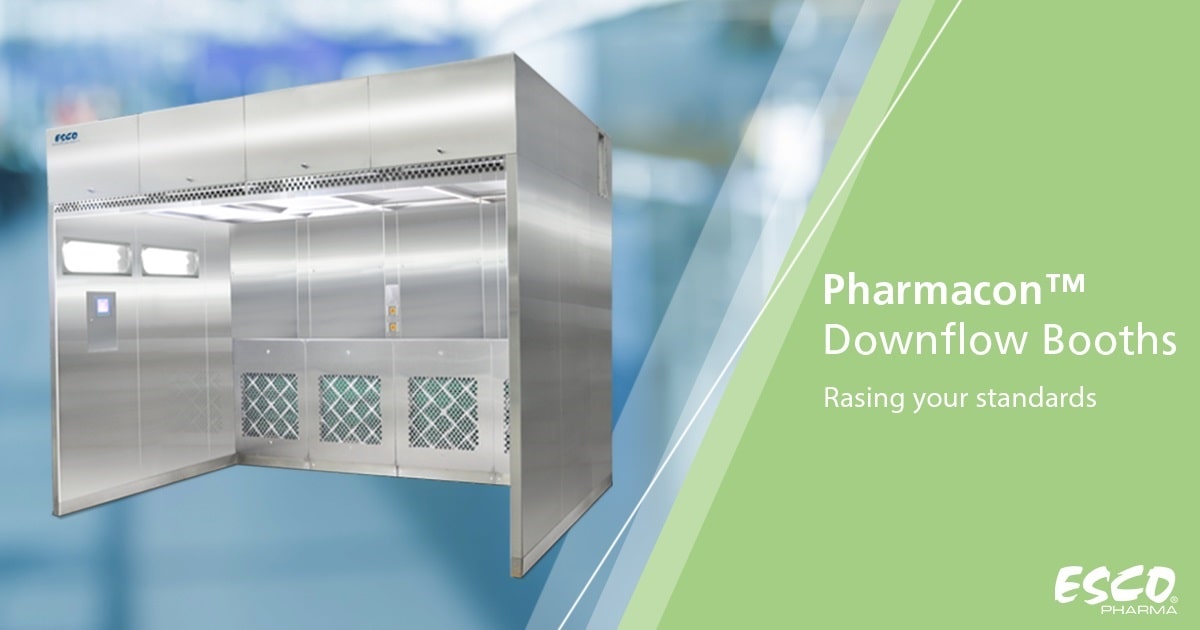 The fundamental principle of Downflow Booth is to provide operator protection during the handling of nuisance, toxic, or sensitizing products either in a powder or liquid form. Air is delivered to the Operator's Breathing Zone (OBZ) through the overhead HEPA filters, thus providing a clean and safe environment. Potential dust clouds are suppressed and removed into the exhaust filtration system.
The operator carries out tasks in the high-velocity zone at the rear of the Booth so that dangerous dust will not rise into the breathing zone.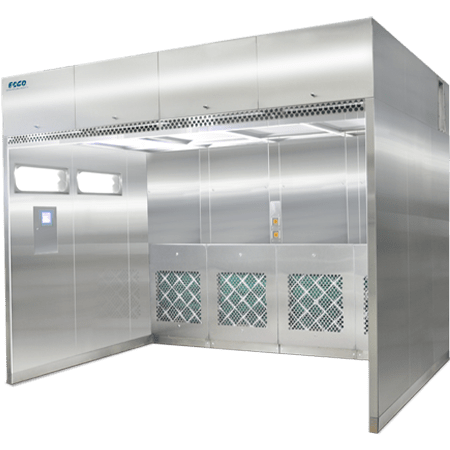 Downflow Booths are versatile equipment that can:
Control exposure risk from hazardous materials for a wide variety of equipment and processes
Provide Operator Exposure Levels (OEL's) ≤100 µg/m³ over an 8-hour Time Weighted Average (TWA) when used with proper operator techniques
Reduce levels to ≤10 μg/m³ by incorporating High Containment Screens for the most potent products
Enhance cGMP practices during powder handling operations
Esco Downflow Booths can be widely used for many different applications to various industries such as providing contamination control for operators. Typical applications include dispensing, sub-division, milling and grinding, process pack off and charging. These are used in applications that require high-degree of flexibility for containment assurance. The standard open layout allows easy access for both personnel and materials entry. Although the standard Booth range offers a practical solution to most operations, customising the size and layout to suit other processes and product requirements can also be done. End user involvement is actively sought at all stages, from the design to the built of the equipment, creating a flexible and controlled facility to suit the changing work practices.
Operator protection can also be acquired by customizing the layout of the booth and integrating high containment screens and personnel and material airlocks.
High containment screens provide an actual physical barrier between the operator and the product. The operator works through large ergonomically positioned oval glove ports with Hypalon glass. High containment screen allows multi direction movement for the operators' freedom to move left, right, front, back, and even rotate whilst being protected. From OEL of ≤100 µg/m³, the integration of this screen gives as much as ≤10 µg/m³ over an 8-hour TWA.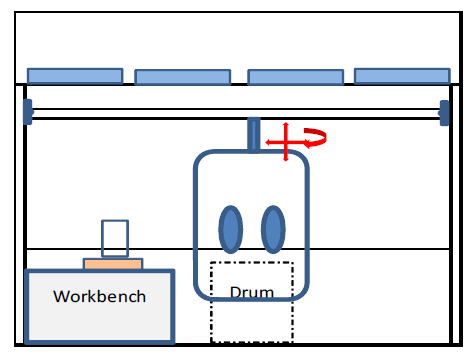 An example of a lay-out of a Downflow Booth (DFB) integrated with High Containment Screen.
Aside from High Containment Screens, customized operator workstation can also be done. All powder handling operations are kept behind the door where the exhaust flow is the greatest. Operator is totally segregated from the product, thus, this arrangement is particularly useful for levels between 10 to 50 µg/m³.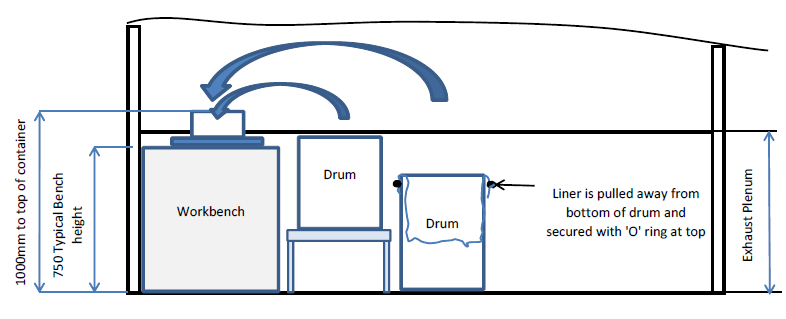 The integration of split level workbench for powder subdivisions.
Split level workbench is designed to suit applications which involve sub dividing products from larger drum to smaller container.
Airlock Booths are used to ensure that no contaminated air enters the booth from the warehouse area. Incoming air is controlled by positively charging the airlocks with HEPA-filtered air prior to entering the Booth at low level. With these control processes, it is possible to achieve between 10-50 µg/m³ OEL when sampling to defined SOP's.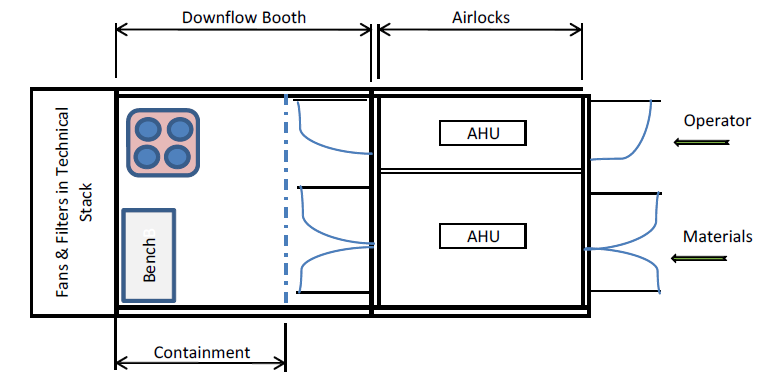 An example of a layout of a Downflow Booth (DFB) with airlock.