R&D Laboratory Containment Isolator Made Its Way to Big Pharma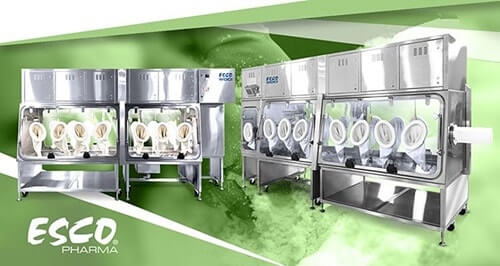 Esco Pharma USA factory successfully completed the design, ergonomic trials, manufacture, assembly, testing, and delivery of a 14-glove double-sided R&D Laboratory Containment Isolator for one of the largest pharmaceutical manufacturing companies in the world. This system is designed to achieve a containment level of 12.5 ng/m3 over an 8-hour TWA when handing potent chemical entities.
The R&D Laboratory Containment Isolator is regarded as a challenging project with large quantity of process equipment housed and integrated within the isolator for R&D applications. These pieces of process equipment were positioned to be ergonomically accessible including approximately sixty-five (65) through-wall process utility connections fit for the specified purpose and activities. In addition, successful delivery in a clean and cGMP manner made it even more challenging. With the space constraints getting into the facility and final positioning placement, the unit must be brought it in as few pieces as possible without compromising the integrity of the system as a whole.
The system has a built-in automated pressure hold test feature allowing a quick and straightforward verification each time the equipment is started. It is equipped with FDA-approved and USP Class VI compliant inflatable seals and is controlled via an Allen Bradley PLC/HMI.
Esco's standardized use of internationally available, major brand sub-components at all of it's global manufacturing locations ensures that spares and service activities are well supported after sales. Esco also offers a comprehensive Preventive Maintenance (PM) contract directly from local offices which provides customers with peace of mind.
Esco continuously innovates and designs custom solutions to meet the developing markets and dynamic regulatory requirements.
Contact Esco Pharma to learn more about the broad range of integrated solutions such as Pharmacon™ Downflow Booths, Aseptic Isolators, VHP Pass-Throughs, Restricted Access Barriers Systems (RABS) and Filling Line Isolators.
Esco Pharma's experienced staffs are fully equipped at each global manufacturing location will assess your needs and develop a solution to your specific processing requirements.
USA:
Esco Technologies Inc - Pharma Division
2512 Metropolitan Drive, Suite 120-B
Trevose, PA 19053, USA
Office: +1 215-322-2155
Email: [email protected]
Pharma Web: www.escopharma.com
UK:
Esco GB Ltd - Pharma Division
Unit 2 R-Evolution @ Gateway 36
Kestrel Way
Barnsley, S Yorks. UK
S70 5SZ
Office Phone: +44 (0) 1226 360799
Email: [email protected]
Pharma Web: www.escopharma.com
Singapore:
Esco Micro Pte Ltd
21 Changi South Street 1 Singapore 486777
Tel: +65 65420833
Fax: +65 65426920
Email: [email protected]
Website: www.escoglobal.com