Prioritizing Personnel Safety in Antibiotic Production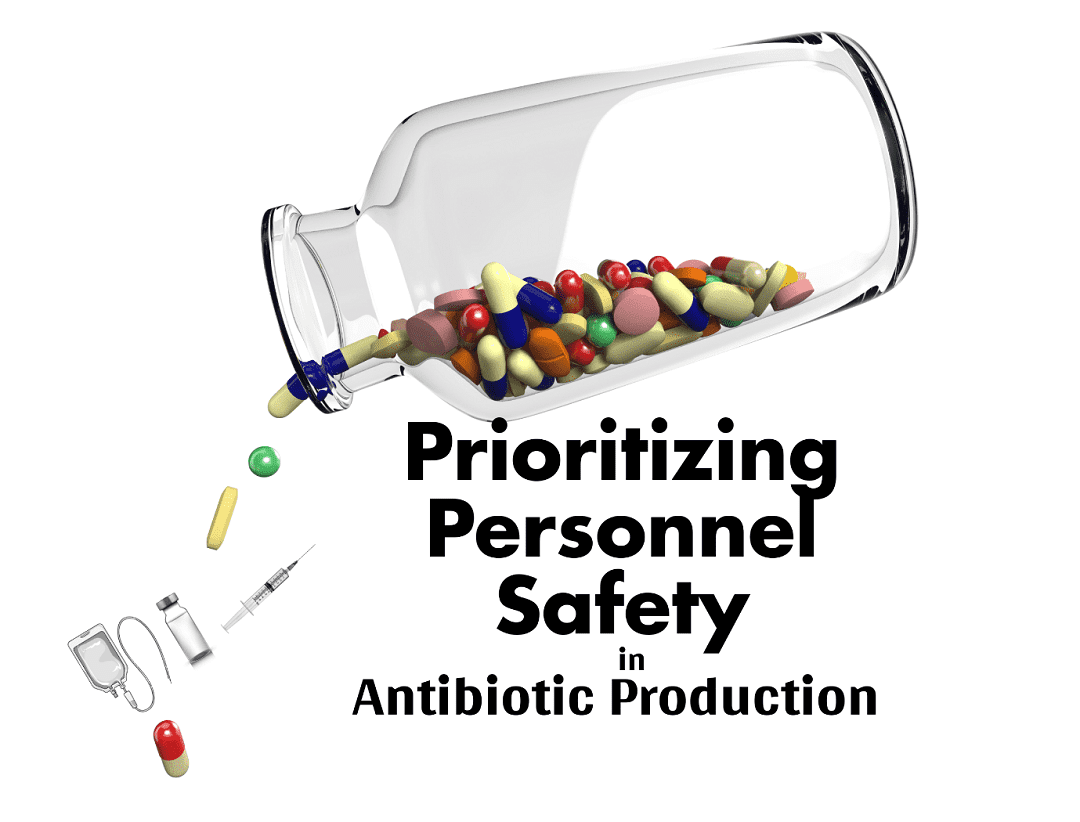 Antibiotics are a medicinal class designed to kill (bactericide) or slow down (bacteriostatic) the growth of bacteria for the treatment of various infections.
The era of these drugs began in the 1940s with the introduction of penicillin by Alexander Fleming; and it has continued to develop with the presence of new types of antibiotics such as:
Tetracyclines

Cephalosporins

Quinolones

Macrolides

Lincomycins

Sulfonamides

Glycopeptides

Aminoglycosides

Carbapenems
Recent studies show that antibiotics are still the main treatment response of today when it comes to fatal bacterial diseases, as such, they are responsible for preventing millions of deaths every year.
With this benefit, however, comes a compelling evidence that antibiotic use has led to the development of the global phenomenon -- antimicrobial resistance (AMR).
AMR happens when the strains of microorganisms, such as bacteria and fungi, have been exposed to improper use of antibiotics; thus, rendering the drug ineffective against these microbes. Since the infection will be left untreated, there is a risk of the illness to spread.
The trend of global AMR increased because of naturally-caused genetic changes; but more dramatically in the recent years due to the misuse of antimicrobials.
Furthermore, it is very common to encounter antibiotic-induced allergies; and in the US alone, there are reports that antibiotic-associated adverse events comprised 19.3% of the total emergency department visits for drug-related cases.
According to a study by Muzny et.al., the reason for this may be due to the small molecular size of antibiotics which gives way for these substances to easily combine with larger molecules and form a hapten-carrier complex. This in turn, stimulates the production of antibodies capable of eliciting an immune response.
In this regard, penicillins are the type of antibiotics extensively studied for their propensity to induce different immune-mediated hypersensitivity reactions. Cephalosporins, carbapenems, and monobactams may also cause allergic reactions and have notorious cross-reactivity issue with penicillins because they share a similar three-carbon, one nitrogen, and four member cyclic amide structure known as the β-lactam ring.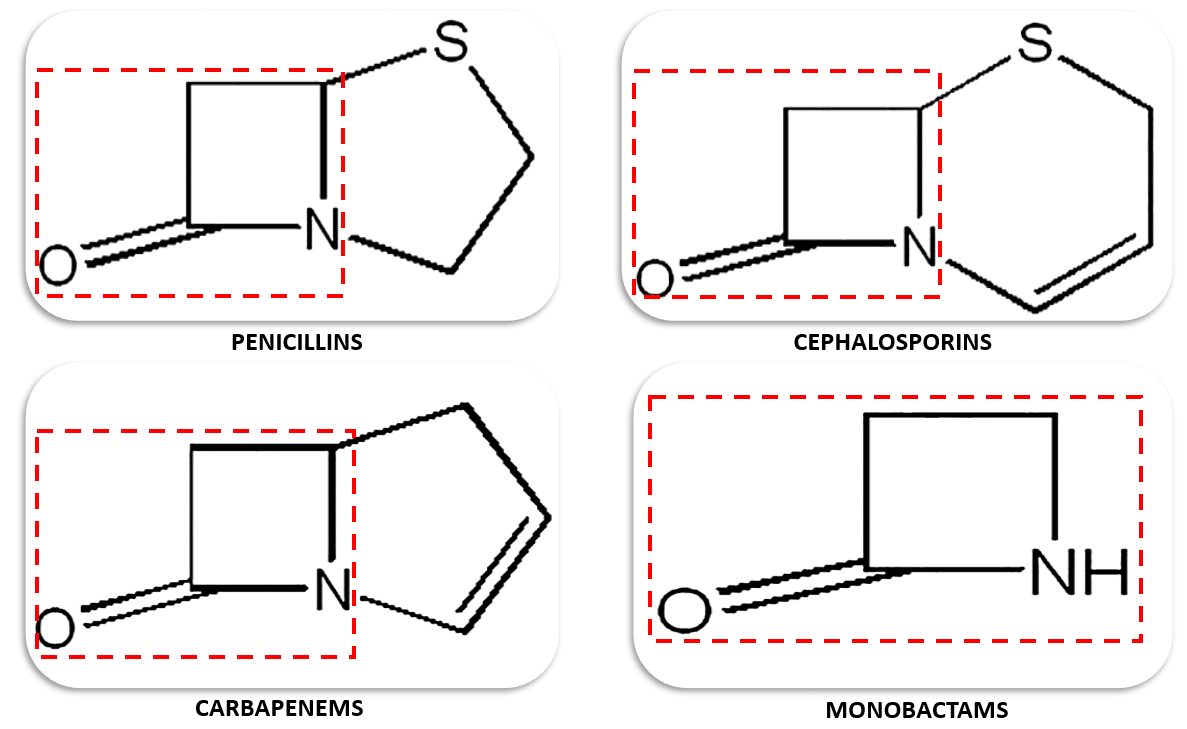 Figure 1. The different types of antibiotics with β-lactam rings.
Researches also show that these types of antibiotic triggers a hypertensive exaggerated allergic immune response, whose risk can range from skin rashes to life-threatening anaphylaxis.
Recent studies on antibiotic occupational exposure, mainly focused on penicillins, even provide evidence that production line workers have high levels of AMR and adverse health effects (respiratory diseases, dermatitis, and allergies); especially without proper isolation equipment and facility to ensure the cleanliness of the manufacturing area.
As such, the US Food and Drug Administration (US FDA) established special manufacturing requirements for penicillin as well as for non-penicillin β-lactam drugs. They released a section within 21 Code of Federal Regulations (CFR) 211 - Current Good Manufacturing Practice for Finished Pharmaceuticals which requires pharmaceutical industries to set up strict facility controls that will prevent cross-contamination of the products. The guidelines stated that operations shall be performed within specifically dedicated and defined areas of adequate size to prevent contamination during the different stages of production. It also mentioned the importance of aseptic processing which includes the following:
Smooth and hard floors, walls, and ceilings that are easily cleaned

Temperature and humidity controls

Air supply filtered through high-efficiency particulate air (HEPA) filters under positive pressure, regardless if airflow is laminar or non-laminar

Environmental monitoring system

Cleaning and disinfecting system for the room and the equipment
Another guideline released was 21 CFR 211.46 for the ventilation, air filtration, air heating, and cooling of the facilities handling penicillin and other sensitizing drugs. Here, it also mentioned the necessity of an equipment to control the air pressure, microorganisms, dust, and humidity during the manufacture, processing, packing or holding of the product. It also specified that air-handling systems of different phases of penicillin production, shall be separated from other drug products.
The aim of the guidelines is to contain the compound and protect the personnel to prevent unnecessary adverse health events, and to lessen the spread of AMR.
Esco Pharma is a leading manufacturer of containment and isolation systems that can help you comply with the requirements and standards of antibiotic manufacture.
All units can be configured to suit the needs of the user; and there are even cases where Esco can enclose the whole manufacturing process within a fully customized isolator system with a validated bio-decontamination system.
Equipment
Description

General Processing Platform Isolator (GPPI)

Unidirectional/Laminar airflow

User selectable positive or negative chamber pressure and single pass or recirculating airflow regimes

BioVap™ biodecontamination system.

Fully welded SS316L internal chambers with rounded coved corners

Optional Bag-in Bag-out (BIBO) filters

Aseptic Containment Isolator (ACTI)

Adaptable aseptic containment solution with user defined pressure and airflow regimes

Premium handling of biopharmaceutical germ seed cells and aseptic cell processing

Premium solution for large volume sterility testing

Pod Flange for small scale filling with auto loading/unloading Freeze Drier (ACTI-Pod)

Containment Barrier Isolator

Facilitates the isolation of a product or process while providing the required conditions for a sterile/aseptic environment

Configured to operate at positive or negative pressure

This equipment provides a personnel, product, and environmental protection

Pharmacy Compounding (Chemotherapy/TPN)

Small Batch Sterility Testing

Small-scale Potent Material Handling

Cell Processing

Aseptic Processing

Research and Development

Streamline® Compounding Isolator - Gen 2 (SCI-G2)

ULPA filters (as per IEST-RP-CC001.3 and HEPA (H14) filter as per EN 1822) with a typical efficiency of >99.999% at 0.1 to 0.3 microns, providing ISO Class 3 air cleanliness as per ISO 14644-1.

FDA-approved pressure-tight seals.

Sentinel™ Gold Microprocessor controller supervises all functions and monitors airflow and pressure in real-time.

Robust dual-wall construction. Unique Esco Dynamic Chamber™ plenum surrounds filter seals with negative pressure.

Safe-change cuff rings permit glove changes with zero risk of contaminating the work zone or environment.

Isoclean® Healthcare Platform Isolator (HPI)

Facilitates the isolation of a product or process while providing the required for sterile/aseptic environment. It is configured to operate at positive or negative pressure.

Pharmacy Compounding (Chemotherapy/TPN).

Small-scale Potent Material Handling

Aseptic Processing

Research and Development

Cell processing
With global footprints spanning the United States, Europe, and Asia, Esco Pharma is within the reach of all pharmaceutical industries. For more information check out our wide range of pharmaceutical products.
References:
ACS Chemistry for Life. (2019). Discovery and Development of Penicillin. Retrieved on 19 March 2019. Retrieved from:https://www.acs.org/content/acs/en/education/whatischemistry/landmarks/flemingpenicillin.html

AMR Industry Alliance. (2019). Common Antibiotic Manufacturing Framework. Retrieved on 19 March 2019. Retrieved from: https://www.amrindustryalliance.org/wp-content/uploads/2018/02/AMR_Industry_Alliance_Manufacturing_Framework.pdf

BioPharm International. (2011). FDA Publishes Guidance for Preventing Cross-Contamination. Retrieved on 19 March 2019. Retrieved from: http://www.biopharminternational.com/fda-publishes-guidance-preventing-cross-contamination-0

ECA Academy. (2019). New FDA Guidance for the Prevention of Cross Contamination of Beta-Lactam Antibiotics. Retrieved on 19 March 2019. Retrieved from: https://www.gmp-compliance.org/gmp-news/new-fda-guidance-for-the-prevention-of-cross-contamination-of-beta-lactam-antibiotics

Encyclopaedia Britannica.(2019). Hapten. Retrieved on 19 March 2019. Retrieved from: https://www.britannica.com/science/hapten

Farshad, A., Enferadi, M., Bakand, S., Orak, R.J., and Mirkazemi, R.(2016). Penicillin dust exposure and penicillin resistance among pharmaceutical workers in Tehran, Iran. International Journal of Occupational and Environmental Health, 22(3). doi: 10.1080/10773525.2016.1201238

Flasche, S. and Atkins, K.(2018). Balancing Benefits and Risks of Antibiotic Use, The Journal of Infectious Diseases, 218(9). https://doi.org/10.1093/infdis/jiy344

Legendre, D., Muzny, C., Marshall, G., Swiatlo, E. (2014). Antibiotic Hypersensitivity Reactions and Approaches to Desensitization, Clinical Infectious Diseases, 58(8).doi: https://doi.org/10.1093/cid/cit949

Nordqvist, Christian. (2019). What to know about antibiotics. Retrieved on 19 March 2019. Retrieved from: https://www.medicalnewstoday.com/articles/10278.php

NPS MedicineWise. (2019). How do antibiotics work? Retrieved on 19 March 2019. Retrieved from: https://www.nps.org.au/medical-info/consumer-info/antibiotics-explained?c=how-do-antibiotics-work-0d496ac6

Poon K.Y.T., and Macy, E. (2009). Self-reported antibiotic allergy incidence and prevalence: age and sex effects, The American Journal of Medicine, 122(8).doi: 10.1016/j.amjmed.2009.01.034.

Stephens, E. (2019). Antibiotics (Side Effects, List, Types). Retrieved on 19 March 2019. Retrieved from: https://www.emedicinehealth.com/antibiotics/article_em.htm

US FDA. (2019). cGMP for Finished Pharmaceuticals- Design and Construction Features. Code of Federal Regulations. Retrieved on 18 March 2019. Retrieved from: https://www.accessdata.fda.gov/scripts/cdrh/cfdocs/cfcfr/CFRSearch.cfm?fr=211.176

US FDA. (2019). Questions and Answers on Good Manufacturing Practices Good Gidance Practices, Level 2 Guidance. Retrieved on 18 March 2019. Retrieved from: https://www.fda.gov/downloads/Drugs/./Guidances/UCM169670.pdf

World Health Organization. (2018). Antimicrobial resistance. Retrieved on 20 March 2019. Retrieved from: https://www.who.int/news-room/fact-sheets/detail/antimicrobial-resistance
Contact Us
Esco Pharma Pte. Ltd.
21 Changi South Street 1 Singapore 486777
Tel: +65 65420833
Fax: +65 65426920
Email: [email protected]
Esco Technologies, Inc.
Esco Pharma Factory
2512 Metropolitan Dr. Suite 120-B
Feasterville-Trevose, PA 19053-6738
Tel: +1 215-322-2155
Email: [email protected]
Esco GB Ltd.
Unit 2 R-Evolution @ Gateway 36
Kestrel Way, Barnsley, S70 5SZ
Tel: +44 (0) 1226 360799
Email: [email protected]
About our BRANDS
Esco Pharma provides specialist services, equipment packages, and process solutions from our core platform products leading to improved operator protection, reduction of cross contamination, and more efficient processing, thereby directly and indirectly advancing occupational health and human healthcare.
About Esco Pharma
Esco Pharma's largest global network of localized application specialists and service offices provides faster response and local service translating into more competitive costs on maintenance, and shorter project life cycles..
Esco provides standardized platforms with inbuilt configurations without constraints on operational parameters. This enables pharmaceuticals, nutraceuticals, and cosmeceuticals to comply with international standards for occupational health and safety.