Experience Esco Pharma: Providing Enabling Technologies at INTERPHEX 2022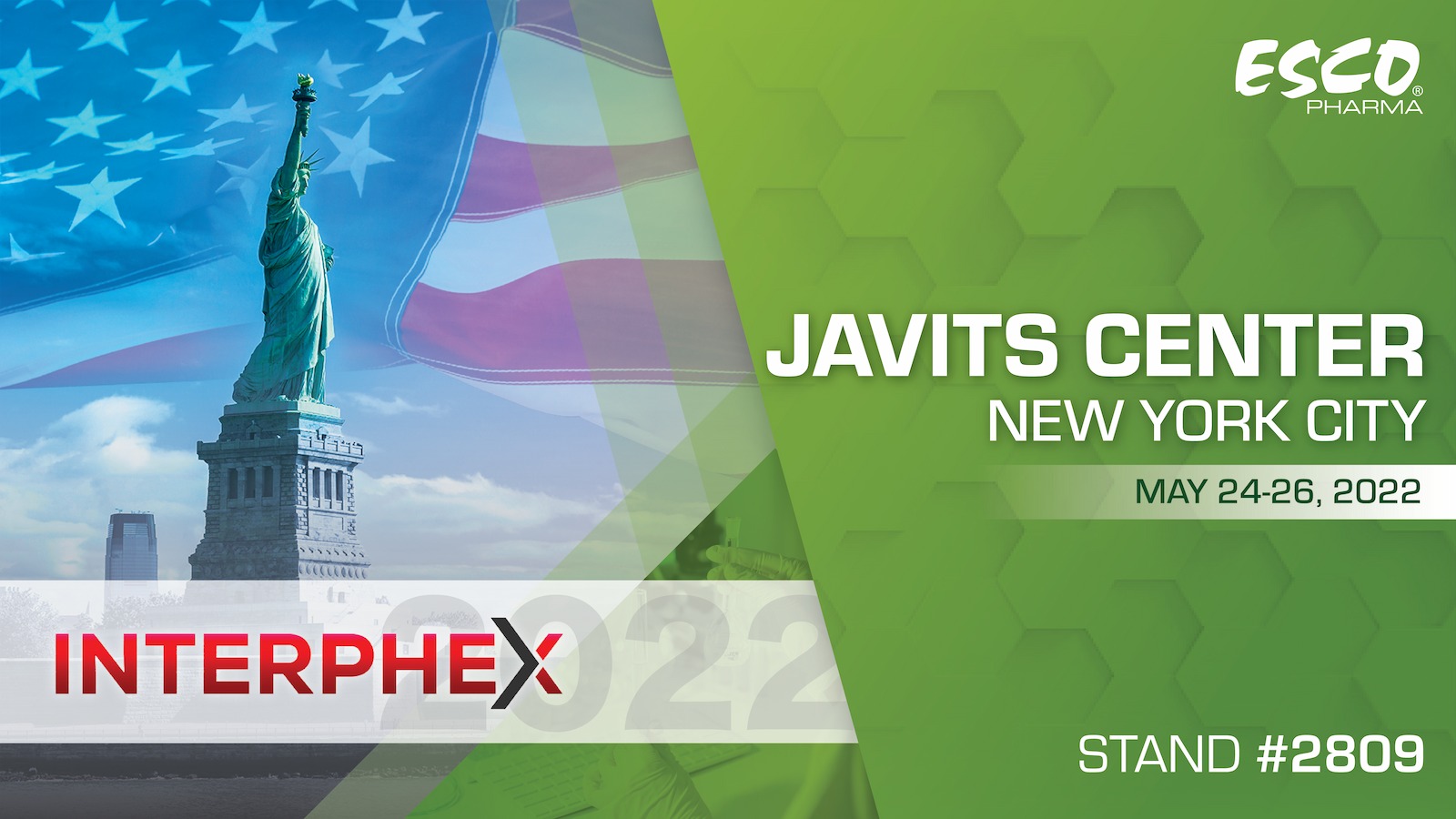 Esco Pharma is back for the premier biotechnology, pharmaceutical, medical devices, and manufacturing technologies event of the year: INTERPHEX!
Hang out with us at Stand 2809 from May 24-26 at Javits Center, New York City.
INTERPHEX will be hosting hundreds of industry-renowned pharmaceutical and biopharmaceutical companies along with globally celebrated professionals for three (3) consecutive days, the perfect time to connect, update, discover, and learn various solutions. Esco Pharma hallmark on its own diverse solutions, technologies, and services aiming to strengthen cGMP compliance while improving process efficiency.
Esco Technologies Inc. will be featuring its top aseptic processing equipment such as General Processing Platform Isolator (GPPI) and Filling Line Isolators. The GPPI is a highly adaptable, unidirectional laminar airflow isolator that can be used for sterility testing or other processes that require an ISO Class 5 (Grade A) aseptic environment. The GPPI's advanced control system allows the operator to select either positive or negative chamber pressure as well as single pass or recirculating airflow patterns. Additionally, the GPPI is a highly versatile isolator that can be used for potent or non-potent aseptic material processing.
Similar to the GPPI, the Esco Filling Line Isolator is a highly customizable unit, providing ISO Class 5 (Grade A) aseptic conditions. This ensures the sterility of the processing for the most demanding sterile/aseptic operations such as cell therapies, injectables, processing materials with high OEB levels, and vaccine manufacturing. The Filling Line Isolator can be integrated with different systems intended for a fill to finish aseptic process.
Esco manufactures closed/open restricted barrier systems (c/oRABS) and isolator technologies, and partners with filling line companies to create a client-specific closed aseptic processing line.
Join and experience Esco Pharma's our innovative tools! Our team of experts will be there and happy to assist and guide you with your needs. Register now and get an early bird rate until May 23 via https://bit.ly/3xfozjQ
Contact Us
Esco Technologies, Inc.
Esco Pharma Factory
2512 Metropolitan Dr. Suite 120-B
Trevose, PA 19053-6738
Tel: +1 215-322-2155
Email: [email protected]
About Esco Pharma
Esco Pharma provides specialist services, equipment packages, and process solutions from our core platform products leading to improved operator protection, reduction of cross-contamination, and more efficient processing, thereby directly and indirectly advancing occupational health and human healthcare.
Esco Pharma's largest global network of localized application specialists and service offices in 42 locations and growing provides faster response and local service translating into more competitive costs on maintenance, and shorter project life cycles.
Esco provides standardized platforms with inbuilt configurations without constraints on operational parameters. This enables pharmaceuticals, nutraceuticals, ATMP, cell therapy, gene therapy, biologics/vaccines, and cosmeceuticals to comply with international standards for occupations health and safety.