Oral Solid Dosage Forms: Pharma's Booming Treasure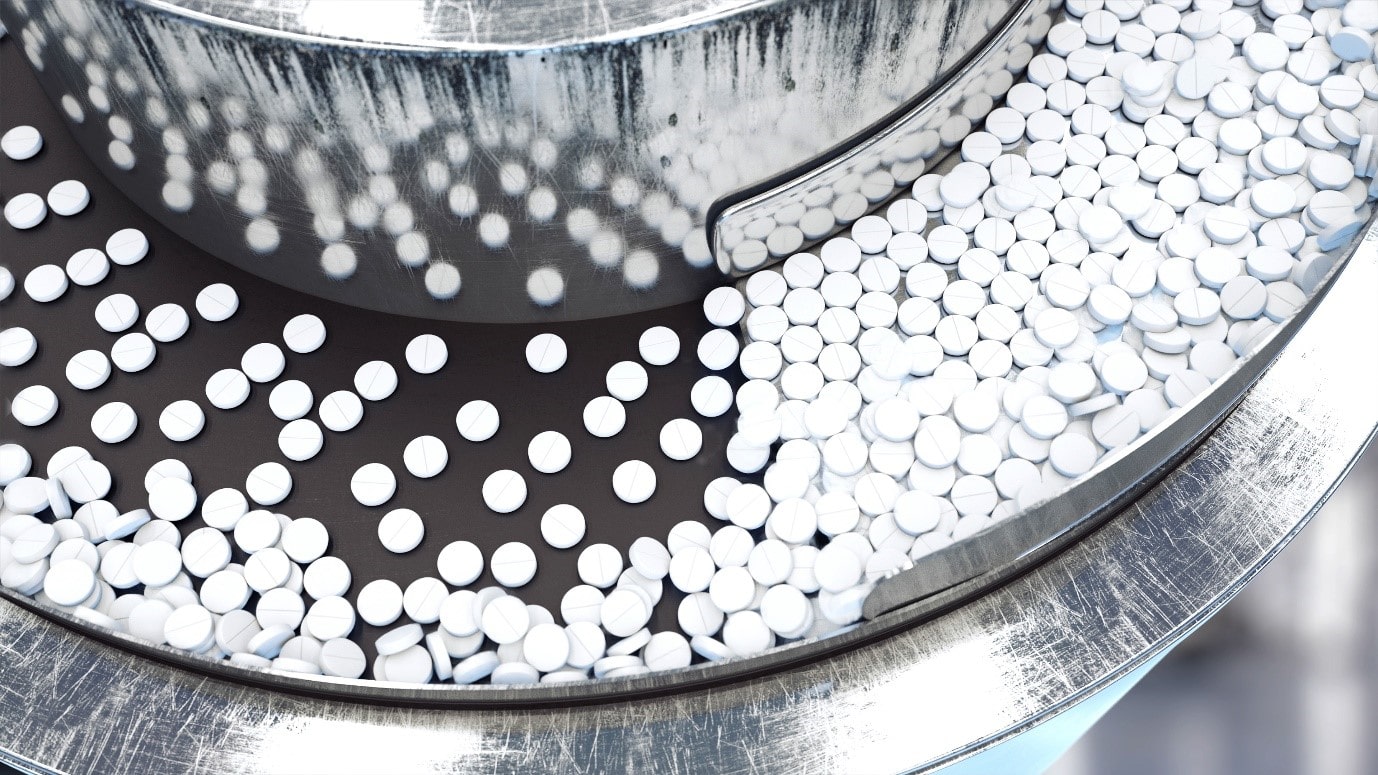 Oral solid dosage forms (OSDs) are one of the most prevalent drug delivery systems. Its market reached an estimate of $24.5 billion dollars back in 2016 and continually grows as the era for personalized medicine emerges.
These dosage forms have a broad patient acceptability, owing to their increased physico-chemical stability and cost-effectiveness, accurate dosing, and ease of handling. Moreover, they offer modified release options which increases patient compliance.
There are two basic types of oral solid dosage forms: the tablet and the capsule.
Tablets are prepared by mixing powdered or granular active pharmaceutical ingredients (API) with excipients to form a compact mass of predetermined shape. This type of dosage form includes: molded tablets (prepared by triturating medicinal substances and shaping it with a mold); compressed tablets (chewable, buccal, and sublingual); and special oral tablets (multiple layered, press-coated, sugar-coated, and film-coated).
Capsules are OSDs utilizing either a hard or soft soluble container, known as 'shells', to enclose the API and excipient mixture. The shells are made from gelatin, starch or other suitable materials. Additionally, the size of the hard shell capsules vary from 000 (largest) to 5 (smallest).
The preparation of these two OSDs differ. Tablets undergo screening, mixing, granulation, milling, compression, and coating (film or sugar). In the manufacture of capsules there are two stages: the production of the gelatin enclosure (Pin method, Plate, Rotary Die, and Reciprocating Die processes) and the filling of the shells. Filling hard shell capsules involve imprinting, sealing or banding, locking cap; while soft gel capsules utilize encapsulation.
These methods ensure that the end-product conforms with the standards of physicochemical compatibility and pharmacodynamics set by the United States Pharmacopoeia.
Conventional Manufacturing Process of OSD: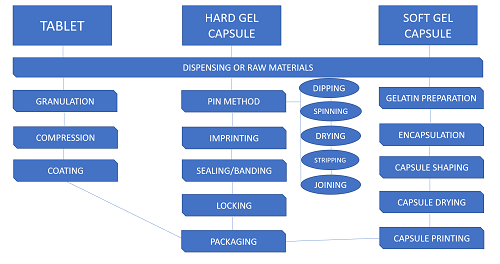 Esco Pharma provides customized solutions from the dispensing process up to packaging; not only of over the counter OSDs but also the potent ones.
The company offers the airflow containment booth which utilizes high velocity air intended to capture airborne dust particles. It preserves the purity of raw materials during processes of dispensing and sampling to prevent cross-contamination. Airflow containment booths also ensure personnel safety from toxic particles during operations. This type of equipment is a combination of modular construction and cutting-edge airflow technology making it cost-effective with maximum manufacturing outcomes. The booths also guarantee operator efficiency by providing unrestricted movement range along with improved vision and breathing zones.
Air flows down towards the operator's waist level, thus, drawing away powder particulates from the breathing zone. This design offers a greater amount of protection as compared to a horizontal or a vertical airflow scheme.
Moreover, Esco provides the Turnkey OSD Potent Line Isolator, suitable for the whole manufacturing process of potent drugs. All equipment possess the following: a full stainless steel 316L interior with coved corners; a wash in place and/or clean in place sloped chamber drain; a touch screen interface HMI control system; a closed transfer method; optional Atex Rated; 21 Code of Federal Regulations Part II compliant; single contact project management; and an optional process development support.
Healthcare Platform Isolator (HPI-G3)

Streamline® Compounding Isolator (Compounding Aseptic Containment Isolator)

These isolators provide a sterile environment for the compounding of hazardous drugs. All can be configured to function under positive or negative pressure. Notably, the work zones and pass-thru interchange are under negative pressure to the environment, thus, maintaining operator protection even with a system's breach.

Glassware Hoods/ Kilo Labs

Pharmacon™ Downflow Booth

Pharmaflow Flowhoods without gloveports

This can be used for scaling up for early clinical trials. It comes with integrated chemical reactors to produce kilograms of powders.
The Downflow booth provides a clean and contained environment for handling of raw materials. It also serves to protect operators from hazardous, sensitizing and toxic substances. These can be configured to be in recirculatory, single pass, or even combination system.
For weighing and dispensing raw materials in smaller drums, this flowhood without gloveports can be used during manufacturing scale up.

Weighing and Dispensing Containment Isolator (WDCI)

Aseptic Containment Isolator (ACTI)

Ceiling Laminar Airflow Units (CLAF)

The WDCI is essential for handling, weighing, dispensing, and containing potent drugs. This is Esco's ultimate platform for handling potent substances.
For preparing sterile hazardous products like parenterals, it is best to use ACTI. Formulation into different dosage forms is best carried out within this isolator unit.
These units enhance aseptic workflow environments through its unidirectional airflow which positively pressurize and purge contaminants from work zones.

Cleanroom Air Showers

These two RABs aim to isolate both the process and the product from sources of contamination. The open RABs permit operator intervention during aseptic and decontamination processes. For closed RABs, these units provide a higher level control on product contamination. This is due to its closed doors during the last step of bio-decontamination until the initial set-up of the process.
These are intended to minimize the entry and exit of air particulates in and out the cleanroom. The units use high velocity shower jets to quickly purge contaminants from the operator.
Esco Pharma offers equipment packages and process solutions which aims to advance occupational health and human healthcare. This ultimately leads to improved operator protection, cross-contamination reduction, and increased processing efficiency.
As a world leading manufacturer of pharmaceutical equipment, Esco offers tailored-fit solutions that meet the demands of the client. With the company's dedication to continuous innovation, quality is always a guaranteed characteristic of the end-product.
REFERENCES:
Cision Pr Newswire.(2017). Future Market Insights. Retrieved last 2 March 2018, from https://www.businesswire.com/news/home/20110221005477/en/Research-Markets-Manufacturing-Solid-Dosage-Forms--
Recipharm Ab. (2018). Oral Solid Dosage Trends. Retrieved last 2 March 2018, from https://www.recipharm.com/insights/oral-solid-dosage-trends