Mitigating Hazardous Chemicals with Isolation Technology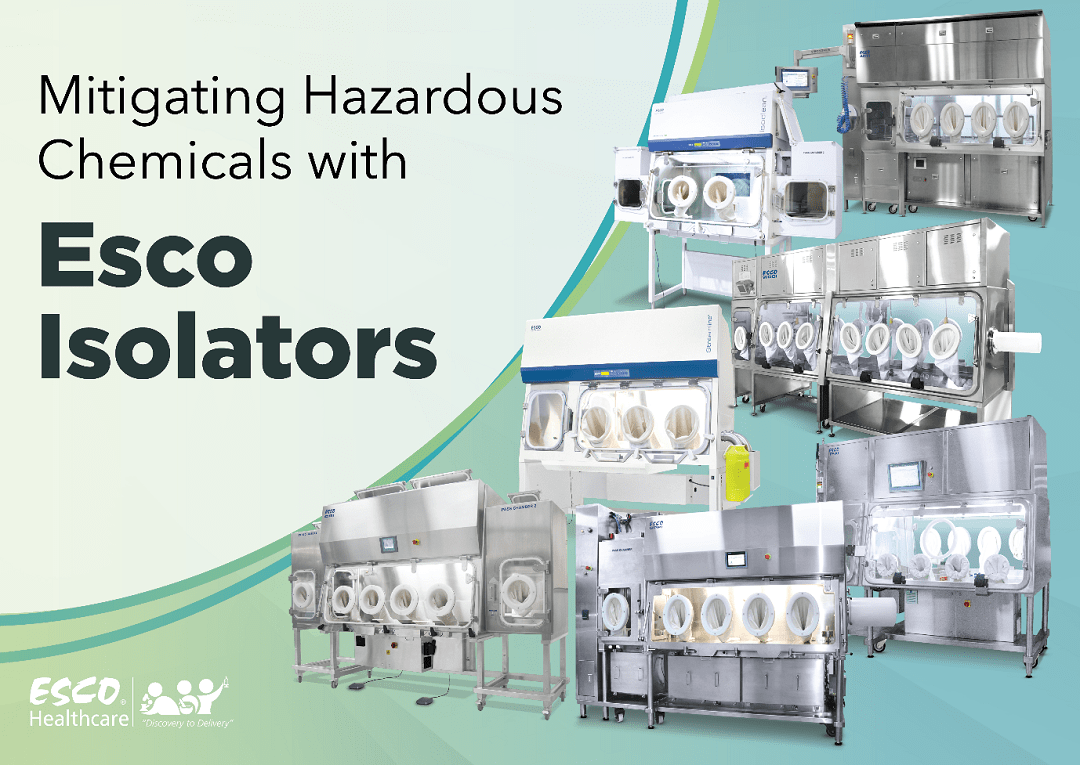 The entire process of pharmaceutical manufacturing involves a whole list of meticulous guidelines, both local and international, to adhere to. Moreover, it needs to pass the different stages of production before it can reach market platforms, and only then can the industry be assured of their product's quality.
Presently, the market is teeming with pharmaceutical products, and each of these are composed of different excipients that promote a medication's overall safety, efficiency, and stability. With this, there is a high possibility that manufacturers are using different kinds of chemicals, even those characterized as irritants, in high concentrations such as: acids, bases, oxidizers, reducing and chelating agents. Therefore, it is important that all plant personnel are capable of properly handling such chemicals especially in times of accidental spills. It is also crucial that appropriate pharmaceutical manufacturing equipment will be utilized to avoid unnecessary harm towards the operators during any untoward chemical incidents.
Managing these pharmaceutical excipients must be observed from the initial stages of formulation until the last. There are five main phases where the risks that these chemicals pose are at an all-time high:
1. Storage: this step encompasses the unloading, storage, and transfer of all raw materials to be used by an industry; whose main source of accident is linked to the appropriate transfer of substances from one container to another.

2. Research and development: during the developmental studies of each active pharmaceutical ingredient conducted in laboratories, it is likely that highly concentrated agents are being handled in order to perfect a drug's formulation.

3. Manufacture: there is a high risk of accidental leaks or container overflows during the production process, and these can even affect the integrity of other materials or excipients surrounding it.

4. Inspection: mistakes during quality control assays or product sampling can lead to unintentional personnel and environmental exposure. On the event that an accident with a highly reactive oxidizing agent happens, it can cause a flaming combustion, which can cost both personnel and business death.

5. Maintenance: during cleaning procedures, the risk of having a tank or a bunch of pipes burst under pressure is highly probable, especially if manufacturing equipment are not properly maintained. This is where the importance of annual recertification or recalibration of each device comes in to play.
With regards to all these, it is imperative that pharmaceutical companies understand the properties of all the chemical agents that go into their final product. Prior to commercial manufacturing, companies must also conduct process validation in order to come up with a strategy on the prevention or containment of any manufacturing deviation or incident that may occur.
Furthermore, standardized cleanroom facilities must be prepared in order to protect the purity of a product. A study on the type of equipment material suitable for the chemicals that an industry handles in each stage of their process, is also critical in ensuring the overall safety of the manufacturing process and the personnel.
Technological advancements in the field of pharmaceutical manufacturing offers cost-effective ways of containing chemicals and preventing cross-contamination of the final product. The isolation system is one significant innovation that offers this type of solution; it is a growing trend in the industry. It helps provide and maintain a sterile working environment for pharmaceutical manufacturing, as it functions to fully separate the operator and the process.
The isolator is designed with a strict and filtered airflow regime, a positive or negative pressurization, and a ducting system. For a process dealing with sterile and non-hazardous substances, a positive pressure isolator is suitable; but if it involves a hazardous and volatile pharmaceutical substance, then a negative pressure isolator is required. This type of set up helps guarantee that both the product and the operator will be protected from unnecessary contamination and exposure, respectively.
Isolators are pressure tested as per ISO 10648-2, to ensure that there are no leaks in the system. This feature allows the integration of a bio-decontamination technology that will prevent microbial build up inside the work chamber. This is achieved by gassing the inside of the isolator with an atomized hydrogen peroxide mist.
Since the equipment is designed to contain, it can be properly sealed with Food and Drug Administration (FDA) compliant seals, which allows all operations to be carried out in controlled gaseous environments. Materials to be processed along with other necessary equipment can be introduced inside the isolator through the interlocking doors of pass-through chambers or with a rapid transfer port (RTP).
An Isolator is intended to provide an ISO Class 5 or Grade A environment, in respect to international standards and guidelines. As per the United States Pharmacopeia (USP) General Chapter <797>, the direct compounding area where critical sites are exposed to unidirectional HEPA-filtered air, must be ISO Class 5. This ensures that there will be no risk for cross-contamination.
Moreover, it consists of two chambers: the process chamber and the pass-through chamber (PTC). All major operations are done inside the former, thus, environmental control and monitoring is important. On the other-hand, the pass-through chamber, located on the right side of the unit, is used for material ingress and egress so as not to disturb the controlled environment in the main chamber. The conditions of the PTC are also regularly monitored and controlled; thus, eliminating the risk of cross-contamination.
Isolation technology can be equipped with a human machine interface (HMI) controller which can monitor airflow, pressure, temperature, humidity, and particle count. This HMI is also used to access various system-automated validation functions like the pressure decay test and bio-decontamination process which ensures that the unit is stabilized for a normal run. Moreover, this type of controller can be further integrated into the Supervisory Control and Data Acquisition (SCADA) system which is responsible for the simultaneous monitoring of the daily manufacturing processes within a facility. This conforms to the FDA requirement on proper documentation for easy traceability.
The advancements of isolation technology offers a way of mitigating hazards that oxidizers and even flammable substances pose; this is through the provision of an inert atmosphere (nitrogen) within the closed system. Utilizing this technology will also lead to a reduction of a facility's electrical rating, thus, it would take a long time for all processing equipment to exceed the controlled heat level; in this time frame, a higher production yield can be achieved.
Esco Pharma offers a wide variety of isolator systems that can be customized to cater numerous industrial processes.
References:
About our BRANDS
Esco Pharma provides specialist services, equipment packages, and process solutions from our core platform products leading to improved operator protection, reduction of cross contamination, and more efficient processing, thereby directly and indirectly advancing occupational health and human healthcare.
About Esco Pharma
Esco Pharma's largest global network of localized application specialists and service offices provides faster response and local service translating into more competitive costs on maintenance, and shorter project life cycles..
Esco provides standardized platforms with inbuilt configurations without constraints on operational parameters. This enables pharmaceuticals, nutraceuticals, and cosmeceuticals to comply with international standards for occupational health and safety.