Know the Trends: Catch Esco GB at Making Pharmaceuticals 2022!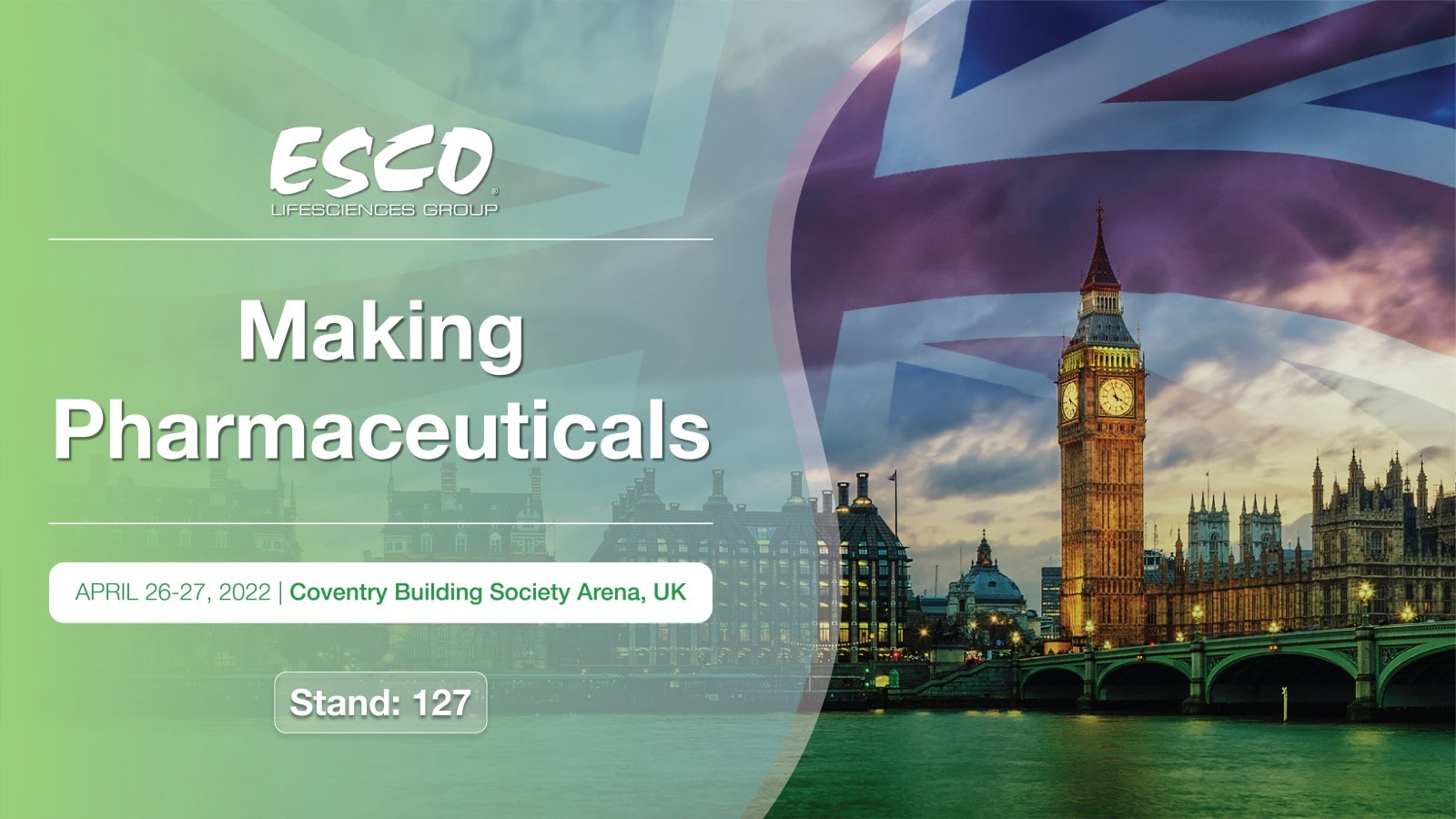 As the world shifts to what is now known as the "new normal", Esco continues to establish its global presence through its dedicated solutions and innovative technologies.
Esco is yet again showcasing a new set of timely and innovative technologies in the upcoming event of Making Pharmaceuticals at Coventry Building Society Arena, UK, Apr. 26-27. The event brings together pharmaceutical innovators and key decision-makers around the globe from industries including:
Contract Formulation, Manufacture & Filling
Data Management
GMP & Environmental Hygiene
Labelling
Laboratory & Analytical Equipment
Market Research & Marketing
Manufacturing & Processing
Packaging – Primary & Secondary
Regulatory Environment
Test Equipment, Analysis & Testing Services
Water Purification & Water Treatment Systems
Waste Management

Join us as we unceasingly deliver our commitment to providing enabling technologies from Discovery to Delivery. Drop by #Stand 127 and allow our team of experts to bring about and support you in finding solutions for your process needs.
Register online for FREE via https://bit.ly/MakingPharmaceuticals
We cannot wait to see you there. Cheerio!
Contact Us
Esco GB Ltd
Unit 2 R-Evolution @ Gateway 36
Kestrel Way Barnsley, S Yorks S70 5SZ
Tel: +44 (0) 1226 360 799
Tel: +44 (0) 1226 361529
Email: [email protected]
Website: www.escopharma.com

About Esco Lifesciences Group
Esco Lifesciences Group is a world-leading life science company with a diversified portfolio and sales in over 100 countries. As a manufacturer of laboratory and biopharma equipment, and IVF medical devices, Esco offers tailored solutions that fit the needs of laboratories in various industries. We help clinical and industrial laboratories achieve successful conclusions in research and development, quality control, and analysis. We provide reliable world-class equipment to help pharmaceutical companies make their products safer and more cost-effective. And with the increasing demand of the IVF industry, we have developed efficient ART equipment to enable equitable access to infertility care.
About Esco Pharma
Esco Pharma provides specialist services, equipment packages, and process solutions from our core platform products leading to improved operator protection, reduction of cross-contamination, and more efficient processing, thereby directly and indirectly advancing occupational health and human healthcare.
Esco provides standardized platforms with inbuilt configurations without constraints on operational parameters. This enables pharmaceuticals, nutraceuticals, ATMP, cell therapy, gene therapy, biologics/vaccines, and cosmeceuticals to comply with international standards for occupations health and safety.