Kilo Labs: From small to Big!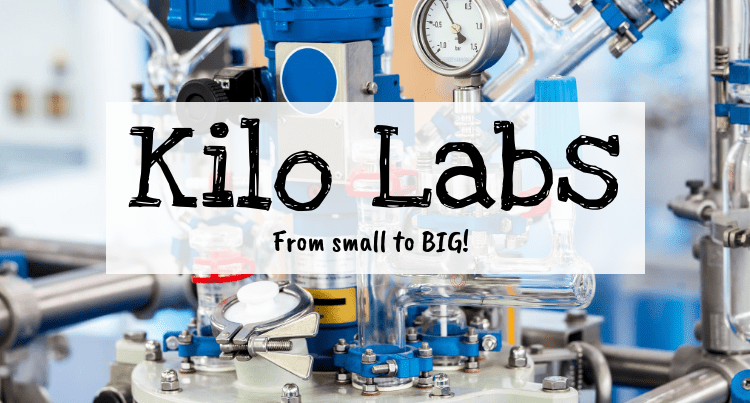 In the drug development process, small scale production is done before proceeding to pilot batch manufacturing which ultimately leads to large scale production. Small scale productions, using batch system reactions, distillation set-ups, and chemical syntheses are done using kilo labs, which are laboratory settings utilizing large glass vessels to produce kilogram quantities of the material or drug.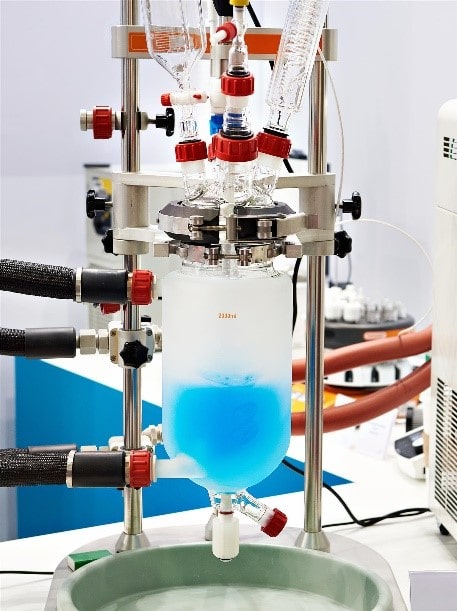 Figure 1. Laboratory reactor
Kilo labs, also called pilot scale manufacturing, are able to mimic plant conditions to ensure that the desired form or polymorph of the active pharmaceutical ingredient is obtained. They are able to produce sufficient quantities (in kilograms) of an active pharmaceutical ingredient that can be used to provide important information such as the presence trace impurities and toxicological properties that are otherwise almost impossible to test on a small laboratory scale. They can also be used for low volume production of active pharmaceutical ingredients.
One of the issues of manufacturing of drugs is its scalability. Even if it is possible to produce a drug in a laboratory setting, there are instances that a scale up production might not be feasible resulting in the waste of time and resources.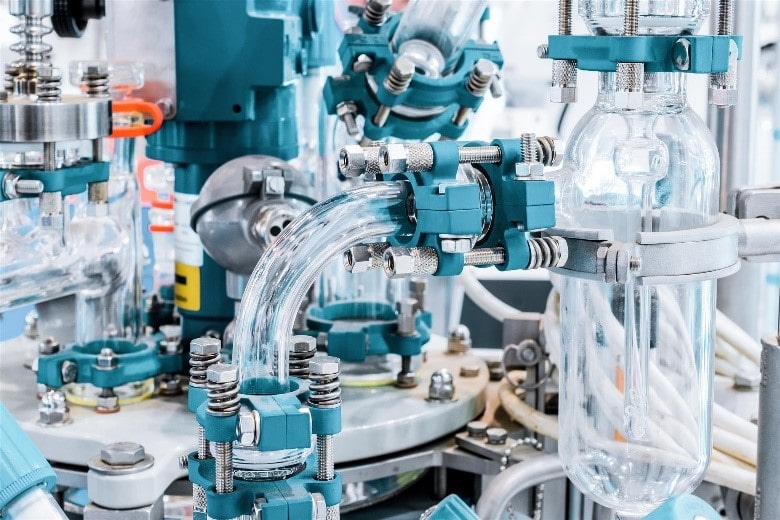 Figure 2. Glass pipe chemical reactor equipment.
Kilo labs do not abide to the rules of GMP hence it is cheaper and takes lesser time to set up and operate. Using these will allow the early detection of any problem that may arise in the production process; while also providing solutions for these with minimal waste of resource. They are also proven to be a cost-effective. After achieving successful results from the kilo labs, pilot batch manufacturing may proceed.
In most instances, kilo labs may produce dust, vapour, fumes and/or liquids that may be hazardous to the operators, which may also be a source of contamination to other products; hence, kilo labs must be contained within enclosures. These in turn, will provide protection and ease of access and maintenance. Such enclosures are customizable and can cater features such as: airflow patterns, negative pressurization, and even chemical resistance.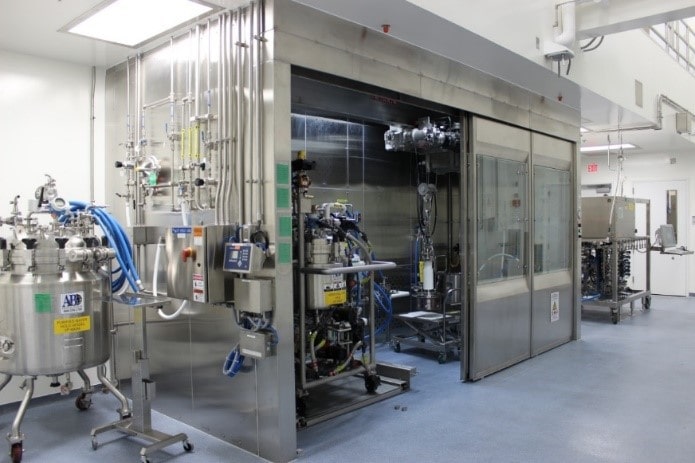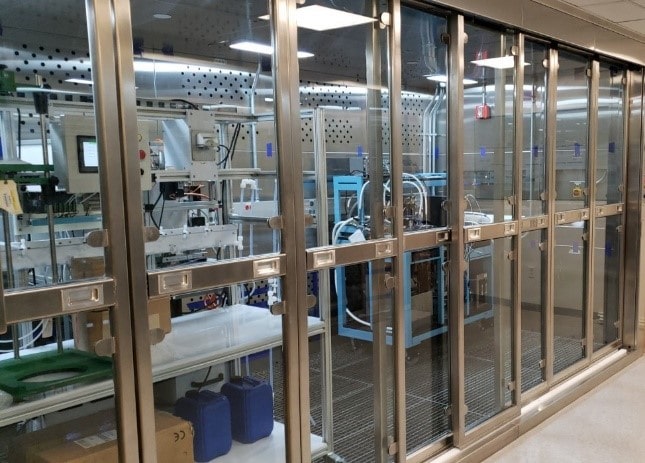 Figure 3. Esco Glassware Hoods
Esco Pharma's innovative pharmaceutical technology offers Esco Glassware Hoods. These are customizable units made to serve their containment purpose for glassware set-ups for batch reactions, distillation set-ups, and chemical synthesis used in kilo labs and pilot plant systems. Esco Glassware hoods also have the option to be designed as see-through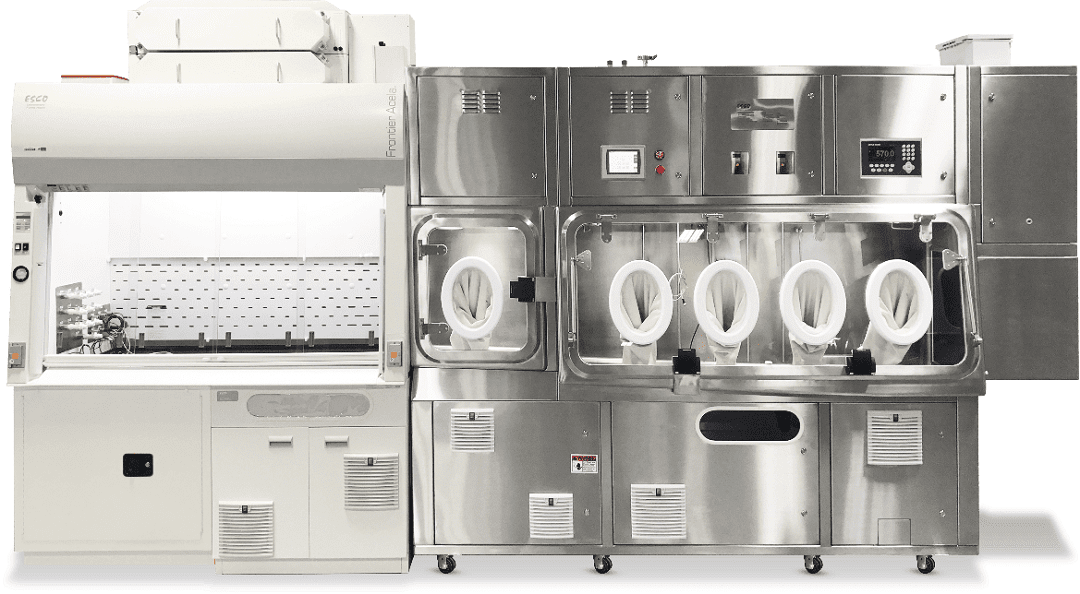 Figure 4. Integrated Frontier® Acela M™ Series Fume Hood and Weighing and Dispensing Containment Isolator (WDCI)
For a smaller scale production, another option is the use of an integrated system of the Frontier® Acela M™ Series Fume Hood and Weighing and Dispensing Containment Isolator (WDCI). The fume hood is connected to the isolator with either a static or dynamic pass-through chamber utilizing inflatable seals ensuring a seamless transfers of hazardous chemicals used as precursors for drug production. An easy-to-decontaminate sliding tray facilitates the transfer of materials from one chamber to another. This system can be customized to allow the accommodation of the necessary glassware needed in compounding of hazardous drugs whilst preventing its exposure to the outside environment. Glassware used are placed inside the isolator while the starting material or chemicals and other equipment may be stored temporarily before processing inside the isolator.
References:
Pisano, G., 1997. The Development Factory: Unlocking the Potential of Process Innovation. [ONLINE] available at: https://books.google.com.ph/books?id=xrnTsLrn9y4C&pg=PA129&lpg=PA129&dq=kilo+lab+importance
Contact Us
Esco Pharma Pte. Ltd.
21 Changi South Street 1 Singapore 486777
Tel: +65 65420833
Fax: +65 65426920
Email: [email protected]
Esco Technologies, Inc.
Esco Pharma Factory
2512 Metropolitan Dr. Suite 120-B
Feasterville-Trevose, PA 19053-6738
Tel: +1 215-322-2155
Email: [email protected]
Esco GB Ltd.
Unit 2 R-Evolution @ Gateway 36
Kestrel Way, Barnsley, S70 5SZ
Tel: +44 (0) 1226 360799
Email: [email protected]
About our BRANDS
Esco Pharma provides specialist services, equipment packages, and process solutions from our core platform products leading to improved operator protection, reduction of cross contamination, and more efficient processing, thereby directly and indirectly advancing occupational health and human healthcare.
About Esco Pharma
Esco Pharma's largest global network of localized application specialists and service offices provides faster response and local service translating into more competitive costs on maintenance, and shorter project life cycles..
Esco provides standardized platforms with inbuilt configurations without constraints on operational parameters. This enables pharmaceuticals, nutraceuticals, and cosmeceuticals to comply with international standards for occupational health and safety.