Integrating Herbal Medicine into the Philippine Healthcare System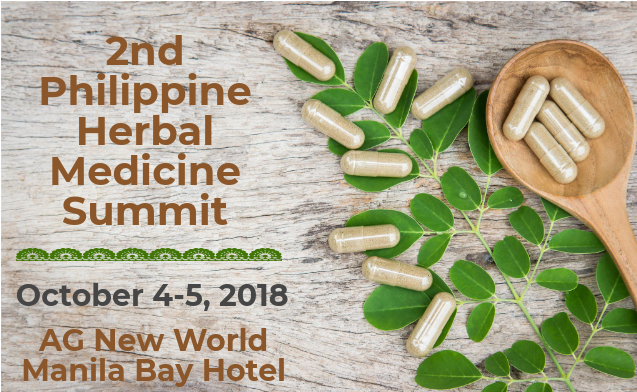 With the successful commencement of the first ever Philippine Herbal Medicine Summit last October 25, 2016, the University of the Philippines - National Institute of Health (UP – NIH) Institute of Herbal Medicine brings it back this October 4 – 5, with the theme "Integrating Herbal Medicine into the Philippine Healthcare System". It will be held at AG New World Manila Bay Hotel in Ermita, Manila.
Both local and international speakers will impart their knowledge and expertise on herbal medicines and their incorporation into the healthcare system. On the second day, the five best chosen research papers will be presented.
With the continuous rise of herbal products and some emerging reports regarding adverse effects caused by excessive usage, there is a need to increase research efforts globally regarding the regulation of herbal products.
The goal of the summit is to unite the various pharmaceutical stakeholders to discuss and work towards the advancement of herbal medicines and the assurance of their efficacy, quality, and safety. It also aims for the provision of affordable and high quality herbal medicines through research collaborations, making them more accessible to the Filipinos.
Esco will be showcasing biological safety cabinets and laboratory ovens in the herbal medicine summit. The Airstream® biological safety cabinets offer user and environmental protection when conducting experiments with organisms which are assigned under biosafety levels 1, 2, and 3. These energy-saving cabinets are equipped with protective features, such as the ISOCIDE™ powder coat which inhibits microbial growth and optional UV lamp for decontamination.
They are also equipped with a UV Door which provides safety against UV light. The cabinets are powered by an energy-efficient DC ECM Motor, offering 70% energy savings. Bearing the EN 12469 certification by the Public Health England (PHE), Airstream® biological safety cabinets are essential components in the laboratory.
Esco Isotherm® laboratory ovens are used for high-forced volume thermal convection applications. These ergonomic ovens generally provide uniform temperatures all throughout. Process applications for these ovens can be for annealing, die-bond curing, drying, polyimide baking, sterilizing, and other industrial laboratory functions.
Join us in the summit and get to know more about the company and what we can offer. To register, just visit https://docs.google.com/forms/d/e/1FAIpQLSfrEmFwT4IORVJ_iI5eqfY5GvrJEJZc6rbbfObvKZs6eQgY-Q/viewform.
See you there!
Contact Us
Esco Pharma Pte. Ltd.
21 Changi South Street 1 Singapore 486777
Tel: +65 65420833
Fax: +65 65426920
Email: [email protected]

Esco Technologies, Inc.
Esco Pharma Factory
2512 Metropolitan Dr. Suite 120-B
Feasterville-Trevose, PA 19053-6738
Tel: +1 215-322-2155
Email: [email protected]
Esco GB Ltd.
Unit 2 R-Evolution @ Gateway 36
Kestrel Way, Barnsley, S70 5SZ
Tel: +44 (0) 1226 360799
Email: [email protected]
About our BRANDS
Esco Pharma provides specialist services, equipment packages, and process solutions from our core platform products leading to improved operator protection, reduction of cross contamination, and more efficient processing, thereby directly and indirectly advancing occupational health and human healthcare.
About Esco Pharma
Esco Pharma's largest global network of localized application specialists and service offices provides faster response and local service translating into more competitive costs on maintenance, and shorter project life cycles.
Esco provides standardized platforms with inbuilt configurations without constraints on operational parameters. This enables pharmaceuticals, nutraceuticals, and cosmeceuticals to comply with international standards for occupational health and safety.