Integrable and Dependable: Esco Airstream® Fan Filter Units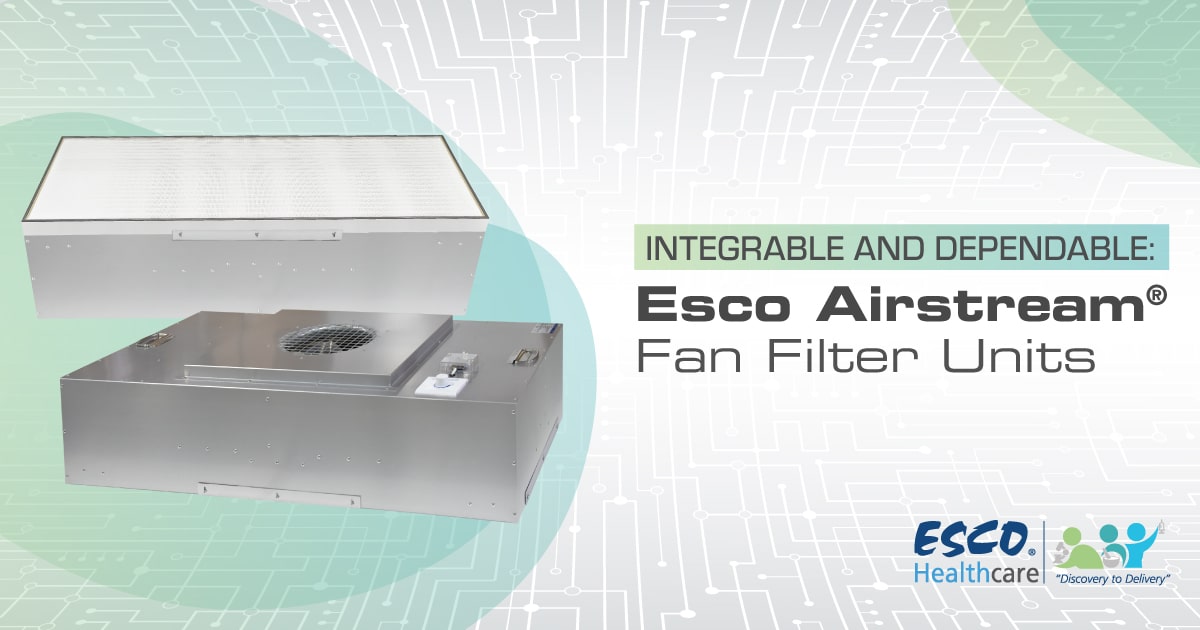 The ABC's of Esco Airstream® Fan Filter Units (FFUs)
Esco Airstream® Fan Filter Unit is a leading-edge fan filter unit (FFU) designed to provide HEPA/ULPA-filtered laminar airflow over a specific area. The FFU draws in ambient air from the top of the module, and exhausts clean filtered air vertically in a unidirectional (laminar) air stream toward its base.
Key Relevance of Esco Airstream® FFU During the COVID-19 Pandemic
Esco Airstream® FFU and Its Protective Edge

Taking advantage of its laminar airflow technology, the Esco Airstream® FFU can be used and be placed on top of registration, reception, cashier and check-in/-out counters. The Esco Airstream® FFU serves as a protective barrier, acting in a similar way as air curtains during over-the-counter transactions (e.g. between employee-customer or healthcare personnel-patient). This minimizes risk for cross-contamination during interactions which could often lead to transmission of the infection.

Figure 1. FFU placed over the hospital patient registration counters

Figure 2. FFU placed over pharmacy counters

Figure 3. FFU placed over the grocery counter. Installed either by attaching it on the ceiling (left) or by directly integrating it with the countertop (right).

Figure 4. FFU placed over the airport check-in counters

Esco Airstream® Portable FFUs: Taking Ordinary Wards Further

Esco also offers rapidly deployable Self-Assembly Kit, one of its products under the Esco Aster Airborne Infection Isolation Room (AIIR) Technology, which comes with portable fan filter box(es) with UV-C kill box and other components that can be used to convert pre-existing wards or rooms into an improvised negatively pressured one.

Figure 5. Pre-existing hospital wards converted into negative pressure isolation wards using the self-assembly kit.

This helps maintain the recommended differential pressure value and facilitate the required air changes in between the ambient environment and the controlled room. Furthermore, it aids in the reduction of healthcare-associated infections (HAIs) and allows better throughput within hospital departments, leading to an increase in both patient and hospital outcomes.

Figure 6. Airflow diagram with labeled components of the self-assembly kit installed in a pre-existing room.
Versatility in its Functions and Junctions
FFUs are commonly used in the construction of ISO Class 3 to 8 cleanrooms (as per ISO 14644-1 standards). It provides high airflow volumes at greater efficiency levels and delivers high performance levels whether used in the construction of cleanrooms or clean air devices. The Esco Airstream® FFUs are available in a wide range of construction sizes and options, and operates at low noise and power consumption levels.
Common applications include:
Construction of conventional cleanrooms

Conversion of normal wards into isolation rooms

Integration and installation in areas, equipment and devices such as the following:

Modular hard and soft wall cleanrooms

Makeshift medical centres and hospitals

Isolation testing mobile tents and retrofit isolation rooms

Registration, reception, cashier and checkout counters

Laminar flow cabinets, containment carts and other clean air devices

Pharmacies, grocery stalls, and other areas which call for a controlled room environment
Different Versions of Esco Airstream® FFU:
Version 1: Integral Blower + Filter Casing

Unit can be suspended from the ceiling which provides a better overall appearance since entire unit is in one-piece.

Version 2: Separate Blower + Housing Module and Filter

Unit cannot be suspended from the ceiling but is an affordable alternative to version 1, suitable when the unit is to be mounted on the cleanroom ceiling.

Version 3: Room Side Replaceable Everything (RSRE)

Unit utilizes a gel-sealed filter and allows all components such as filter and blower to be changed and replaced from within the room.
Esco Airstream® Fan Filter Unit vs. Other FFUs
With a leveraged experience of more than 40 years in cleanroom design and construction, Esco has developed an FFU that simply performs better at a lower cost. Even the company's in-house research and development facilities include an acoustically-insulated HEPA-filtered test environment chamber, where the Airstream® FFU design is optimized for low noise level and energy efficiency.
Esco's manufacturing capabilities range from complete computerized sheet metal design, to fabrication and assembly; a vertically-integrated approach which ensures that quality can be controlled in every step of the way. To ensure performance and quality, only materials from leading suppliers are used. Furthermore, all incoming raw materials are thoroughly inspected via a statistical sampling method.
The following are the quality control measures done at the factory prior to shipment:
Functional tests and visual inspections

Electrical safety analysis tests

Air velocity tests
Unlike others, Esco is one of the few manufacturers of FFUs with core expertise in the design of other high performance clean air and containment equipment through its other business divisions.
Other Products Available from Esco's Equipment Range under Cross-Contamination Facility Integrated Barriers (CCFIB)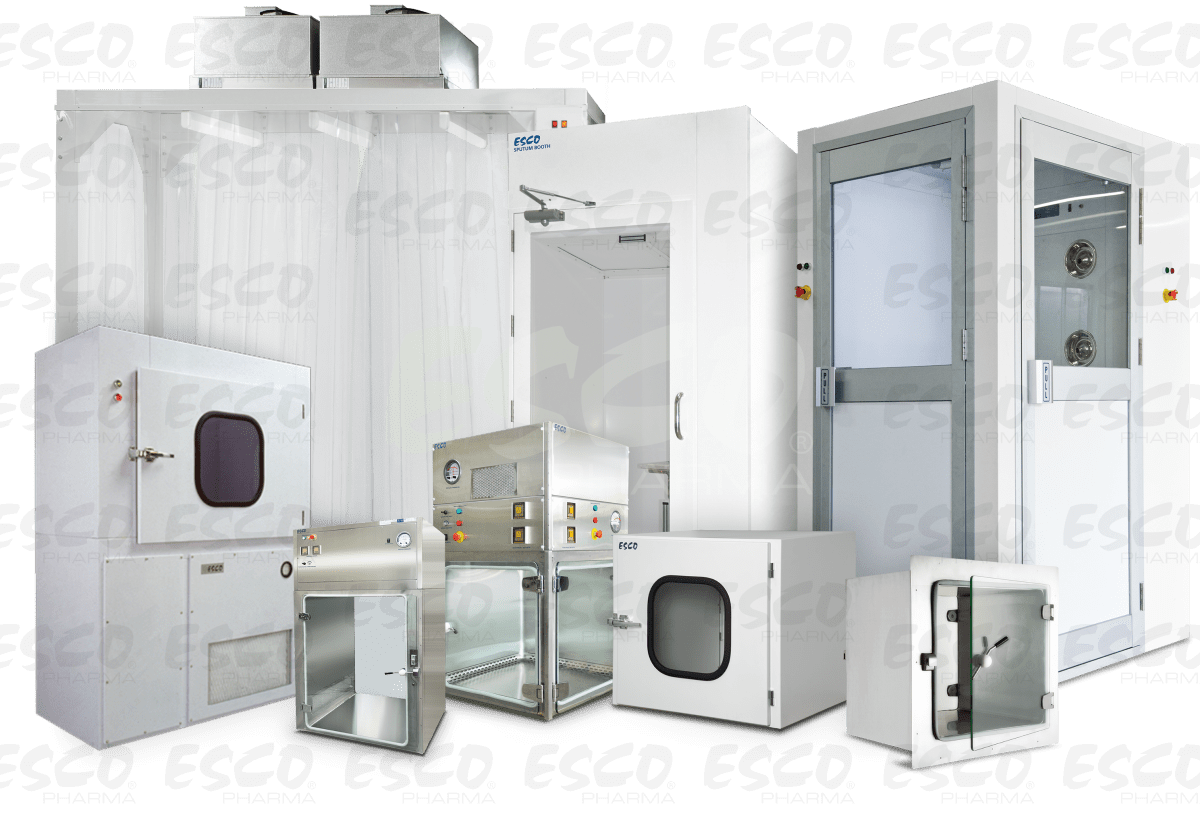 One of Esco Pharma's core technologies, the Cross-Contamination Facility Integrated Barrier (CCFIB), specializes in HEPA-filtered cleanroom construction components for use in critical environments to protect products and processes from microbiological-contamination.
Esco's product line is employed internationally by many of the world's most reputable cleanroom engineering firms in turnkey cleanroom construction projects.
Learn more about how Esco can help you reduce capital and long-term costs, increase efficiency, and achieve only the most stringent levels of contamination control performance.
Backed by Esco's unparalleled experience of more than 40 years in critical environments and cleanrooms; not only in clean air device manufacturing but also turnkey projects.

Lowest initial capital investment and life cycle costs; coupled with technical innovation recognized the world over.

Compliance with the latest international standards for clean air, critical environments and electrical safety.

Fully-integrated and mechanized manufacturing processes in Esco's sheet metal processing centre utilizing only raw materials of the highest quality and the latest industrial production techniques.

Competitive lead times.
Check out Esco Pharma's innovative core technologies at www.escopharma.com.
Downloadable Brochure