Inflatable Sealed Isoclean® Healthcare Platform Isolator (HPI-G3-IS): Your Cost-effective Solution to Automated Isolators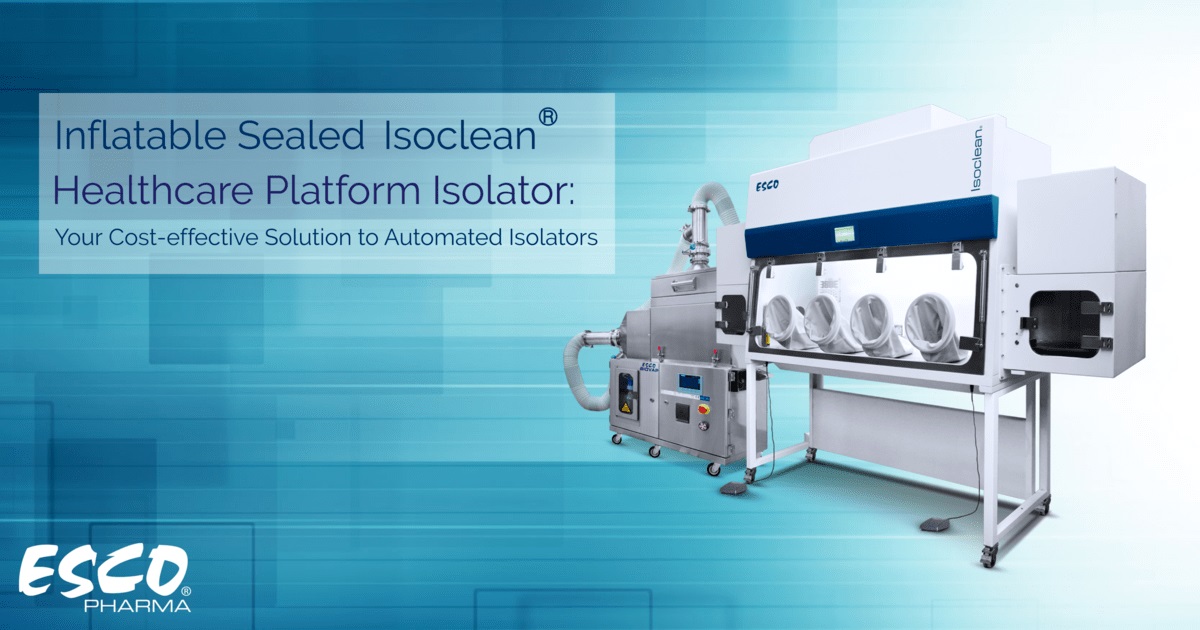 Esco Pharma introduces the newest member to its isolation technologies, the Isoclean® Healthcare Platform Isolator - Inflatable Seal Model (HPI-G3-IS). Isoclean® HPI is offered as an optimized solution for aseptic and potent compounding, sterility testing, aseptic filtration, cell and gene therapy, cosmeceuticals, and biocontainment, among others.
HPI-G3-IS facilitates the isolation of a product/process while providing the required sterile environment. It is factory-configured to operate at either positive or negative pressure in a recirculating or total exhaust airflow scheme.
Isoclean® HPI is designed in accordance with the international Current Good Manufacturing Practice (cGMP) standards. It is equipped with supply HEPA (H14) filters providing ISO Class 5 environment suitable for aseptic processes. The earlier model of HPI-G3 is designed with FDA-approved static seals, while HPI-G3-IS is designed with inflatable seals and automated dampers.
The standard unit of HPI-G3-IS comes with auto pressure hold testing (APHT) and Esco HMI touchscreen. It also allows the integration of Esco mobile Biovap™ Biodecontamination System, which facilitates master biodecontamination that can only be performed with internal doors open. The mobile BioVap™ unit comes with a H2O2 sensor and a catalytic converter.
The pass-through chambers have interlocking doors, adjustable purge duration, and time-delayed ingress/egress control to allow sufficient time for surface decontamination, and to minimize cross-contamination. It also comes with an automated sliding door feature for closing and opening of the inner pass-through chamber door. This improved design facilitates ease of isolation control especially during pressure decay testing and bio-decontamination processes.
Key Benefits include:
Automated pressure hold testing (APHT) capability.
ULPA filters (as per IEST-RP-CC001.3) and HEPA (H14) filter (as per EN 1822) with a typical efficiency of > 99.999% at 0.1 to 0.3 microns; provide superior ISO Class 5 air cleanliness as per ISO 14644-1.
Class 2 containment enclosure classification via auto pressure leak test (factory acceptance test) and Class 3 via automated pressure test as per ISO 10648-2 (prior to daily tasks).
Improved isolation control during pressure decay testing and bio-decontamination process due to inflatable seals and automated dampers.
Real-time display of cabinet operations and cabinet performance monitoring.
Electromagnetic interlocking doors with time delay effect ensures safety and containment during material transfer
Foot switch activated auto sliding doors with light barrier
Isoclean® HPI is capable of pressure testing both in the factory and on-site to meet the ISO 10648-2 standards. The system can give real-time pressure readings during operation for monitoring purposes. The integrity of the gloves can be measured quantitatively, applying the pressure decay method with a glove leak tester.
The isolator is available as a standard or as a customized unit to integrate various equipment for the provision of a complete and simplified workflow processing.
Optional Items:
Integration of Esco mobile BioVap™ biodecontamination system (H2O2 biodecontamination with sensor and catalytic converter)
Integration of a side-mounted 24 L CO2 Incubator
Glove Leak Tester

300 mm x 300 mm
300 mm x 200 mm

CCTV Integration
Height adjustable stand
Access to rear view monitoring system
National Environment Balancing Bureau (NEBB) Cleanroom Performance Testing (CPT) for validation
Optional PQ support
With option for three-way pass through chamber in between 2 units of 2-glove, 3-glove, or 4-glove isolator combination
Other configurations available:

2-glove + 2-glove + 2-glove unit
4-glove + 2-glove unit
Esco Pharma boasts its strengths on multiple manufacturing sites - Singapore, United Kingdom, and the United States, allowing it to serve customers globally. Esco's manufacturing sites are fully certified by ISO 9001, 14001, 18001, and 13485. Esco is the only company with distributed manufacturing sites for isolators but with direct sales and service support from 23 local Esco offices worldwide.
About our BRANDS
Esco Pharma provides specialist services, equipment packages, and process solutions from our core platform products leading to improved operator protection, reduction of cross contamination, and more efficient processing, thereby directly and indirectly advancing occupational health and human healthcare.
About Esco Pharma
Esco Pharma's largest global network of localized application specialists and service offices provides faster response and local service translating into more competitive costs on maintenance, and shorter project life cycles.
Esco provides standardized platforms with inbuilt configurations without constraints on operational parameters. This enables pharmaceuticals, nutraceuticals, and cosmeceuticals to comply with international standards for occupational health and safety.