Esco Pharma Ventures the Art of Filling Line Systems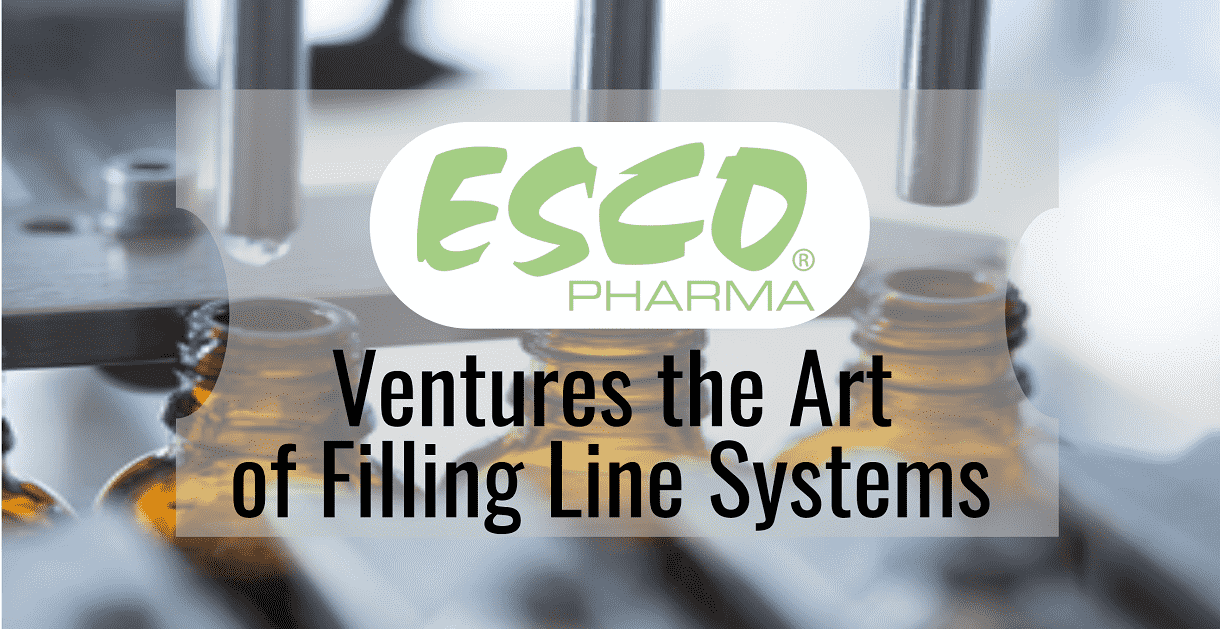 A filling line is an integral part of manufacturing sterile pharmaceutical products. It ensures that parenteral medications are prepared inside an ISO classified environment for the whole manufacturing cycle, which is achieved through the use of a Restricted Access Barrier System (RABS) or an isolator.
RABS achieves an ISO classified environment through its properly designed barrier, which can either have an integrated air handling system, or a shared one with the cleanroom. There is a possibility to recycle used air, thus, saving heating, ventilation, and air conditioning (HVAC) energy consumption.
Meanwhile, an isolator is a state-of-the-art technology that provides the highest product protection. It is a fully enclosed, leak-tight equipment that can provide ultimate product, operator, and environmental protection. According to United States Pharmacopoeia (USP) General Chapter <797>, no air exchange should occur between the isolator and the surrounding environment unless the air is first passed through a microbial retentive filter (HEPA) system.
This ensures that any airborne concentrations of the drug, and any other possible cross-contaminants, will be contained. This design of the isolator makes it suitable for both sterile pharmaceutical compounding and for handling highly potent active pharmaceutical ingredients (HPAPIs).
Moreover, there are two main types of filling lines: the traditional and the flexible.
Traditional filling lines have a dedicated 'fill-finish' capabilities for a specific type of format, thus, adding different container filling capabilities require a significant amount of investment. It is highly efficient for high volume dedicated products where flexibility is not necessary.
On the other-hand, flexible filling lines integrate other pharmaceutical equipment such as: a vial washer, a sterilization tunnel, a robotic arm, and even a freeze dryer. Doing so simplifies the entire manufacturing process. Unlike the traditional type, this has the capability to fill multiple container formats and sizes. Additionally, asset utilization can be increased.
The normal workflow inside a filling line manufacturing plant is best represented by the diagram below.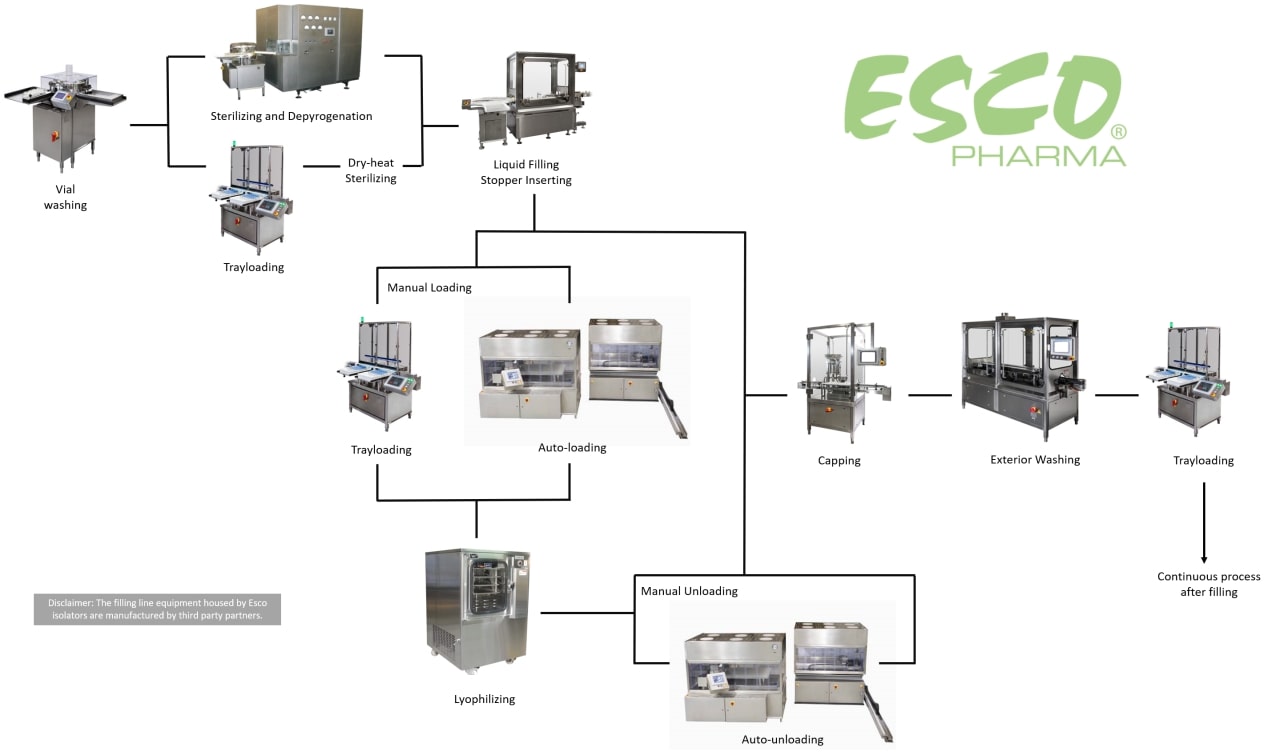 Esco partners with filling line companies to create a client-specific technology, which utilizes GMP compliant isolators and high quality filling line accessories/technologies, to cater a safe and sterile manufacturing process.
As a leading manufacturer of pharmaceutical and biopharmaceutical technologies, Esco Pharma is now reaching further to fulfill the filling line needs of pharmaceutical industries.
REFERENCES:
IMA Life (2018). Overview of Barrier Systems: Open RABS and Isolators. Retrieved on Nov. 27, 2018. Retrieved from: https://ima.it/pharma/pharma-insights/product-insights/barrier-technology/open-rabs-closed-rabs-and-isolators-focus-on-energy-savings/
Longanesi, F. (2008). Innovation in Aseptic Manufacturing: RABS versus Isolators. Retrieved on Nov. 27, 2018. Retrieved from: http://www.gampitalia.it/documenti/ispe-affiliata-italiana/innovation-in-pharmaceutical-manufacturing/05_longanesi_ispe_28feb2008.pdf/download
United States Pharmacopeia General Chapter <797>. (2018). Pharmaceutical Compounding – Sterile Preparations. Retrieved on Dec. 5, 2018. Retrieved from: http://www.usp.org/compounding/general-chapter-797
Contact Us
Esco Pharma Pte. Ltd.
21 Changi South Street 1 Singapore 486777
Tel: +65 65420833
Fax: +65 65426920
Email: [email protected]
Esco Technologies, Inc.
Esco Pharma Factory
2512 Metropolitan Dr. Suite 120-B
Feasterville-Trevose, PA 19053-6738
Tel: +1 215-322-2155
Email: [email protected]
Esco GB Ltd.
Unit 2 R-Evolution @ Gateway 36
Kestrel Way, Barnsley, S70 5SZ
Tel: +44 (0) 1226 360799
Email: [email protected]
About our BRANDS
Esco Pharma provides specialist services, equipment packages, and process solutions from our core platform products leading to improved operator protection, reduction of cross-contamination, and more efficient processing, thereby directly and indirectly advancing occupational health and human healthcare.
About Esco Pharma
Eso Pharma's largest global network of localized application specialists and service offices provides faster response and local service translating into more competitive costs on maintenance, and shorter project life cycles.
Esco provides standardized platforms with inbuilt configurations without constraints on operational parameters. This enables pharmaceuticals, nutraceuticals, and cosmeceuticals to comply with international standards for occupations health and safety.