Esco Pharma is Proud to Launch its New Range of Containment Isolators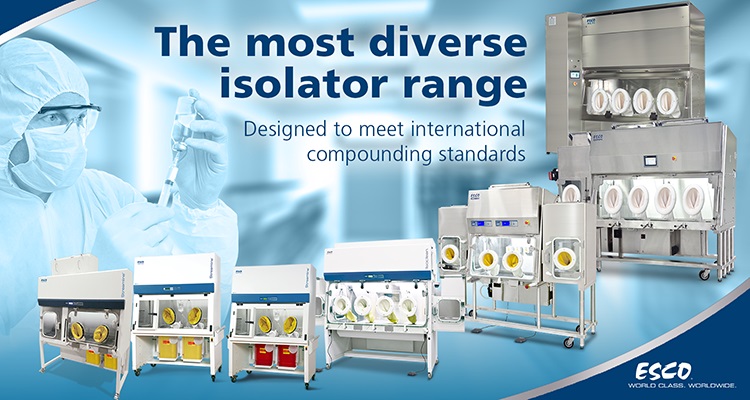 Esco Pharma, building on the success of our suite of Aseptic/Containment Isolators, is proud to launch our Containment Barrier Isolator (CBI) range of aseptic/containment isolators. The Esco CBI retains the same functionality and platform engineering that Esco Pharma pioneered whilst adding more innovative features.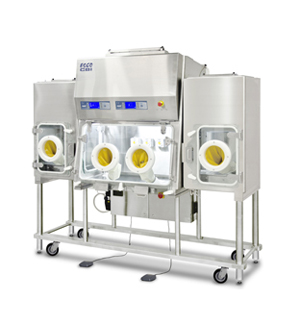 Applications that are specifically optimized for our CBI are:
Pharmacy Compounding (Chemotherapy / TPN)
As a Class III Cabinet for Biosafety Levels (BSL) 3 and 4
Small Batch Sterility Testing
Small-scale Potent Material Handling
Cell Processing
Aseptic Processing
Research and Development
Our Esco CBI provides full unidirectional airflow across the entire work zone and comes in re-circulatory or single-pass options, in either positive or negative pressure.
It is built with a single-piece carcass and 19 mm coved ball radius corners on all 4 base corners. This allows for easy incorporation of 3rd party equipment and other process instrumentation.
Coved corners allow hydrogen peroxide vapors to reach all corners hence all surfaces can be easily biodecontaminated to a 6 log reduction. Its true single piece design allows rapid surface decontamination/sterilization, and easy cleaning in the event of any spillages.
Esco CBI comes as well with 2 differing dynamic pass-through hatches sizes:
Larger dynamic pass-through with optional glove ports
Smaller dynamic pass-through without glove ports that allows integration of a CCTV.
Optional sliding trays (perforated or non – perforated can be provided).
For further information please contact your Esco office near your area today!