Esco Pharma is Heading to ISPE Singapore 2018!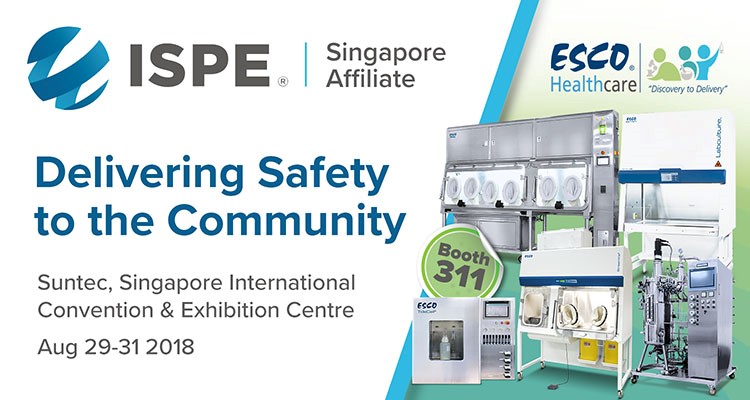 Esco Pharma will be exhibiting once again at the International Society for Pharmaceutical Engineering (ISPE) Singapore Conference and Exhibition this coming Aug. 29 – 31, at Suntec, Singapore International Convention & Exhibition Centre.
Last year, ISPE has gathered over 800 pharmaceutical professionals, which created massive opportunities for them to meet and discuss over new products, technologies, and services for the betterment of many pharmaceutical operations.
The main purpose of ISPE is to deliver technical and operational solutions to support members in the manufacture and delivery of quality medications across the globe. With this, Esco Pharma heads back to the exhibition to showcase advanced equipment ranging from isolators, bioreactors, biological safety cabinets, and more.
Esco has also been invited to Germany for the ACHEMA 2018 Exhibition last June 11 – 15, 2018 at Messe Frankfurt, Frankfurt, Germany.
Esco Pharma had shown a great array of innovative products, from Life Sciences, Medical, and Esco Healthcare. Bioreactors and isolators were exhibited, and Esco Pharma proudly presented the upgraded Turbulent Flow Aseptic Isolator (TFAI)™. It is a free-standing isolator and is designed based on cGMP's standards. The TFAI's ability to meet turbulent Grade A conditions provides a high degree of containment separation for product, operator, and environment. It also offers the newest option: the Pod FlangeT™ a flexible and detachable worktop which can be integrated with different equipment, according to the operator's application. Displayed during the exhibition is the model that allows the integration of a semi-automated tabletop filling line from AST and a lyophlizer.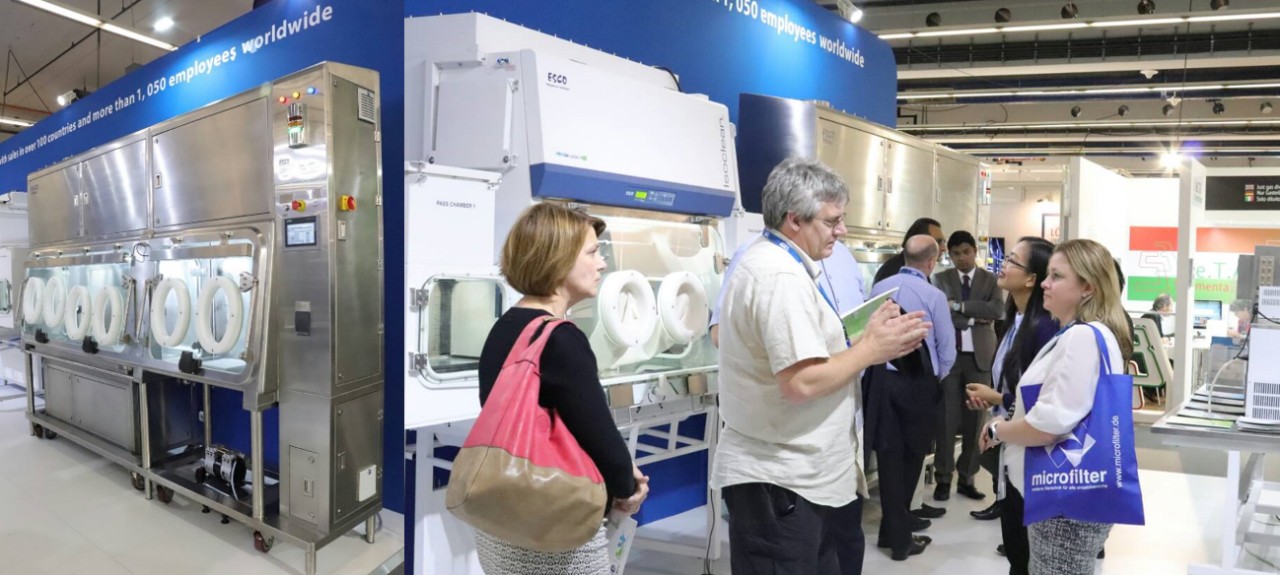 Figure 1. The Turbulent Flow Aseptic Isolator (TFAI)™ (left). Esco team discussing with clients (right).
The Lyophilizer Auto Loading/Unloading Isolator was also displayed with the latest conveyor push push auto loading and unloading system by SP Scientific, one of the most technically innovative freeze-drying manufacturers. The isolator maintains an ISO Class 5 environment, capable of automatically loading and unloading vials to/from a lyophilizer. The isolator is also linked upstream to a filling and stoppering line, then downstream to capping.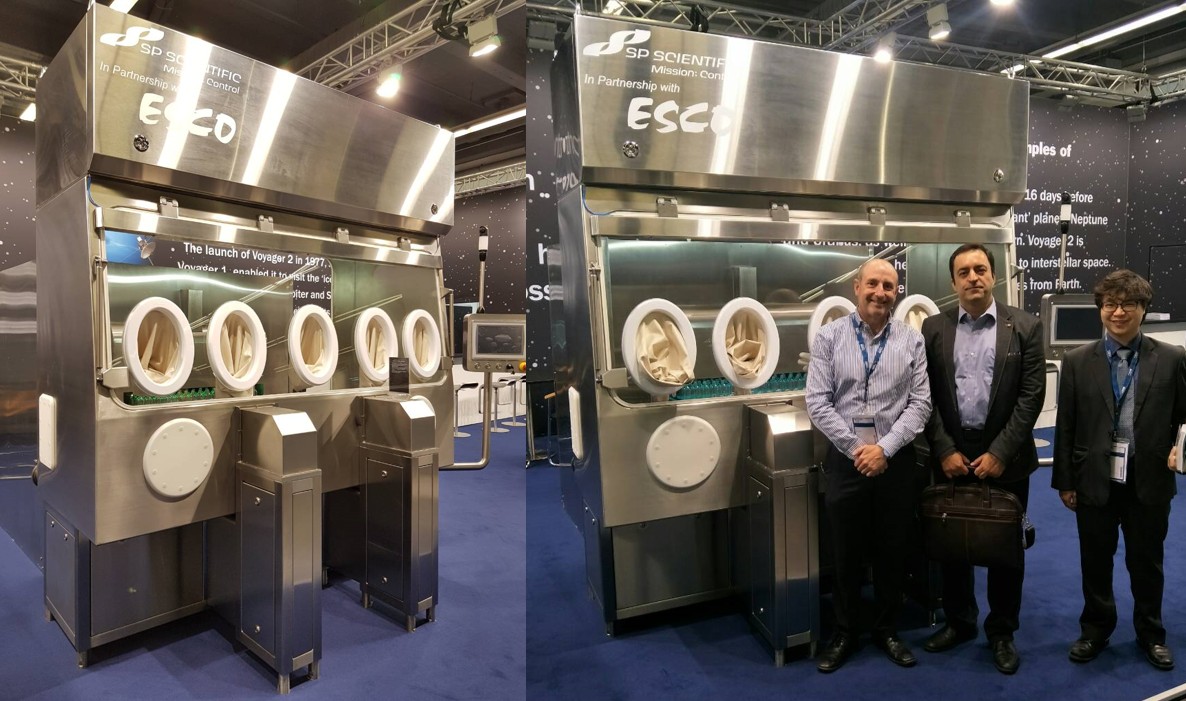 Figure 2. Esco Pharma executives alongside the SP-Scientific unit, the Lyophilizer Auto-Loading/Unloading Isolator.
With the company's continuous achievements, it is without a doubt that Esco Pharma keeps on pushing forward. Being the only Pharmaceutical Isolator company with three global factories able to manufacture isolators using common designs and parts, and with offices in 25 countries and 40 locations, Esco is able to serve our clients in every time zone with aftermarket support. We are local, yet global.
Our team of experts will be available on-site to discuss your containment needs and on how we can provide safety right from Discovery to Delivery. Come and get your questions answered and get to see our state-of-the-art equipment, visit us at Booth 311! See you at ISPE Singapore 2018!
Contact Us
Esco Pharma Pte. Ltd.
21 Changi South Street 1 Singapore 486777
Tel: +65 65420833
Fax: +65 65426920
Email: [email protected]
Esco Technologies, Inc.
Esco Pharma Factory
2512 Metropolitan Dr. Suite 120-B
Feasterville-Trevose, PA 19053-6738
Tel: +1 215-322-2155
Email: [email protected]
Esco GB Ltd.
Unit 2 R-Evolution @ Gateway 36
Kestrel Way, Barnsley, S70 5SZ
Tel: +44 (0) 1226 360799
Email: [email protected]
About our BRANDS
Esco Pharma provides specialist services, equipment packages, and process solutions from our core platform products leading to improved operator protection, reduction of cross contamination, and more efficient processing, thereby directly and indirectly advancing occupational health and human healthcare.
About Esco Pharma
Esco Pharma's largest global network of localized application specialists and service offices provides faster response and local service translating into more competitive costs on maintenance, and shorter project life cycles.
Esco provides standardized platforms with inbuilt configurations without constraints on operational parameters. This enables pharmaceuticals, nutraceuticals, and cosmeceuticals to comply with international standards for occupational health and safety.
https://www.escopharma.com/