Esco Pharma is Back at INTERPHEX 2021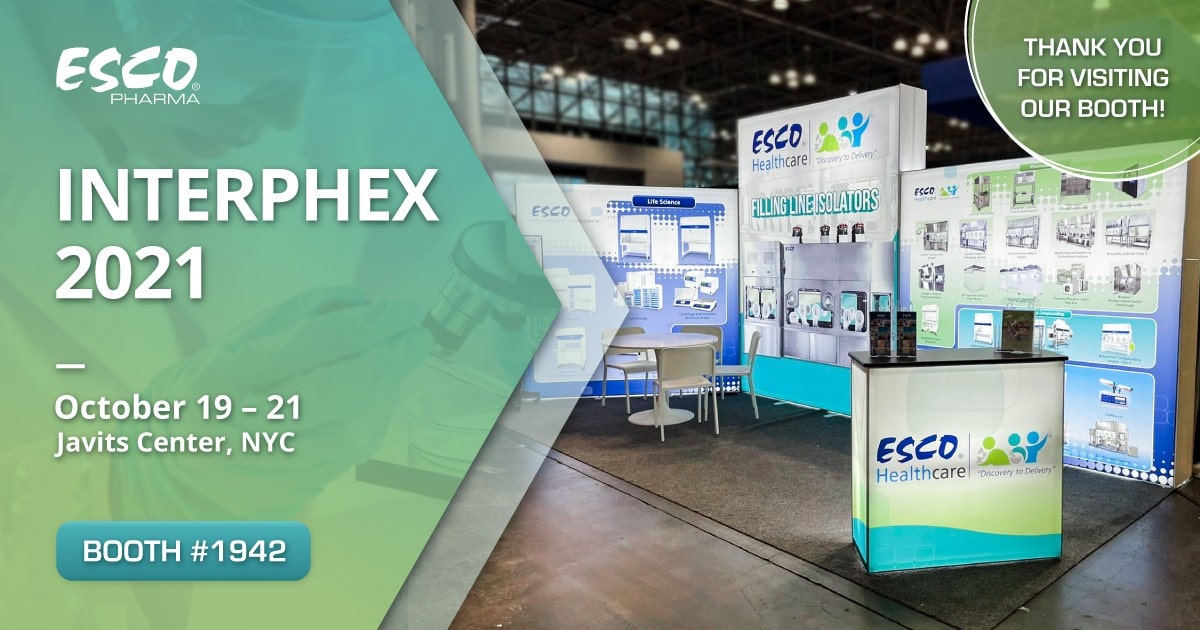 Esco Pharma is enthralled to exhibit at the recently concluded INTERPHEX held at Javits Center, New York City from October 19-21. We would like to thank our clients and collaborators for taking the time to visit booth #1942.
As one of the leading process solution providers, Esco Pharma exhibits specialized equipment and services to further uphold its vision of improving operator protection, reducing of cross-contamination, and promoting efficient processes.
Esco Pharma features its innovative Filling Line Isolators that are fully customizable based on process needs. Its full mechanical assembly, instrumentations, and electrical controls may be designed to be tailored-fit from formulation down to fill and finish manufacturing processes.
Esco Pharma takes pride to be the only Pharmaceutical Isolator company to be able to serve our clients in every time zone with the global presence of our three factories spanning from Asia, USA, and Europe.
Once again, Esco Pharma would like to thank everyone for the opportunity to connect with you!
We are indeed stamping our marks globally! Catch us on our next event at CPhI Worldwide.
Contact Us
Esco Technologies, Inc.
Esco Pharma Factory
2512 Metropolitan Dr. Suite 120-B
Feasterville-Trevose, PA 19053-6738
Tel: +1 215-322-2155
Email: [email protected]
About Esco Pharma
Esco Pharma provides specialist services, equipment packages, and process solutions from our core platform products leading to improved operator protection, reduction of cross-contamination, and more efficient processing, thereby directly and indirectly advancing occupational health and human healthcare.

Esco Pharma's largest global network of localized application specialists and service offices in 42 locations and growing provides faster response and local service translating into more competitive costs on maintenance, and shorter project life cycles.
Esco provides standardized platforms with inbuilt configurations without constraints on operational parameters. This enables pharmaceuticals, nutraceuticals, ATMP, cell therapy, gene therapy, biologics/vaccines, and cosmeceuticals to comply with international standards for occupations health and safety.