Esco Pharma is Back Again at CPhI Worldwide 2021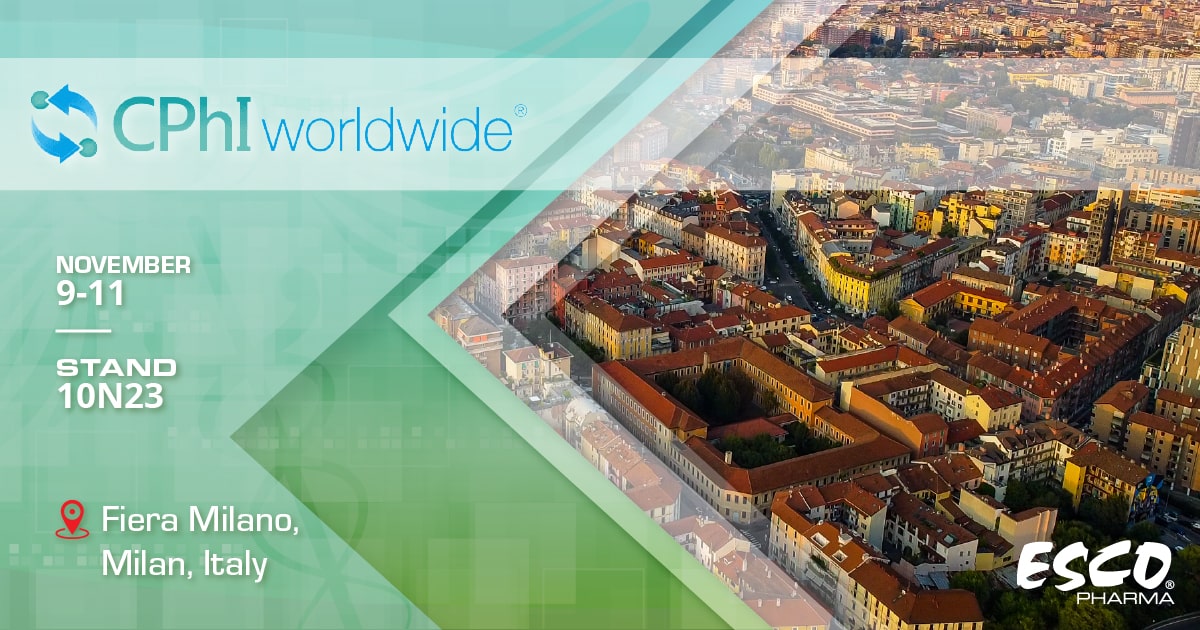 Esco Pharma continues to uphold its commitment amidst the pandemic to provide dedicated solutions through our latest innovative platforms.
Esco Pharma is proud to be an exhibitor at this year's CPhI Worldwide 2021, to be held at Fiera Milano, Milan, Italy this coming November 9th - 11th. With over 800 exhibitors across the whole supply chain from more than 170 countries, CPhI Worldwide is the go-to event for professionals wanting to stay updated and relevant in the fast-paced and ever-changing pharmaceutical industry.
After being postponed last year due to the ongoing pandemic, this year marks its return via their new hybrid platform, where attendees can join online, in-person, or both. The CPhI platform went live on October 11th, followed by the start of the 2-week conference program online on October 25th. The online conferences focus on four tracks: Product Innovation, Future Forecast, Market Insights, and Learning Labs by the exhibitors. In-person meetings will be held from November 9th – 11th, and any missed online meetings and on-demand seminars will be available by November 15th.
The event comprises six sub-events in one. Esco Pharma is part of the Pharmaceutical Machinery and Equipment Convention (P-MEC) sub-event, a leading platform for pharmaceutical machinery, equipment, and technology professionals. P-MEC is where attendees can find production machines for the manufacturing of finished form ingredients, packaging, and clean room/lab equipment solutions. Other sub-events are as follows:
CPhI: a global platform for pharmaceutical ingredients suppliers, bringing together buyers and manufacturers in one specialist zone.
ICSE: an international platform connecting CROs, CMOs, and CDMOs with the pharmaceutical community.
InnoPack: an industry-leading pharmaceutical packaging, and drug delivery platform covering primary, secondary, and tertiary packaging needs
FDF: brings every aspect of the finished dosage supply chain together in one global location: Big Pharma and CMO, out-licensing specialists, end product distributors, end-user agents, and home markets.
BioProduction: the latest addition to the CPhI events. It brings together the small and large molecule worlds, and with its focus on bioprocessing and manufacturing, it allows pharma and biopharma firms to network and learn from each other in an open, global setting.
Esco Pharma continues to deliver on its promise of providing enabling technologies through unceasing developments and technological advancements. Meet us at stand 10N23, subevent PMEC, zone PMEC, where you can engage with our team of experts that are ready to support you on your process needs from Discovery to Delivery.
Contact Us
Esco GB Ltd
Unit 2 R-Evolution @ Gateway 36
Kestrel Way Barnsley, S Yorks S70 5SZ
Tel: +44 (0) 1226 360 799
Tel: +44 (0) 1226 361529
Email: [email protected]
Website: www.escopharma.com
About Esco Pharma
Esco Pharma provides specialist services, equipment packages, and process solutions from our core platform products leading to improved operator protection, reduction of cross-contamination, and more efficient processing, thereby directly and indirectly advancing occupational health and human healthcare.
Esco Pharma's largest global network of localized application specialists and service offices, in 42 locations and growing, provides faster response and local service, translating into more competitive costs on maintenance, and shorter project life cycles.
Esco provides standardized platforms with inbuilt configurations without constraints on operational parameters. This enables pharmaceuticals, nutraceuticals, ATMP, cell therapy, gene therapy, biologics/vaccines, and cosmeceuticals to comply with international standards for occupational health and safety.