Esco Pharma at the 52nd ASHP Midyear Clinical Meeting and Exhibition 2017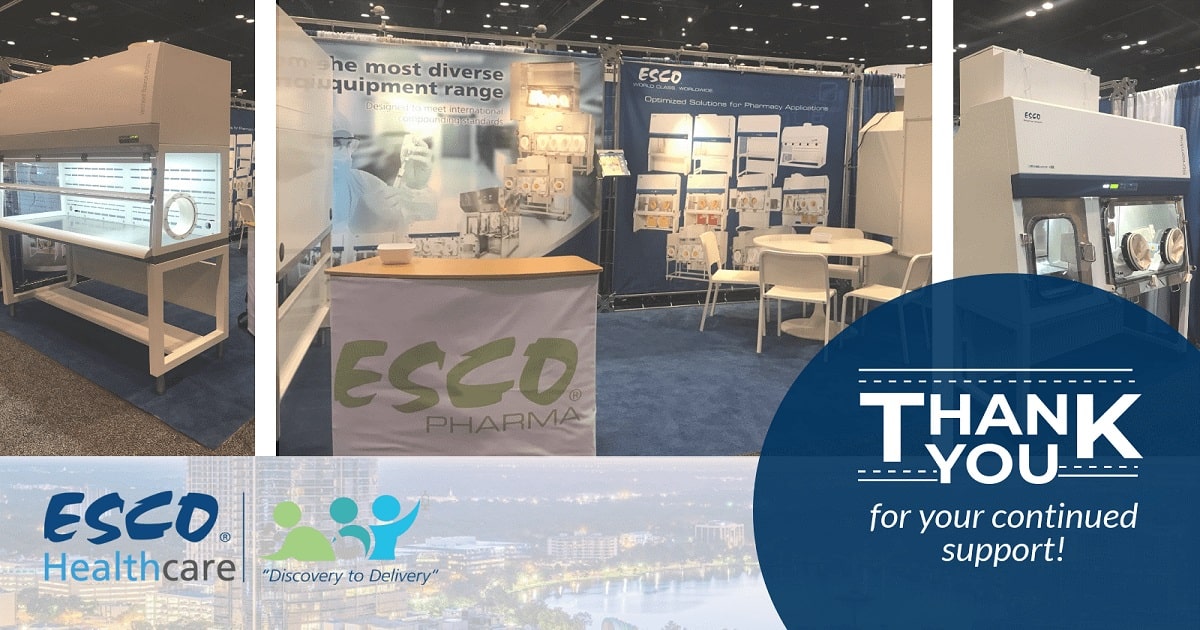 With USP <800> being pushed back to a later official date, pharmacies are now given more time to prepare their facilities to comply with the guideline. Esco recognizes this as an opportunity to equip manufacturing companies and compounding facilities optimum solutions for every process and product needs.
In relation to compliance with primary engineering controls (PEC) requirements of USP <800>, Esco Pharma USA showcased various solutions for hazardous compounding of both sterile and non-sterile drugs last December 4-6 at the 52nd ASHP Midyear Clinical Meeting & Exhibitions in Orlando, Florida.
Esco Ventilated Balance Enclosure (VBE) is explicitly designed for stability and accuracy while maintaining a high level of operator protection by containing hazardous airborne powders. Through the aerodynamic design of sash and armrest, and the sectionalized baffle, the airborne particles are well contained inside the enclosure and exhausted through a HEPA filter or direct to the pharmacy exhaust. Esco VBE is your trusted partner in providing protection when handling non-sterile hazardous compounds.
The Streamline® Compounding Isolator (SCI) is suitable for work involving hazardous drugs such as, antineoplastic/cytotoxic compounding applications. The work zone and pass-through interchange are under negative pressure to the room to maintain operator protection in cases of a breach in the barrier isolation system.
Esco Ventilated Balance Enclosure

Esco Ventilated Balance Enclosure
Streamline Compounding Isolator
(Total Exhaust)
Esco always associates fun with learning. The visitors were put to the test by matching pairs of cards showing Esco's diverse range of equipment for pharmacy compounding, playing inside Esco isolator and ventilated balance enclosure. Exciting prizes were given away to the best matchmakers.
| | |
| --- | --- |
| | |
| Attendee playing the memory game through the isolator | Winners of the Esco Memory Game |
Esco would like to thank everyone for the opportunity to learn and network. We are one with the pharmacy community in creating THE FUTURE!
See you again next year!
Contact Esco Pharma USA to learn more about our pharmacy solutions.
Esco Technologies Inc
2512 Metropolitan Dr,
Trevose, PA
T: 215-322-2155
E: [email protected]