Esco Life Sciences and Healthcare is Strengthening its Core in Biocontainment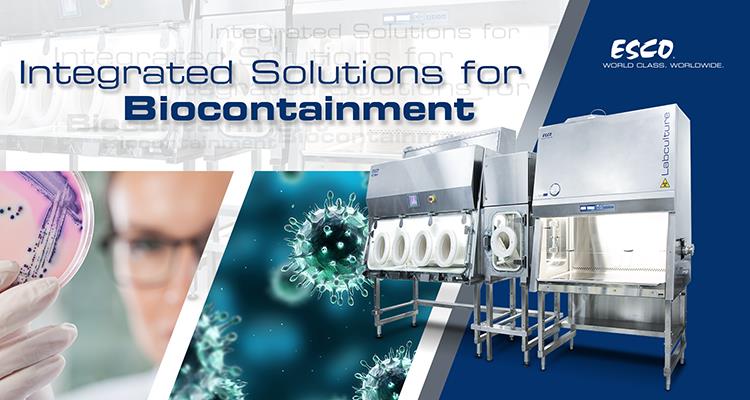 From the world's most certified Biological Safety Cabinet manufacturer, Esco is now the only manufacturer of biocontainment solutions with vertically integrated and regional factories to provide customized Class III Biological Safety Cabinets which exceed international standards from NSF 49 to EN 12469.
The latest addition to the series of Class III Biological Safety Cabinet, Containment Barrier Isolator–III (CBI-III), is designed from the isolation containment expertise of Esco. It comes with food-grade seals, automated pressure hold testing, safe-change gloves, and fully-welded single-piece carcass with coved corners for primary process and pass-through chambers.
Compared to other Esco Class III cabinets such as Esco Airstream Class III (AC3), the CBI-III is constructed of internal 316L and external 304 Outokumpu stainless steel with full sheet metal traceability. It is ergonomically designed allowing ease of material handling with a sloped front for operators in both sitting and standing position. The CBI-III front sloped visors are manufactured from tempered glass with a single side laminate. This material prevents scratches due to harsh biological and hazardous cleaning reagents. CBI-III also comes with a built-in exhaust fan that guarantees that the negative (-ve) pressure within the chamber is maintained even in the event of building exhaust failure and glove breach conditions.
CBI-III is equipped with a dedicated control system to monitor, control, and provide an alarm, based on the environmental conditions inside the chambers. The system runs on Programmable Logic Controller (PLC) with Human Machine Interface (HMI) which is designed to meet 21 CFR part 11 compliance and GAMP 5 software requirements. It can also be incorporated into plant SCADA systems such as WonderWare, Siemens Pcs7, or DeltaV.
Esco provides options for either Esco BioVap™ biodecontamination utilizing atomized hydrogen peroxide or a system using ammonia/formalin. Both systems are automatically controlled through an integrated HMI/PLC-based control and monitoring system. Esco BioVap provides a 6-log reduction of biological hazards within the work zone and can also be used to decontaminate even within flasks or spots that are difficult to reach. These biodecontamination systems also ensure product and operator safety when handling BSL 3 and BSL 4 applications as well as during filter maintenance. Gas cycles are developed as part of client's full loading within the cabinet by Esco-trained microbiologist team and field service engineers.
An optional integrated Class II Biological Safety Cabinet is available to meet the user's need. The Class II Biological Safety Cabinet is connected to CBI-III through either a static or dynamic pass-through chamber utilizing inflatable seals ensuring a seamless transfer. An easy-to-decontaminate sliding tray facilitates the transfer of materials from one chamber to another.
As an integrated system, CBI-III can accommodate other equipment such as an autoclave, microscope, CO2 incubator, centrifuge, and oven, among others providing a complete and contained work environment for maximum biosecurity. Additional options and accessories like biodunk tank and HVAC skids designed and manufactured in-house are also available.
Inherently designed as an isolator, a total system integration with CBI-III, Class II Biological Safety Cabinet, and Tide Motion bioreactors can be achieved. Tide Motion bioreactors such as TideCell® and Hybrid bioreactor, are perfect for the production of secreted and non-secreted viruses, oncolytic viruses and virus-like particles, adeno-associated viruses (AAV) and lentiviruses (LV) for human/animal vaccines, cell and gene therapy, antibody drug conjugates (ADC) production, and other large molecule bioprocessing.
Other bioreactor systems incorporated into fermentation as well as other applications within the cosmeceutical and healthcare industry can be integrated with CBI-III.
Esco continues to innovate and advance its status as the leading supplier of world-class Biological Safety Cabinets aiding in vaccine and virus biologics production. It promotes biosecurity and biosafety programs in countries with high biocontainment facilities for allergy and infectious diseases, food & agricultural research, aerobiology, military & defense, science & technology, and other national institutes of health worldwide.
Globally, Esco is the only company with proprietary isolators and patented bioreactors manufactured in its factories in USA, UK, and Asia. It is also the only global manufacturer able to provide the widest range of biocontainment tools offering both standard and customized Class I, Class II (Types A2, B1, and B2), and Class III Biological Safety Cabinets. With its direct presence in more than 25 countries and a network of 100 distributors and representatives, Esco has the world's largest number of NSF 49 field certifiers to provide the ultimate security in after-sales service.