Esco Laminar Flow Trolleys: Aseptic Transport of Sterile / Aseptic Materials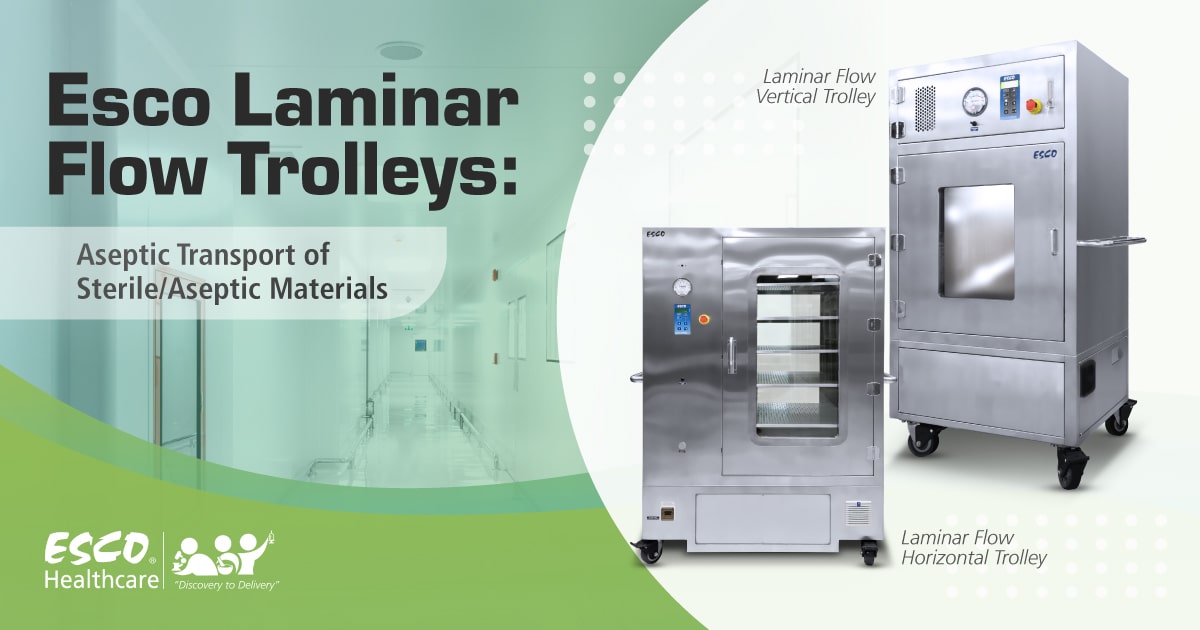 Esco Laminar Flow Horizontal Trolley/ Laminar Flow Vertical Trolley (LFHT/LFVT) are mobile transport carts or trolleys providing ISO Class 5 clean air (as per ISO 14644-1). These laminar flow trolleys utilize a unidirectional airflow to eliminate contamination during the transfer of sterile/aseptic materials.
A Back-to-Back Gain (Aseptic or Protective)
The Esco Laminar Flow Trolleys can be customized to provide the following:
Aseptic processing

Aseptic zone for sterile products or materials equipped with either single pass or recirculatory airflow.

When dealing with non-hazardous sterile/aseptic materials, the internal chamber is maintained under a positive pressure mode with respect to its surrounding environment. Since air moves from a gradient of high pressure to low pressure area, potential contaminants are directed away from the trolley's aseptic zone. This allows protection of the critical products or materials inside the unit.

Protective solution

Operator or environmental protection with recirculatory airflow.

When dealing with potential non-volatile hazardous substances, the internal chamber is maintained under a negative pressure mode with respect to its surrounding environment. This feature helps provide containment and prevents the potentially contaminated air from leaking out of the unit.
Key COVID-19 Relevance
During the time of COVID-19 pandemic, Esco Laminar Flow Trolleys can be used to provide the following applications/solutions:
Cleanroom Integrity Augmented

From an outbreak which emerged last Dec. 2019 from Wuhan, China, and up-scaling into the pandemic that it is today, researchers from all over the world are progressively finding solutions to eradicate COVID-19. With hopes of putting an end to this, call for vaccine development has been a priority since vaccination can help in training the body's immune system to fighting this disease; therefore, prevent it from spreading on further. Up to now, no vaccines have been approved for public use, but still researchers are continually developing and assessing vaccine candidates.

In line with the vaccine development, and the manufacturing, processing, and packaging of drugs, compliance to international and state regulations is required to ensure that these products are maintained to be safe, pure and effective once they are released to the market.

Current Good Manufacturing Practice (cGMP) is a regulation that is enforced by the Food and Drug Administration (FDA). This formal system of controls, when adequately put into practice, helps in preventing instances of contamination, mix-ups, deviations, failures, and errors, and ensures that drug products meet their quality standards.

Figure 1. Esco Mobile Laminar Flow Vertical Trolley, Motorised Version (Single Pass Type)




With compliance to cGMP guidelines, Esco Laminar Flow Trolleys can help enhance cleanroom integrity maintenance during vaccine development by facilitating smooth, safe, and aseptic equipment and material transport across facilities.

These units provide transfer in cGMP facilities from differing unit operations to reduce cross contamination risks. They are also applicable for institutions unable to upgrade their cleanroom facilities to comply to cGMP standards.




Biohazard Containment (Protective Solution)

In light of developing vaccines and along with other research studies which can aid in stopping the spread of SARS-CoV-2, the virus causing this disease is isolated and propagated through cell culturing to make it available for research by the scientific and medical community.

As listed out by the Centers for Disease Control and Prevention (CDC), some areas of COVID-19 research that the public and academic institutions may study with the SARS-CoV-2 strains include:

Antiviral research which includes research aimed at testing the ability of existing or experimental antiviral medications to treat or prevent infection with SARS-CoV-2.

Pathogenesis research which includes research to determine the various ways the virus can be transmitted to a host, the severity of illness it causes in a host, how much virus is produced in the body, and what organs the virus can spread to within the body.

Virus stability research which indicates how long the virus can survive under certain conditions (e.g., how long the virus can survive and remain infectious on surfaces, and at what temperatures can it survive).

CDC recommends virus isolation in cell culture, and initial characterization of viral agents recovered in cultures of SARS-CoV-2 to be conducted in a Biosafety Level 3 (BSL-3) laboratory using BSL-3 practices.

On the other hand, routine diagnostic testing of specimens which is also an essential factor in preventing spread of COVID-19 can be handled in a BSL-2 laboratory using standard precautions.

In dealing with biohazardous or potentially hazardous (non-volatile) substances, specifically when handling and/or processing of COVID-19-related specimens, the Esco Laminar Flow Trolleys can work in providing operator and environment protection by containing the potentially contaminated air within the unit.



How the Esco Laminar Flow Trolleys Work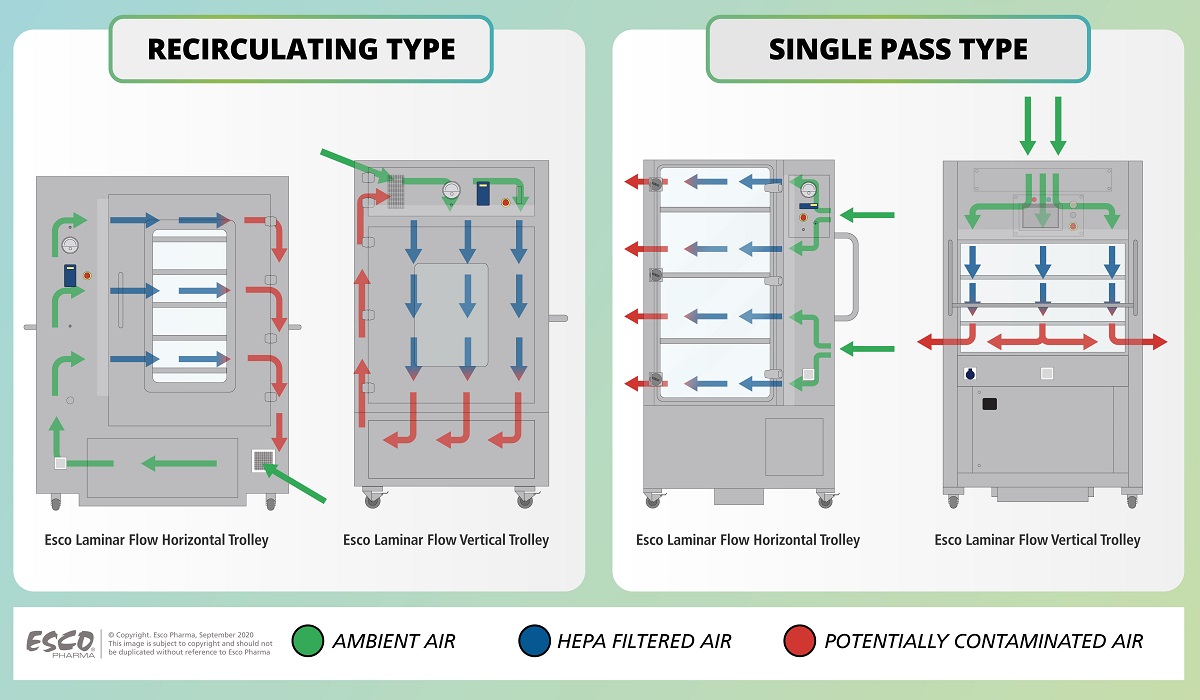 Figure 2. Airflow Diagram of Esco Laminar Flow Trolleys
The Esco Laminar Flow Trolley functions by drawing in ambient air from the room, and passing it via a G4 prefilter before it enters the perforated diffuser into the supply plenum. This airflow passes through a baffle system prior to gel seal HEPA filtration, creating a low decibel aseptic zone for operator comfort.
In a single pass airflow type, a hundred percent (100%) of the potentially contaminated air which passes through the aseptic zone will be exhausted out of the trolley.
While in a recirculatory airflow type, the potentially contaminated air will be recirculated back for HEPA filtration before being supplied back to the aseptic zone.
Common applications:
Temporary storage of critical materials or products

Transfer in facility requiring aseptic work zones

Transfer of materials from cleanroom to a cleanroom, through a non-cleanroom area

Transfer of bulk drug products

Transfer of process skids or feed hoppers

Transfer of autoclaved substances

Transfer of lyophilized vials to and from freeze dryers

Transfer of Grade A to Grade A products

Transfer of materials within cGMP facilities

also applicable for institutions unable to upgrade their cleanroom facilities to comply to cGMP standards; and
upgrading facilities from clinical to commercial sites while preventing production losses due to long turnover when building new cGMP sites.
Key Design and Build Features:
Easy-to-clean design with welded construction

10 mm tempered glass doors with plastic latches

Food-grade, FDA-approved pressure tight seal

Corrosion-resistant stainless steel hinges

HEPA/ULPA knife edge gel-sealed design better than conventional gasket sealed

Great load-bearing capacity Polyurethane (PU) wheels

Sentinel' Gold microprocessor controller with audio/visual alarms for downflow velocity

Magnehelic differential pressure gauges for monitoring filter lifespan

UPS Battery for onboard power when not connected to main building supply

Emergency stop
Available Options and Configurations: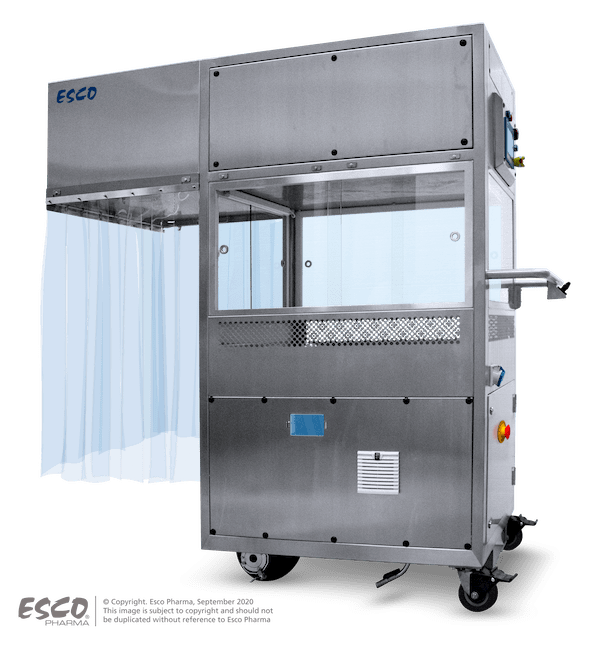 Figure 3. Customized Esco Laminar Flow Trolley
Height adjustable stands

Electromagnetic interlocking doors

Perforated shelves

Splashproof electrical outlets

PVC Curtains

Selection of material of construction between Electrogalvanized steel exterior with Isocide' antimicrobial coating or Full SS 304 exterior and interior.
Other Products Available from Esco's Equipment Range under Airflow Containment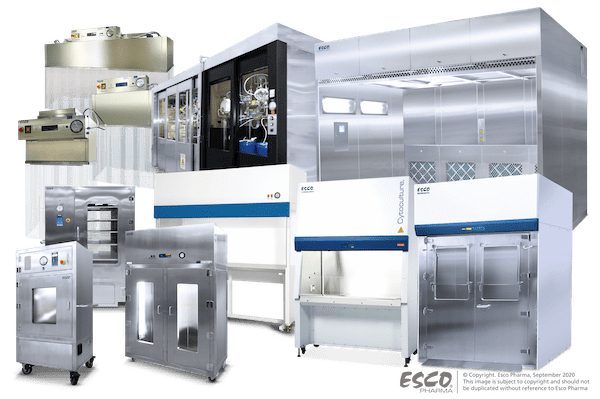 One of Esco Pharma's core technologies, the Airflow Containment, specializes in HEPA/ULPA-filtered cleanroom construction for use in critical environments requiring aseptic techniques to protect products, operators and processes.
Equipment from Esco's product line is employed by numerous institutions worldwide for their aseptic processing needs.
Visit our website to learn more about how Esco can help you reduce capital and long-term costs, increase efficiency, and achieve only the most stringent levels of contamination control performance.
Check out Esco Pharma's innovative core technologies at www.escopharma.com.
Downloadable Brochure
About Esco Pharma
Esco Pharma provides specialist services, equipment packages, and process solutions from our core platform products leading to improved operator protection, reduction of cross contamination, and more efficient processing, thereby directly and indirectly advancing occupational health and human healthcare.
Esco Pharma's largest global network of localized application specialists and service offices in 42 locations and growing provides faster response and local service translating into more competitive costs on maintenance, and shorter project life cycles.
Esco provides standardized platforms with inbuilt configurations without constraints on operational parameters. This enables pharmaceuticals, nutraceuticals, ATMP, cell therapy, gene therapy, biologics/vaccines and cosmeceuticals to comply with international standards for occupations health and safety.