Esco Isoclean® Isolators Aid in a Pharmacy Compounding Facility in Singapore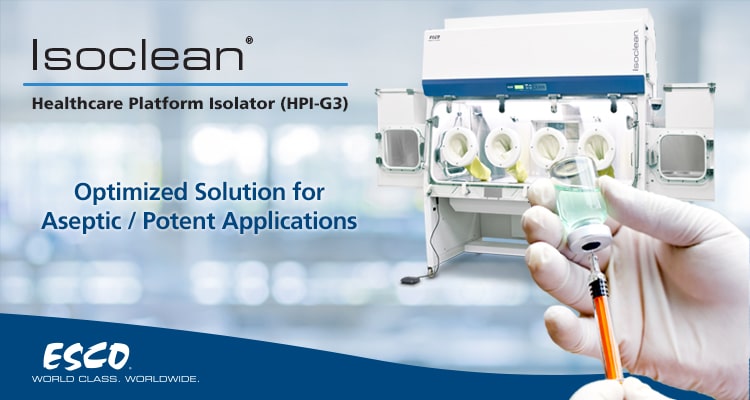 Esco Pharma has been awarded to be the supplier of three (3) pharmacy compounding isolators for a hospital in Singapore. The Esco Isoclean® Healthcare Platform Isolator (HPI) recirculating model with 2 Type D pass through chambers is the model the hospital chose for their compounding pharmacy applications.
With the global trends in pharmacy compounding moving towards cGMP (Current Good Manufacturing Practice) compliance and clearer definitions between a closed restricted access barrier systems (cRABS) and cGMP isolators, Esco Pharma designed an isolator that meets and exceeds existing pharmacy isolator standards.
Esco HPI is capable of being pressure tested at the factory and on site to a Class 2 containment enclosure as per the ISO 10648-2 standards. It is equipped with glove port covers made of medical grade plastic with FDA-approved static seals. The integrity of the gloves can be measured quantitatively applying the pressure decay method. Esco isolators come with optional carbon filters to capture volatile hazardous drugs for sites that cannot be externally vented due to building constraints.*
In addition to isolators as primary engineering controls, Esco also offers biological safety cabinets, cytotoxic safety cabinets, laminar flow cabinets (vertical and horizontal), dynamic pass boxes (Active Transfer Hatches), air showers, and ceiling room side replaceable fan filter units with remote closed loop controls.
Esco, with its design and build division TaPestle Rx, offers complete turnkey design and build services for cGMP pharmacy compounding centres with in-house pharmacists providing consultation and training within the Southeast Asia and Australia/New Zealand regions.
Esco is accredited by NEBB for Cleanroom Performance Testing (CPT). Building the first cleanroom in Singapore in the 1980s for Siemens Components, Esco boasts its rich heritage in clean air and containment technology, in-house consultants, and validation experts. The company is well poised to provide a truly complete solution within the healthcare industry.
*Esco recommends externally venting out the equipment for all hazardous drug compounding. It is the sole responsibility of the pharmacy institution to provide risk assessment depending on the type of drugs being compounded, ensure compliance to relevant guidelines and standards, and ensure sufficient protection to healthcare team. Esco is not liable if an adverse event occurs as Esco only provides consultation. Final decision will be made by the pharmacy institution. Refer to Ministry of Health regulations on workplace for further details.