Esco Healthcare Goes to FAPA 2018!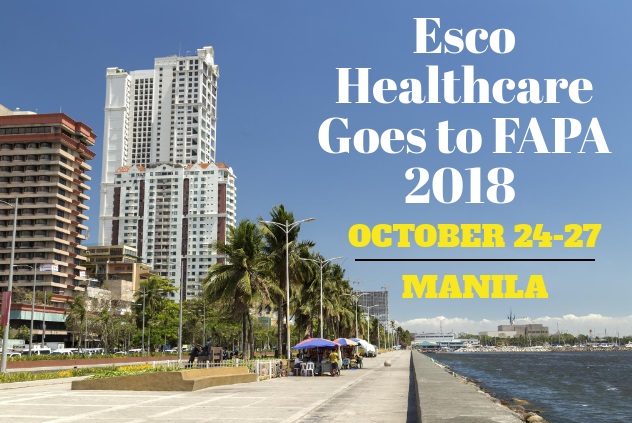 This year, Esco Healthcare will be exhibiting for the first time in the upcoming 27th Federation of Asian Pharmaceutical Associations (FAPA) Congress at the Philippine International Convention Center (PICC) in Manila, Philippines on October 24–27.
The theme for this year's international conference is "Pharmacists for the Global Goals: Creating Value Beyond Health", which will be hosted by the Philippine Pharmacists Association (PPhA) after almost 40 years since last having hosted it. The event is only held every other year and is aimed to inspire pharmacists all over Asia.
The FAPA Congress 2018 is an excellent ground for pharmacists to contribute in working towards the attainment of the Sustainable Development Goals (SDGs) by 2030 through producing and distributing safe and cost-effective pharmaceuticals, and at the same time delivering patient-centered pharmaceutical care services. It also serves as a great opportunity to meet fellow health professionals and to build and expand networks through various Asian countries.
The congress was granted with eighteen (18) Continuing Professional Development (CPD) units by the Professional Regulation Commission (PRC) CPD Council for Pharmacy. The event programme is filled with experienced pharmacy practitioners and researchers worldwide who continue to strive for the future of the profession.
Esco is looking forward to seeing you in October! We hope that you can join us in our exhibition. To register and to know more about the event details, visit www.fapa.asia/fapa2018.
See you in Manila!
Contact Us
Esco Pharma Pte. Ltd.
21 Changi South Street 1 Singapore 486777
Tel: +65 65420833
Fax: +65 65426920
Email: [email protected]
Esco Technologies, Inc.
Esco Pharma Factory
2512 Metropolitan Dr. Suite 120-B
Feasterville-Trevose, PA 19053-6738
Tel: +1 215-322-2155
Email: [email protected]
Esco GB Ltd.
Unit 2 R-Evolution @ Gateway 36
Kestrel Way, Barnsley, S70 5SZ
Tel: +44 (0) 1226 360799
Email: [email protected]
About our BRANDS
Esco Pharma provides specialist services, equipment packages, and process solutions from our core platform products leading to improved operator protection, reduction of cross contamination, and more efficient processing, thereby directly and indirectly advancing occupational health and human healthcare.
About Esco Pharma
Esco Pharma's largest global network of localized application specialists and service offices provides faster response and local service translating into more competitive costs on maintenance, and shorter project life cycles.
Esco provides standardized platforms with inbuilt configurations without constraints on operational parameters. This enables pharmaceuticals, nutraceuticals, and cosmeceuticals to comply with international standards for occupational health and safety.