Esco Healthcare exhibits at the 16th ISPE - Singapore Affiliate

Esco Healthcare, a division of Esco Group of Companies, participated at the recently culminated 16th International Society for Pharmaceutical Engineering (ISPE) Congress – Singapore Affiliate at the Suntec Singapore International Convention and Exhibition Centre last August 25 – 27, 2016.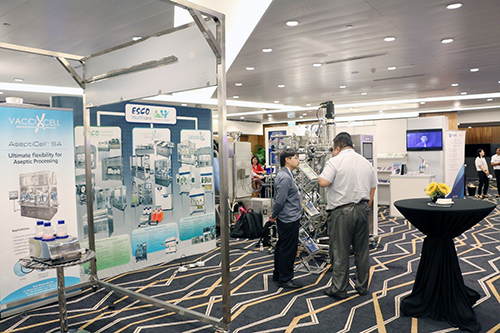 XL Lin, Esco Healthcare Global President, is getting ready to greet ISPE delegates.
With Singapore's emergent and thorough attention on biomedical sciences and the growing venture in pharmaceutical-grounded undertakings, the congress is indeed a timely event to further uphold and advance professional pharmaceutical and engineering infrastructure.
The annual meeting was open to all pharmaceutical and biological manufacturing professionals, with this year's theme as "Continuous Process Improvement." Some of this year's tracks included the following: Aseptic Process & Technology, Good Automated Manufacturing Practices (GAMP), Regulatory Compliance, Risk-Based Approaches to Commissioning, Qualification & Validation, Chromatography Community of Practice and many more.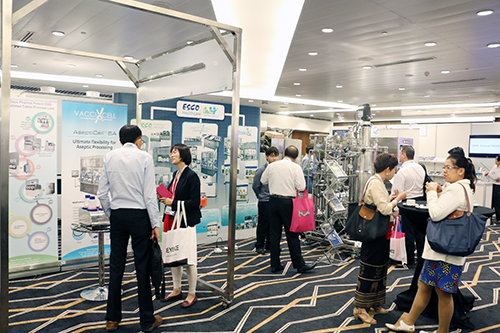 Some ISPE delegates at the Esco booth.
Esco Healthcare's products aim at enabling a complete Translational Discovery to Delivery within the healthcare industry. During the ISPE Congress, Esco exhibited four of its ever growing line of products. Two of Esco Pharma's isolators were exhibited that includes the following: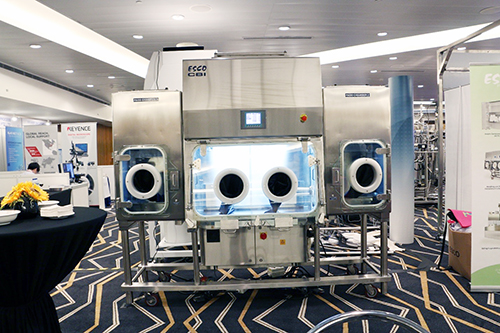 Esco Containment Barrier Isolator (CBI) facilitates the isolation of a product or process while providing the required conditions for a sterile/aseptic environment. It is configured to operate at positive or negative pressure. This equipment provides a comprehensive range of personnel and product protection in addition to protection for the surrounding work areas and the environment. CBI's design has complete compliance to PIC/S and EU cGMP standards with its 19 mm radius coved internal corners in a single piece chamber (no perforations or grilles for contaminants to be trapped on all 4 corners). Its Rear Return Filter ensures that ducts are not contaminated. The system comes in either recirculatory or single pass airflow.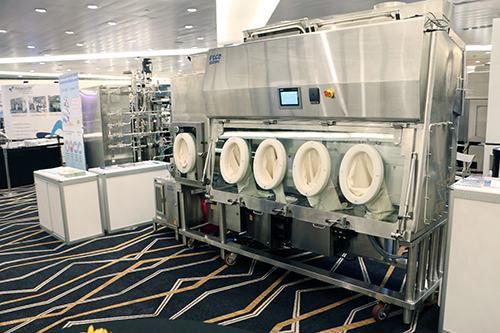 General Processing Platform Isolator (GPPI)
Esco General Processing Platform Isolator (GPPI) is a highly adaptable, unidirectional laminar airflow isolator that can be used for sterility testing or other processes that require an ISO Class 5 (Grade A) aseptic environment. The GPPI's advanced control system allows the operator to select either positive or negative chamber pressure as well as single pass or recirculating airflow patterns. These features, along with the ability to perform safe change procedures on the supply and return ULPA filters, make the GPPI a highly versatile isolator that can be used for potent or non-potent aseptic materials. Also, Esco GPPI's design offers over 20 standard options and configurations ensuring that Esco can provide a standard solution to fit your specific process and facility requirements.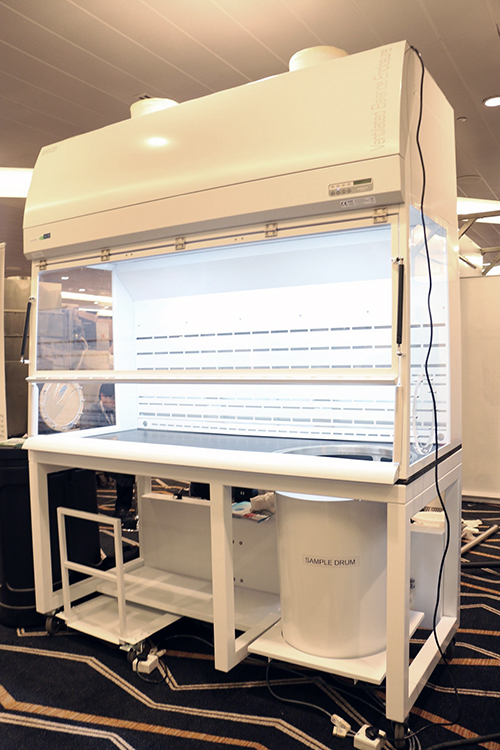 Ventilated Balance Enclosure (VBE)
Ventilated Balance Enclosure (VBE), an airflow containment that is designed specifically for stability and accuracy while maintaining a high level of operator protection by containing hazardous airborne powder. This technology makes use of an aerodynamic design on sash and arm rest plus a sectionalized baffle, wherein the airborne powders are well contained inside the enclosure and exhausted through a HEPA filter or directed to the laboratory exhaust.
To learn more about these innovative technologies, visit www.escopharma.com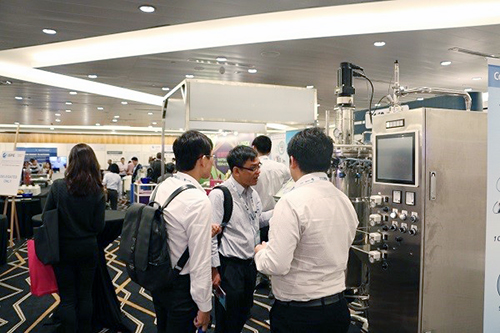 Congress participants taking a look at the StirCradle Pro
VacciXcell, a division of Esco Healthcare, showcased a 100L StirCradleTM Pro. The StirCradleTM Pro is a pilot/production scale stirred tank bioreactor for suspension culture but can also double up as a fermenter. This unit is a fully stainless steel system with an automated 5-step cycle sterilization-in-place (SIP) feature for both media and vessel. VacciXcell offers stirred tank bioreactors in various sizes – from 5L to 1,000L – along with customized sizes (as per customer request). Also displayed was the CelCradleTM tidemotion bioreactor system for adherent cell culture. The proprietary tidemotion technology was displayed in full view for all guests to see. Using tidemotion, cells are alternately exposed to oxygen and nutrients with almost no shear stress. This technology, combined with VacciXcell's BioNOCII macrocarrier, allows a yield of up to 5 Billion cells per 500ml bottle!
It was indeed a great avenue for people (Vice Presidents, Directors, General Managers, Plant Managers, Department Heads, Managers, Project Leaders, Scientists, Engineers, Specialists, Site and Project Directors, Quality Control / Quality Assurance Personnel, Professors) from various industries to interact and share their insights. Kudos and congratulations to the organizers and the participants. And see you at the 17th ISPE Congress in 2017.