Esco at the ASHP in Baltimore!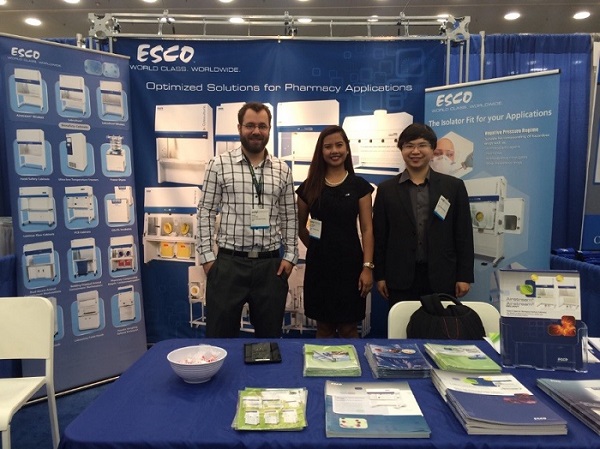 Esco participated in the recently concluded prestigious conference, the American Society of Health-System Pharmacists (ASHP) Summer Meetings and Exhibitions 2016, held on June 11-15 at the Baltimore Convention Center, Baltimore, Maryland, USA.
Mr. Ryan Clayton, Ms. Zharmaine Solivet, and Mr. XL Lin during the ASHP Summer Meetings
ASHP is a national professional organization whose more than 43,000 members include pharmacists, student pharmacists, and pharmacy technicians who serve as patient care providers on healthcare teams in acute and ambulatory settings. (ASHP, 2016)
Lectures were presented under the 4 main categories:
Medication Safety Collaborative
Informatics Institute
Pharmacy, Practice and Policy
Ambulatory Care Conference
Handling Hazardous Drugs in Healthcare Settings
A special topic on hazardous drugs was discussed. Patricia Kienle, the author of USP<800> Hazardous Drugs – Handling in Healthcare Settings, talked about the components of minimizing exposure to hazardous drugs during handling – 1. Facilities and 2. Other elements.
Facilities include the following:
Primary Engineering Controls (PEC)
Primary engineering controls such as Containment Ventilated Enclosures (CVE), Containment Aseptic Containment Isolators (CACI), and Biological Safety Cabinets (BSC) are highlighted as the main sources of operator protection during hazardous drug handling.
Secondary Engineering Controls (SEC)
The room where the primary engineering control is placed should follow the minimum requirements such as fixed walls that separates the room from non-hazardous drug compounding area, negatively pressurized, and should have appropriate number of air changes per hour (ACPH).
Supplemental Engineering Controls e.g. closed-system transfer devices (CSTDs)
Other elements include the following:
Personnel training and monitoring
Medical surveillance
Environmental monitoring
Personal protective equipment
Decontamination and cleaning
Spill management
Esco's solution to USP <797>/<800> Pharmacy Compounding Challenges
In relation to PECs, Esco has showcased its line of pharmacy compounding solutions during the exhibition.
Esco's pharmacy compounding isolators are compliant to international standards such as USP <797>/<800>, FDA cGMP, PIC/S, NIOSH, OSHA, and CETA. These isolators are designed to fit your applications.
Positive Pressure Models
Suitable for compounding non-hazardous drugs such as:
Total Parenteral Nutrition
Ophthalmic preparations
Central IV Admixtures
Negative Pressure Models
Suitable for compounding hazardous drugs such as:
Antineoplastic agents
Hormones
Antibody drug conjugates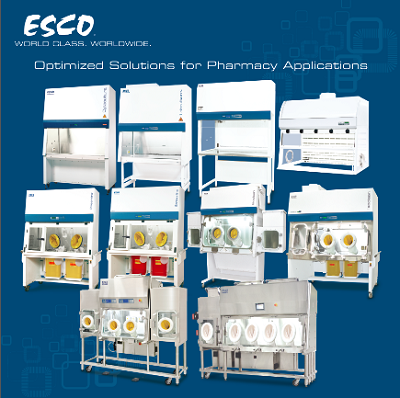 In Esco, we consider the type of facility you are working at. If you have plans in upgrading your facilities, here are our recommendations for isolators:
See you also at:
| | | |
| --- | --- | --- |
| What? | Where? | When? |
| 2016 Fall Hospital Pharmacy Conference | Hyatt Regency O'Hare, Chicago, Illinois | October 17 – 19, 2016 |
| 2016 ASHP Midyear Clinical Meeting and Exhibition | Las Vegas, Nevada | December 4 – 8, 2016 |