Discovery to Delivery Hits NYC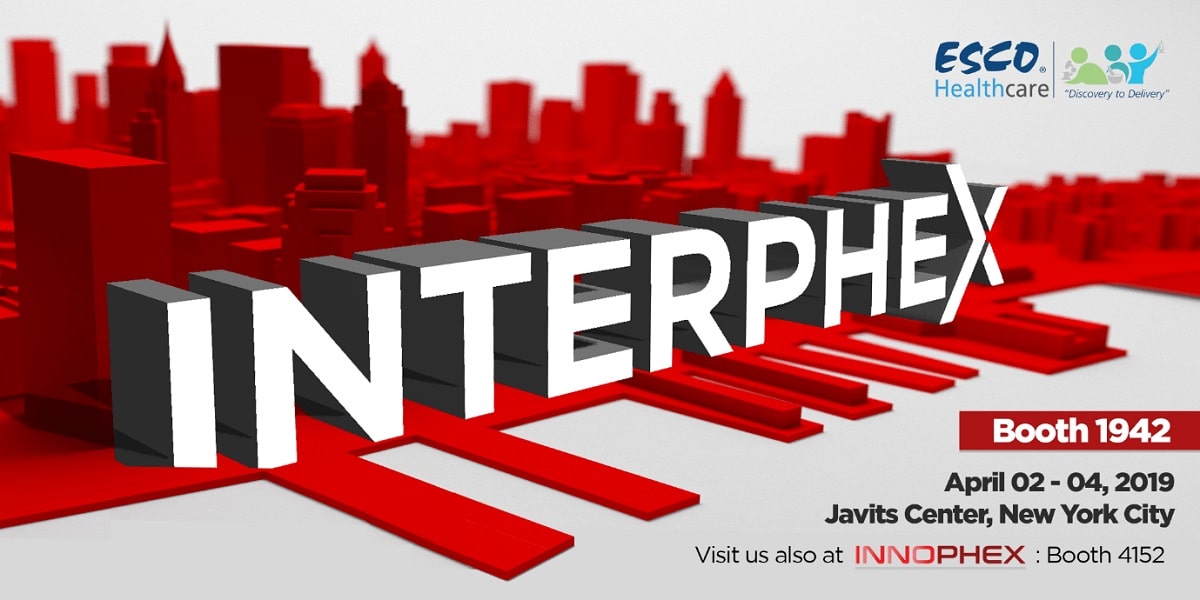 Esco Healthcare will be exhibiting once again at INTERPHEX 2019 - the stage of the leading pharmaceutical, biotechnology, and device development and manufacturing this April 2-4 at Javits Center, New York City.
INTERPHEX is one of the biggest exhibitions worldwide that brings over 11,000 global industry leaders and over 650 suppliers. Last year, the event showcased innovation through a combination of technical conferences, demonstrations, exhibits, and networking events to imply the best quality, efficiency, and cost effectiveness in the global market.
At the event's 40th anniversary, experience with us Science through Commercialization, with Esco Healthcare's take - Discovery to Delivery. From research and development to clinical trials, pharmacy compounding to stem cell therapy, and final commercial production, we provide high-quality services, equipment packages, and process solutions for the protection of the operator, the product and the environment.
Be sure to catch Esco Pharma at Booth 1942 as our team of experts will be available to discuss your containment needs and how we can provide safety with our state-of-the-art equipment.
Esco Aster will also be debuting at INNOPHEX - offering access to the latest intelligence, technologies, and advancements in industry innovation at Booth 4152.
Esco Aster, a globally-operating independent Contract Development and Manufacturing Organization (CDMO) will be displaying the CelCradle™ Tide Motion Bioreactor, a disposable bioreactor capable of high-density cell culture for protein expression, virus, and monoclonal antibody production among others. Make sure to experience the TideCell® Bioreactor System, a linearly scalable Tide Motion bioreactor, that can scale up to 5,000 L packed bed volume, equipped with its own closed automated cell harvesting with closed automated cell harvesting in exciting VR technology!
Click here for to register at INTERPHEX 2019 and see Esco Healthcare's technologies firsthand! https://www.interphex.com/Register/
Can't make it this year? We offer a variety of online resources to learn more about our products and brands, upcoming events, and more!
Contact Us
Esco Pharma Pte. Ltd.
21 Changi South Street 1 Singapore 486777
Tel: +65 65420833
Fax: +65 65426920
Email: [email protected]
Esco Technologies, Inc.
Esco Pharma Factory
2512 Metropolitan Dr. Suite 120-B
Feasterville-Trevose, PA 19053-6738
Tel: +1 215-322-2155
Email: [email protected]
Esco GB Ltd.
Unit 2 R-Evolution @ Gateway 36
Kestrel Way, Barnsley, S70 5SZ
Tel: +44 (0) 1226 360799
Email: [email protected]
About our BRANDS
Esco Pharma provides specialist services, equipment packages, and process solutions from our core platform products leading to improved operator protection, reduction of cross contamination, and more efficient processing, thereby directly and indirectly advancing occupational health and human healthcare.
About Esco Pharma
Esco Pharma's largest global network of localized application specialists and service offices provides faster response and local service translating into more competitive costs on maintenance, and shorter project life cycles..
Esco provides standardized platforms with inbuilt configurations without constraints on operational parameters. This enables pharmaceuticals, nutraceuticals, and cosmeceuticals to comply with international standards for occupational health and safety.