Containment Barrier Isolator: The Practical Solution to cGMP Compliance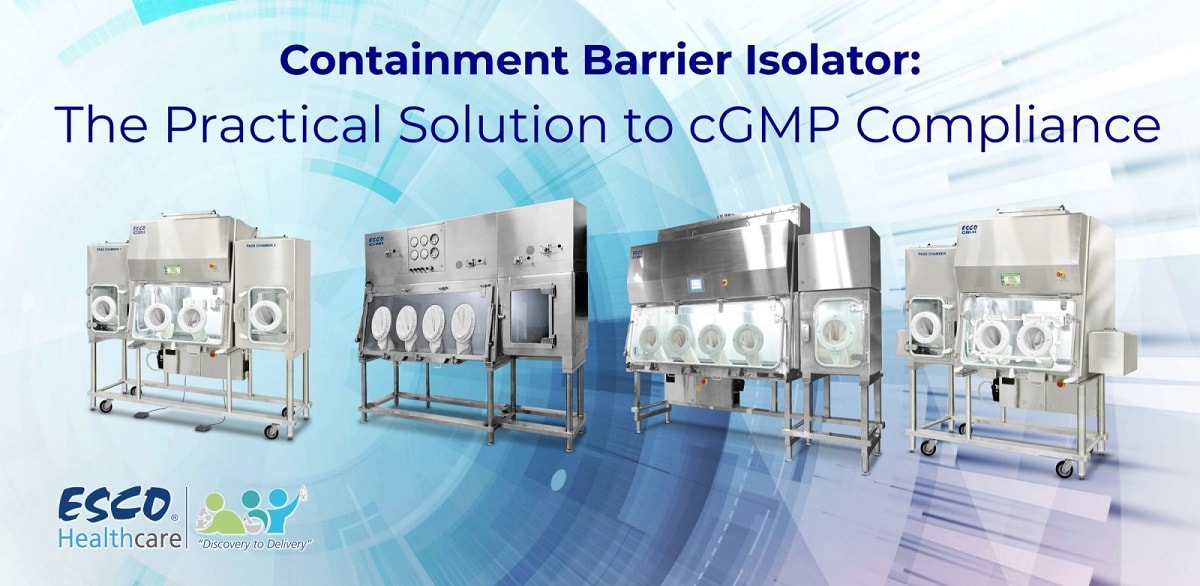 The year 2019 has been a season of success for Esco Healthcare - Esco's division that provides quality equipment and promotes a safe working environment to the healthcare industry. This year, the division released a recent addition to its range of Containment Barrier Isolator (CBI) which paved the way for more applications and processes to be carried out in a cost-effective yet cGMP-compliant equipment.
The CBI technology facilitates the isolation of a product or a process while providing the required conditions for a sterile/aseptic and hazardous environment. This full stainless-steel isolator provides a comprehensive range of personnel, product, and environmental protection.
Standard Features of the CBI
Full stainless-steel isolator with a stainless steel 304 exterior and a fully-welded stainless steel 316L internal chambers with rounded coved corners

Class 2 Leak Tight Containment, as per ISO 10648-2 standards

Esco HMI control system supervises all functions and provides real-time monitoring of cabinet status

Safe change glove system for the maintenance of aseptic conditions inside the chamber during glove/sleeve replacement

Airlock pass-through chamber maintains work zone sterility during material transfer

Foot switch Provides hands-free opening of the magnetic interlock minimizing operator fatigue during transfer procedures.

FDA-grade static seals
Four Models of CBI
Equipment Integration
Depending on the process requirements, the different models of CBI can be integrated with multiple equipment for an easier and a more efficient workflow. CBI offers the advantage of equipment integration without hampering the containment of the cabinet. Equipment can be integrated into the work zone, main chamber walls, or even into pass-through chamber walls, which will be defined by the process and the application.
Testing and validation of each equipment will be meticulously carried out to ensure the isolator's performance comply with international standards, despite the design integrations.
LIST OF EQUIPMENT INTEGRATION OPTIONS

Esco Healthcare continues to innovate and create state-of-the-art technologies that promote safe working environment for the healthcare sector.
As 2019 bids adieu, the company continues to look forward to more opportunities for growth and industry-wide collaborations.
For more information about the CBI, click on the link below:
/products-sub-page.php?productId=40&pg=pdt
Download CBI Brochure