Cell Processing Isolator: Choosing the Right Isolator for Cell Therapy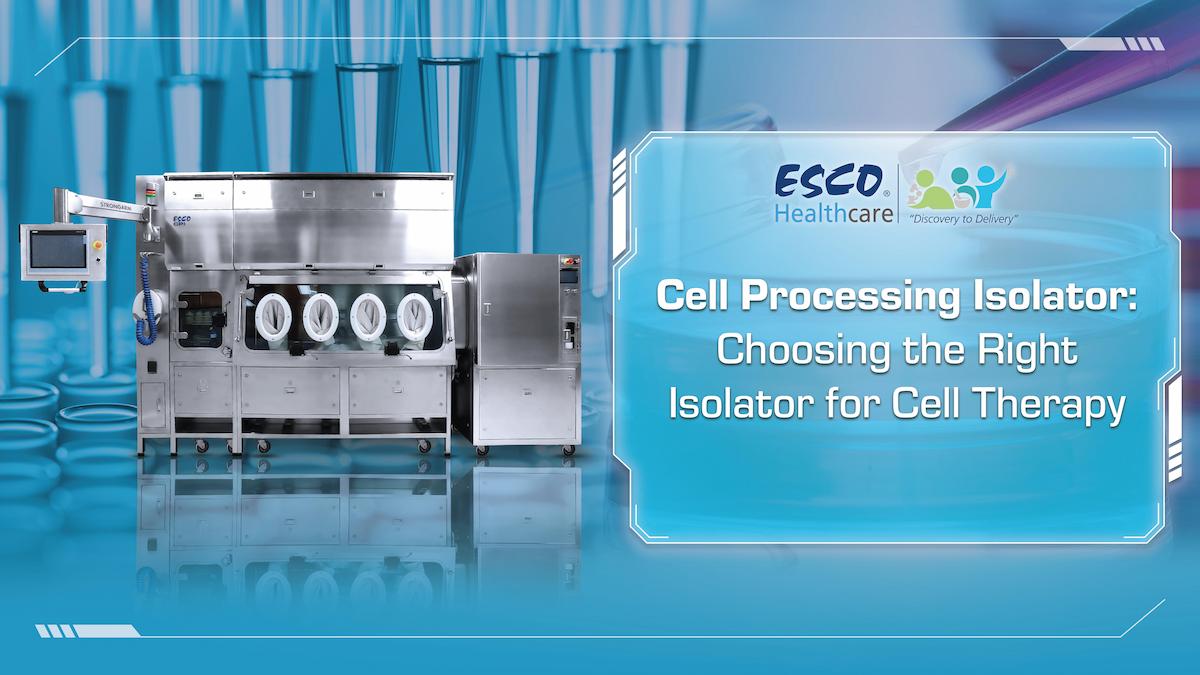 Cell processing is moving towards commercial production by scaling up and through multiple means of increasing the capacity of laboratory processes. Automated systems are now available for some of the cell manipulations that are traditionally carried out manually. Some processes, however, still do not have the available option for closed system automation.
The traditional means of using biosafety cabinets (BSCs) to provide product and operator protection in this application are more commonly found and suited in the initial research and development stage. However, the scale-up of this equipment proposes a possible hurdle. Companies opt to have a room filled with BSCs for multiple processes.
In a scale-up production, the environment in which cell therapies are handled must follow the current Good Manufacturing Practices (cGMP). There are two available options for the environment to isolate an aseptic biopharmaceutical process:
1. An open system like Biosafety Cabinet provides Grade A environment placed in a Grade B Cleanroom.
2. A closed system like the Isolator delivers a Grade A environment in a Grade C or D Cleanroom.
These setups do not only mean an area of defined ventilation or filtration system. It includes the specific type of gowning for the personnel, regular training of personnel, and all the related standard operating procedures (SOPs) carried out for the application.
Compared to traditional sterile pharmaceuticals, all cell therapy applications cannot be terminally sterilized. Therefore, rigorous quality control is paramount in production regardless of the batch size or product type. Whether it is a patient-specific autologous therapy or a large-volume batch of an allogeneic, off-the-shelf product, the entire process must be carried out aseptically. All the processes including final product quality control testing must be done in a manner and area that assures sterility and efficacy.
Considerations in Selecting the Right Isolator
The following factors are to be considered in deciding on the right isolator:
1. Process / Method
Cell processes or methods vary widely among different products. The common cell expansion also makes use of different technologies. The isolator must allow routine processes to be carried out in an efficient manner while together eliminating the risk of contamination.
2. Equipment Integration Capability, Machinery, and Robotics
Depending on the process, the isolator's physiological requirements and design may vary. Isolators may be integrated with multiple sets of equipment such as incubator, centrifuge, and microscope, among others.
The area of pharmaceuticals in which robotics are commonly used is in the aseptic fill-finish process. Semi-automated or fully automated filling machines may be integrated within an isolator system.
Note: Esco Pharma can customize isolators integrating the client's process equipment. For more information, contact the local office near you today.
3. Ergonomics
Typically, cell therapy processes are carried out for a long-term duration. The ergonomics of an isolator must allow manual manipulations to be carried out efficiently and comfortably.
4. Instrumentation
The design of the isolator must have the ability to pass samples and data from all the instruments and equipment within the isolator and allow connection into the possible building management system.
5. Environment
Isolators can provide product, operator, and environment protection. Depending on the characteristic of samples handled, an isolator may operate in negative and/or positive pressure with a single pass or recirculating airflow regime. It can be designed with a fully integrated bio-decontamination system. It is also capable of providing special conditions such as an inert environment and/or temperature and relative humidity-controlled system, depending on the requirements.
Cell Processing Isolator
Esco Pharma's Cell Processing Isolator (CPI) is designed to provide an ergonomic and practical cGMP compliant solution for the production of cell therapies. The CPI is designed to isolate the process to ensure operator safety, without compromising the product quality. It also provides the unidirectional/laminar airflow delivering a sterile environment (ISO Class 5/Grade A) that is required in carrying out aseptic processes.
As a fully cGMP-compliant isolator and an aseptic containment system, it is capable of automated pressure hold testing and of automated bio-decontamination. It can also be equipped with a glove leak tester to allow individual testing of the glove's integrity. By standard, the internal material of construction is made with stainless steel 316L equipped with passthrough chambers. It may also be equipped with Rapid-Transfer-Ports (RTPs). This design allows the introduction and removal of samples in a controlled material flow without the risk of introducing contaminants into the internal chamber or allowing the products to escape the isolator.
A CPI is also equipped with environmental monitoring capabilities such as temperature sensors, relative humidity sensors, and pressure sensors. Continuous particle monitoring systems and viable/microbial air samplers can also be integrated.
The CPI is an integrated system that can combine several types of equipment into one isolated solution. This setup offers increased sterility with a reduced risk of contamination, thus increasing patient safety. The CPI can be custom-designed to suit individual customer requirements (see Figure 1). Depending on the client's requirements, the following are the common sets of equipment that are integrated into a CPI:
· CO2 Incubator
· Centrifuge
· Microscope
· Refrigerator and/or Freezer
· Peltier Wells
· Bioreactor
· Harvesting Systems
· Filtration Systems
· Laminar Airflow Cabinet
· Biosafety Cabinet
· Laboratory Shaker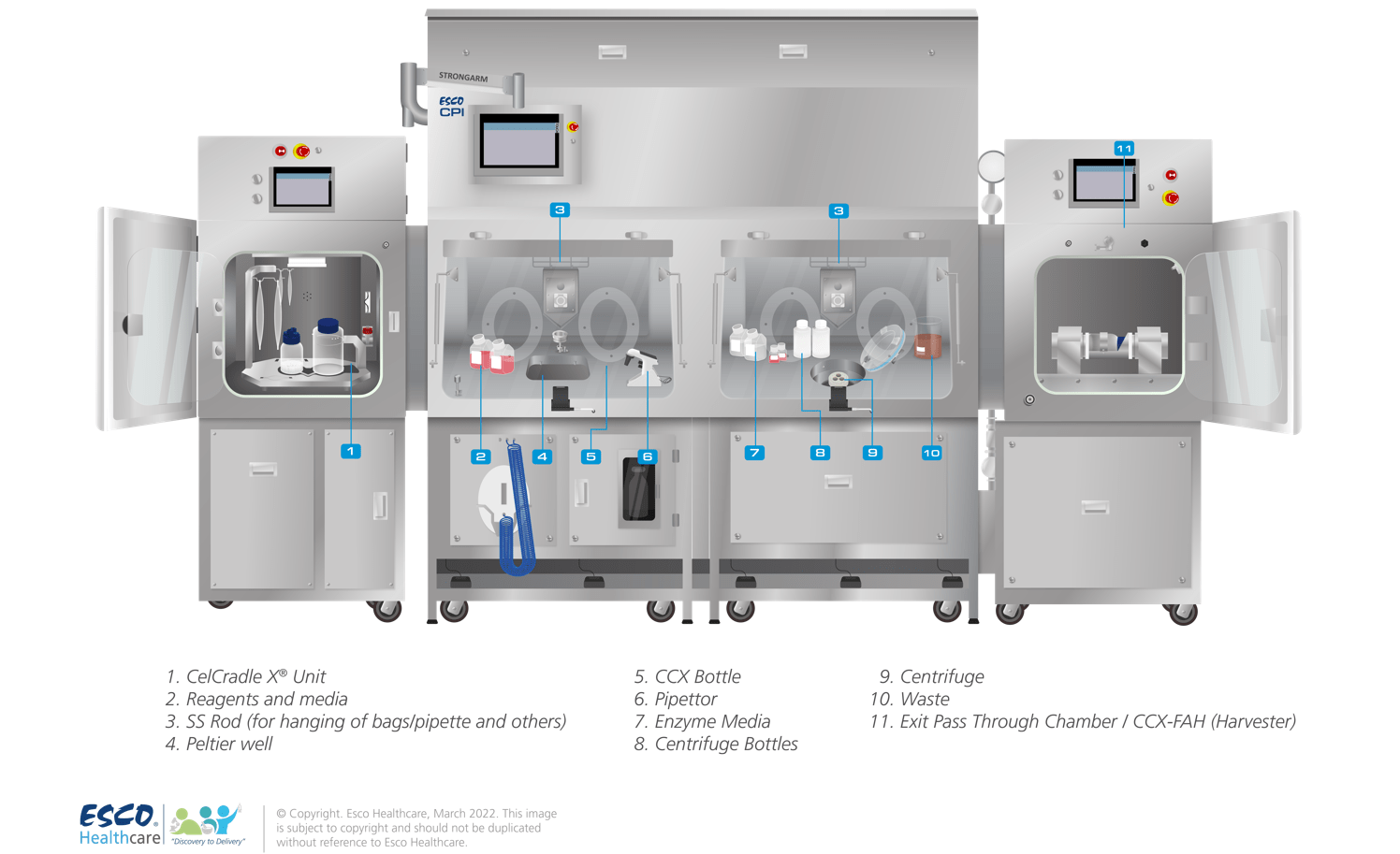 Figure 1. Cell Processing Isolator with fully integrated sets of equipment for full aseptic bioprocessing
Choosing the correct system like the cell processing isolator can provide multiple advantages. As we develop and customize the equipment and the processes. It is also critical to note that the cost and schedule are always the major drivers in equipment selection. The key in the selection of an isolator is to find a machine, process, and system that best fit your process and product.
Cell therapies are capable of giving terminal patients an opportunity to survive. At the end of the day, considerations must be made based on the added value that a piece of equipment or upgrade brings about to one's services.
References:
1. Bozenhardt, H. (2020, April 16). Selecting The Right Isolator For Cell Therapy Manufacturing: Considerations & Challenges. Https://www.Cellandgene.Com/. Retrieved January 28, 2022, from https://www.cellandgene.com/doc/ selecting-the-right-isolator-for-cell-therapy-manufacturing-considerations-challenges-0001
2. European Medicines Agency. Advanced therapy medicinal products: Overview. (2021, December 3). Retrieved February 5, 2022, from https://www. ema.europa.eu/en/human-regulatory/overview/ advanced-therapy-medicinal-products-overview
3. Meyer, D. (2021, May 27). Individual closed isolators for cell therapy. A3P - Pharmaceutical & Biotechnology Industry. Retrieved February 12, 2022, from https://www.a3p.org/en/ closed-isolators-cell-therapy/
4. US Food and Drug Administration. Guidance for Industry Sterile Drug Products Produced by Aseptic Processing – Current Good Manufacturing Practice, US Department of Health and Human Services. Rockville, Md., 2004. https:// www.cellandgene.com/doc/selecting-the-right-isolator-for-cell-therapy-manufacturing-considerations-challenges-0001