Antibody Drug Conjugates: The New Wave of Pharmaceuticals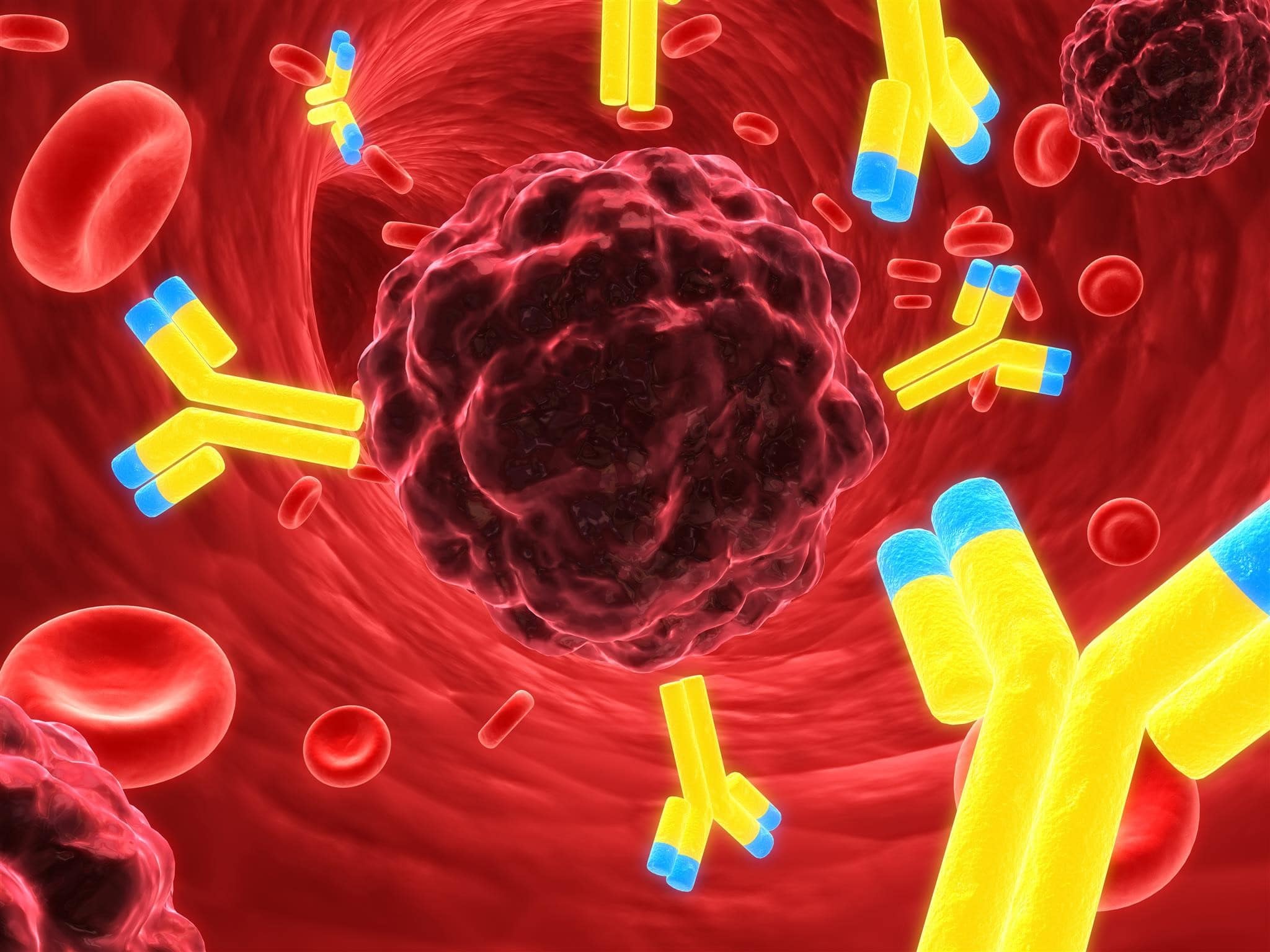 The global market for Antibody Drug Conjugates (ADCs) is expected progress in the coming years. These new and promising pharmaceuticals are expected to be one of the innovative solutions for the treatment of cancer. Moreover, the increasing research on the development of advanced drugs can act as the foundation for the identification of new pharmaceuticals, along with the collaboration between biopharmaceutical companies.
What are ADCs?
Antibody Drug Conjugates (ADCs) are the new class of highly potent biopharmaceutical drug with high specificity for cancer therapy. There are three components that make up an ADC: 1) a monoclonal antibody (mAb), 2) a linker, and 3) a biologically active pharmaceutical ingredient with cytotoxic properties. These novel pharmaceuticals are quite unique and target-specific since it can deliver highly potent cytotoxic drugs to the tumour site and not harm the healthy cells unlike conventional chemotherapy.
ADCs deliver deactivated cytotoxins to specific cancer cells. Once attached to the affected cell, the ADC internalizes into the cell and undergoes the process of receptor-mediated endocytosis wherein the cytotoxin is released, producing a cytotoxic activity. The final process leads to a rapid cancer cell death.
The design and synthesis of an effective ADC is challenging, requiring specialized equipment for the concept to be a reality.
How are ADCs Made?
In order to deliver quality antibody drug conjugates, these undergo a tedious process of manufacturing in very stringent conditions. Under strict containment, the process starts from dispensing and weighing of cytotoxic agents, up to packing-off the finished products.
Weighing and preparation of cytotoxins with organic solvents are done in an isolator, since it permits safe handling of cytotoxins in a negative pressure environment. The mixture is then transferred into a conjugation site by a hard-piped transfer line. The isolator must be designed with a Clean-In-Place (CIP) system that permits inactivation of the cytotoxin or other microbes which comes in contact with potent cytotoxins to remove the contamination.
In the conjugation site, the linking of the antibody and cytotoxin is performed inside a strict containment facility, in a sealed temperature and pH controlled stainless steel tank, with nitrogen overlay. Special equipment like double mechanical seals, overflow trays, and positive displacement pumps are also needed to strengthen personnel protection. After this process, the ADC contained in the buffer is transferred to the formulation site for bulk formulation.
All the wastes from the process are inactivated and incinerated on site, depending on the process requirements. After the cytotoxic agent concentration adjustment and excipient addition in the formulation site, the Bulk Drug Substance (BDS) is stored frozen at around -20 to -60 °C using a controlled freezer and aseptically dispensed into multiple PETG (polyethylene terephthalate glycol) bottles for bulk storage.
Esco Pharma Solutions
Esco Pharma has a wide array of manufacturing products which can be used specifically for the development of the next generation of pharmaceuticals.
The general workflow for the production of ADCs: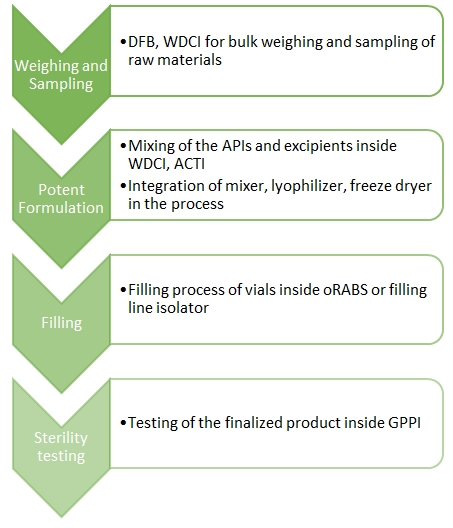 Sample Preparation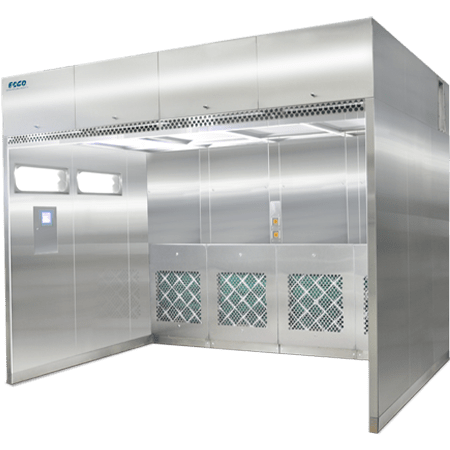 For the handling of raw materials, Esco Pharma offers the Downflow Booth, which is primarily used in the pharmaceutical industry to provide a safe working area for operators to protect them from hazardous, sensitizing, or toxic substances during manual handling of powders and solvents.
Formulation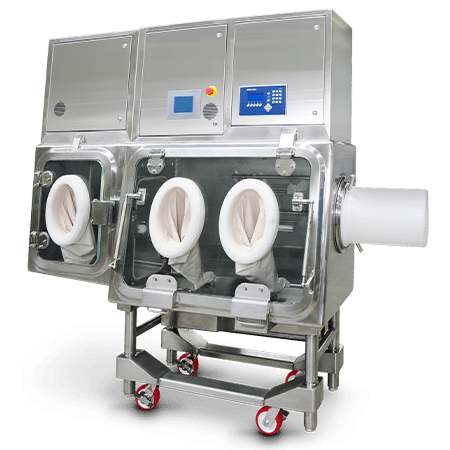 Weighing & Dispensing Containment Isolators (WDCI)
Weighing and Dispensing Isolators are advanced containment systems providing controlled negative pressure environments to maximize personnel protection. This equipment is especially designed for the weighing and dispensing of APIs, and as for ADC production, the isolator can be used for the mixing and blending with excipients. BioVap™ bio-decontamination system can also be installed in the equipment, wherein atomized hydrogen peroxide is sprayed throughout the equipment, thus sterilizing the system.
Formulation isolators are offered by Esco Pharma to fit the needs of the client for ADC manufacturing. Auto-loading and unloading systems can also be integrated in isolators for a better and faster workflow. Utilization of half suits for manual loading and unloading can also be installed, as well as the addition a blender, mixer, centrifuge, sieve and a lyophilizer for the production of the active pharmaceutical ingredient (API) and its salts. The integration of freeze dryers is also applicable, for the finalization and storage of the ADCs.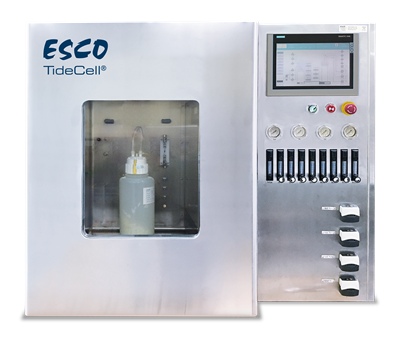 Esco TideCell® Bioreactor System
Esco offers tide motion bioreactors for the production of monoclonal antibodies (mAbs), wherein it features the same bioprocess method from seed preparation to production scale. The Esco TideCell® Bioreactor System is the world's largest linearly scalable single-use bioreactor, from seed preparation to 5000 liters with closed automated cell harvesting.
Filling process
Antibody drug conjugates are produced in either a small or a large scale, after being processed in different stages. Esco can provide these needed qualifications and has also established collaborations with companies which provide filling lines, fit for potent formulation and is also ideal for a small to a medium batch production.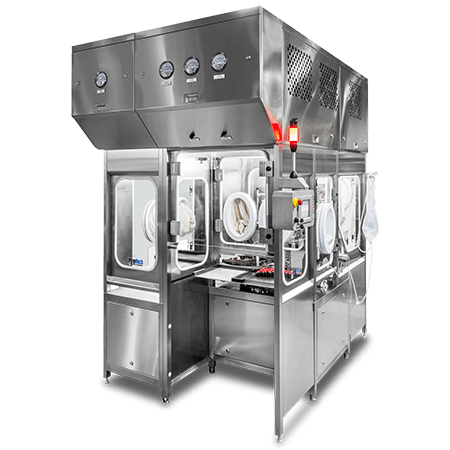 Active Open Restricted Access Barriers System (oRABS)
Transfer of products to the main process chamber happens via a Rapid Transfer Port (RTP). The entry and exit of vials happen inside an ISO Class 6 environment, but the whole process happens inside an ISO Class 5 production. The Active Open Restricted Access Barriers System (oRABS) is an example of a containment system which can serve as a fully integrated system for the filling of injectable biopharmaceutical products into ready-to-use containers, including vials, syringes, and cartridges. It can serve different cleanliness classifications as required, depending on the state of the product to be processed inside.
Sterility testing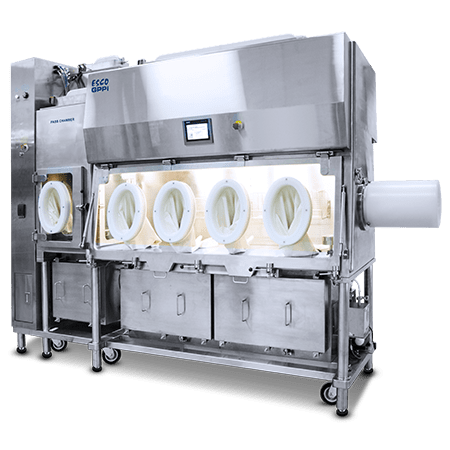 General Processing Platform Isolator (GPPI)
Esco General Processing Platform Isolator (GPPI) which is a highly adaptable, unidirectional laminar airflow isolator that can be used for sterility testing or other processes that require an ISO Class 5 (Grade A) aseptic environment. The GPPI's advanced control system allows the operator to select either positive or negative chamber pressure as well as single pass or recirculating airflow patterns.
Esco Pharma provides aseptic and containment isolators, giving the best personnel, product, and environmental protection. Customization of equipment to fulfil the client's needs is what Esco can truly offer, so that provision of a truly integrated solution will be available whenever needed. With continuous innovation, quality is built into the products with the use of Esco's equipment.
Reference:
ADC Review. (2016). What Are Antibody-Drug Conjugates or ADCs? Retrieved last 15 January 2018, from https://adcreview.com/adc-university/adcs-101/antibody-drug-conjugates-adcs/