A Perfect Mate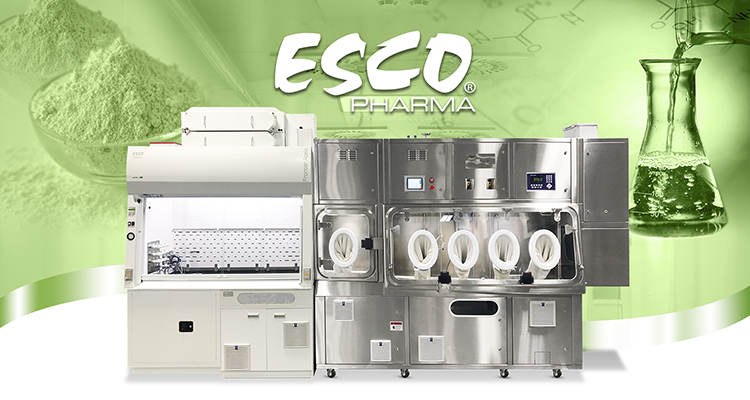 Trevose, PA – Esco Pharma USA Factory has mated the Esco Weighing and Dispensing Containment Isolator (WDCI) with the Esco Frontier Acela (EFA) Fume Hood. This integrated system simplifies the workflow from weighing and dispensing of potent raw materials, to combining with other materials to make a sample slurry or solution, up to wet chemical analysis. The three-way pass chamber allows a product to be transferred between operations while maintaining maximum personnel protection.
The Esco WDCI is an advanced containment system providing a controlled negative pressure environment to maximize personnel protection during weighing and dispensing of potent products, handling of new chemical entities, and containing of these compounds during sub-division and sampling processes. It is designed for handling potent compounds that fall under Occupational Exposure Band (OEB) Category 5 down to 5 ng/m3 containment protection over an 8-hour TWA.
Esco's largest range of standard inbuilt configurations allows users to operate for different processes and research and development needs. It is configured with a turbulent airflow with push-push safe change filters allowing maximum containment. Low chamber pressure permits stable and accurate dispensing and weighing of highly potent substances.
Esco WDCI is constructed with fully-welded single piece Outokumpu stainless steel internal chambers with round coved corners. An integrated vacuum oven placed on an elevated surface level inside the isolator provides a fast and economical way of drying sample materials for weighing and dispensing.
The isolator is equipped with a nitrogen purge system with oxygen analyzer to maintain an inert environment within the chamber for the processing of potentially explosive dust/gases or hygroscopic products.
A positively pressurized ventilated cabinet underneath the isolator houses the thermostat control module (TCM) which supplies hot or cold process utilities inside the isolator and the fume hood. The inbuilt retort stands in this system allows chemistry process. It also has utility supplies and pass-throughs for process control and measurement devices.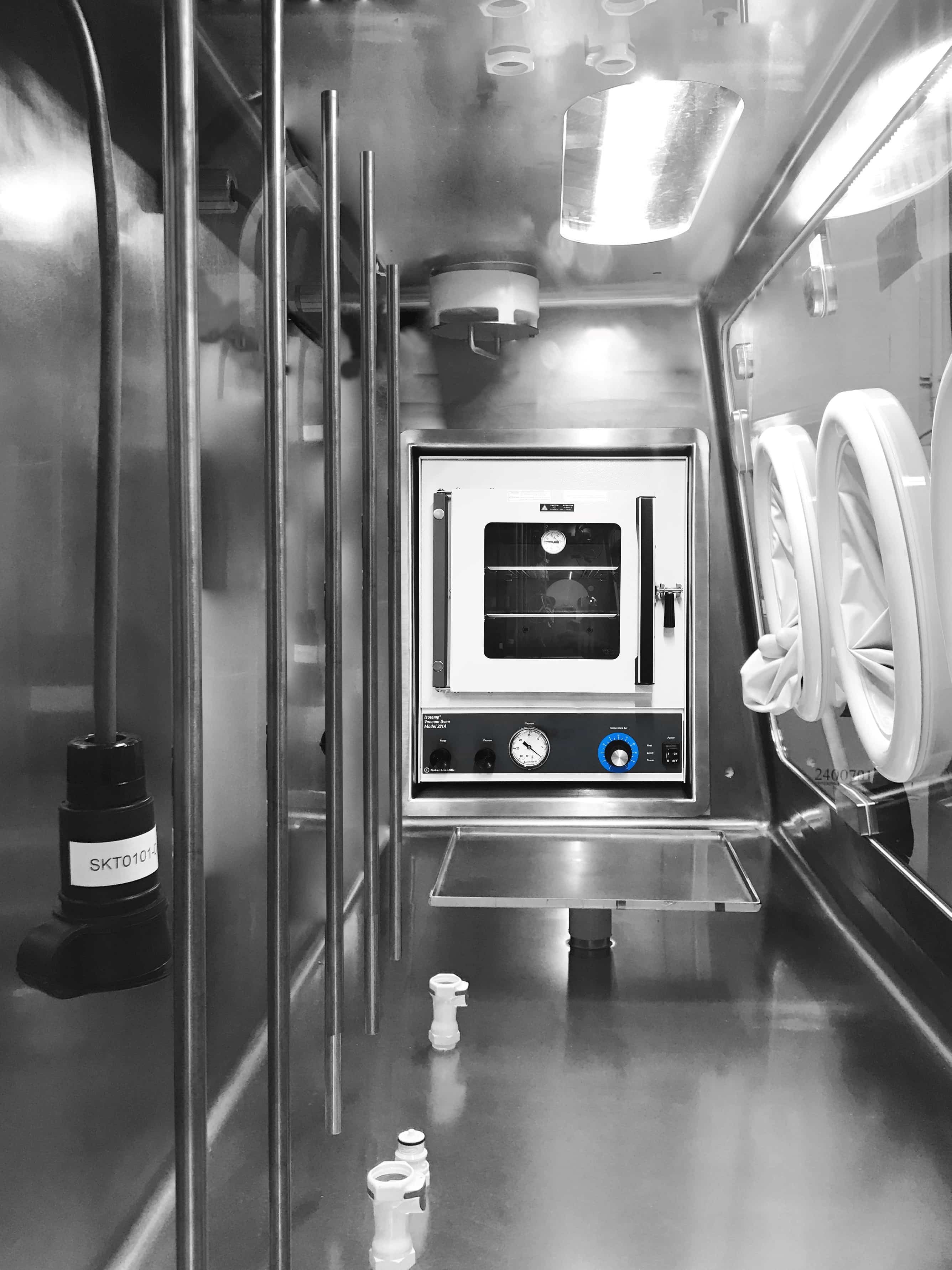 Internal chamber showing integrated oven
The isolator is connected to the fume hood through a pass chamber with interlock mechanism ensuring safety and environment purge sequences between door opening or closures.
The EFA is designed to provide personnel protection against toxic fumes, vapors, and dust. It is also equipped with dual stage Bag-in Bag-out (BIBO) filters, a safe change method for removing contaminated filters. Its secondary function includes protection against chemical spills, runaway reactions, and fires by acting as a physical barrier.
Based on a patented airflow technology, the EFA has unique Hot Zone Baffle design that draws most contaminants back in single pass displacement of the air. With this design, thermal heat relief is quickly achieved. The EFA boasts this exceptional design as it provides a robust stream of bypass air into the hood cavity. The aerodynamic foil entry brings in maximum airflow "sweep" on the critical boundary layer. This helps reduce turbulence and eliminate backflow.
The Sentinel XL facilitates real-time monitoring of the face velocity in EFA. The system generates an alarm once the face velocity is lower or higher than the set points.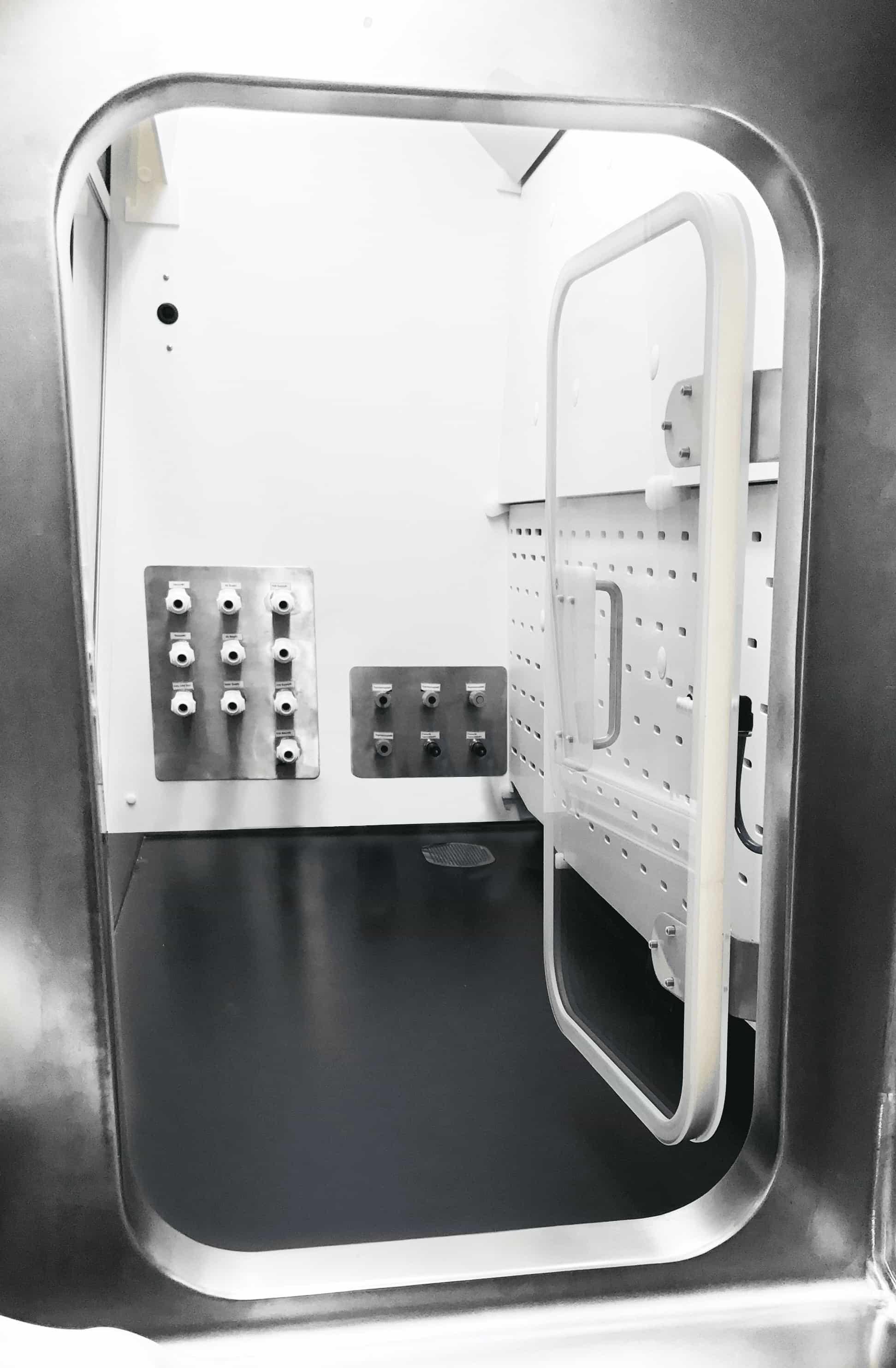 Pass chamber connected to fume hood
Esco provides complete integrated containment solutions for every known hazard from chemical processing, potent material handling, aeroallergens, biohazards, and radioactive material manipulation – fume hoods to lead-lined isolators and biosafety cabinets. Utilizing Esco's own designed and manufactured equipment from its Laboratory and Pharmaceutical Divisions allows single full control over design changes and customization to provide a truly integrated solution to meet the client's needs.
Esco Pharma boasts its strengths on multiple manufacturing sites - Singapore, United Kingdom, and the United States, allowing them to serve customers globally. These three locations utilize the same engineering standards to serve the international market and produce quality equipment with components which are available internationally. Fully certified by ISO 9001, 14001 18001, 13486, Esco is the only company with distributed manufacturing sites but with direct sales and service support from local Esco offices.
Contact Esco Pharma to learn more about Esco's broad range of integrated solutions such as Pharmacon™ Downflow Booths with Flow Hoods and Biological Safety Cabinets.
Esco Technologies Inc – Pharma Division
215-322-2155